"Here Comes The Bride" is from a Wagner opera, and Wagner was a formative influence on metal, so that means weddings are also metal, right?
Nope. But what if they had a little metal?
The worst part about weddings for headbangers is wedding DJs and their staid playlists. Do we really want to hear "Don't Stop 'Til You Get Enough" or "Tainted Love" or (UGH) "White Wedding" as we timidly shuffle to the dance floor again? Good songs get beaten to death, and bad songs are impossible to pull the plug on.
Anyway, wedding season is kicking into gear, and weddings could use a shakeup from hell.
You've likely got a few weddings coming up soon, or you might be even making a demonic union yourself. Here are 11 — I don't need to explain why 11 is a round number for metal lists — tracks of metal matrimonial excellence that will make your night the headbangers' ball it could be.
Type O Negative – "Love You to Death" (1996)
Peter Steele was the metal ladies man in the '90s, not just because his goth baritone made you cum on command or the fact he was huuuuung, but because he understood the value of subservience. "Love You to Death" is awash in swirling guitars, keyboards both celebratory and funereal, and undying devotion. It is intoxicating ambrosia, set to make you remember what is most important: serving your lover. Peter Steele has taken hold in many impure thoughts, and you may be bummed on your wedding day that you aren't him. You may not be the big-dicked vampire lord your partner fantasizes about, but that doesn't mean you can't carry yourself like a big-dicked vampire lord.
Grave – "In Love" (1991)
"'Til death do us part." You've heard it in nearly every set of vows. With "In Love," Swedish death metal band Grave proposes: Is death really the end of love? This song isn't just a necrophilic confessional — it's an ode to boundless commitment. Ola Lindgren preaches post-mortal body positivity ("You lost some skin and a lot of weight/But still you look sexy in your new shape"), shows no hesitation at quite literally splitting legs apart, and is willing to take his own life to get closer to his rotting muse. You better be ready to go that far for your partner.
Helix – "Heavy Metal Love" (1983)
Forget hair metal balladry on their big day. You gotta tap into uncut himbo rocking, and Helix's "Heavy Metal Love" delivers that covered in drool from excessive tonguing. Helix were sort of Canada's answer to the Sunset Strip, and "Love" hits all of the sleazy notes through broad, glammified AC/DCian strokes — this vixen looks great in leather and lace, your mom won't approve, and the head game crazy. Not only that, but having a partner that shreds as hard as — even harder than — you is so fucking sweet. One might scoff at such a vulgar union, but deep down, they wish theirs is just as nasty.
Mercyful Fate – "Welcome Princess of Hell" (1984)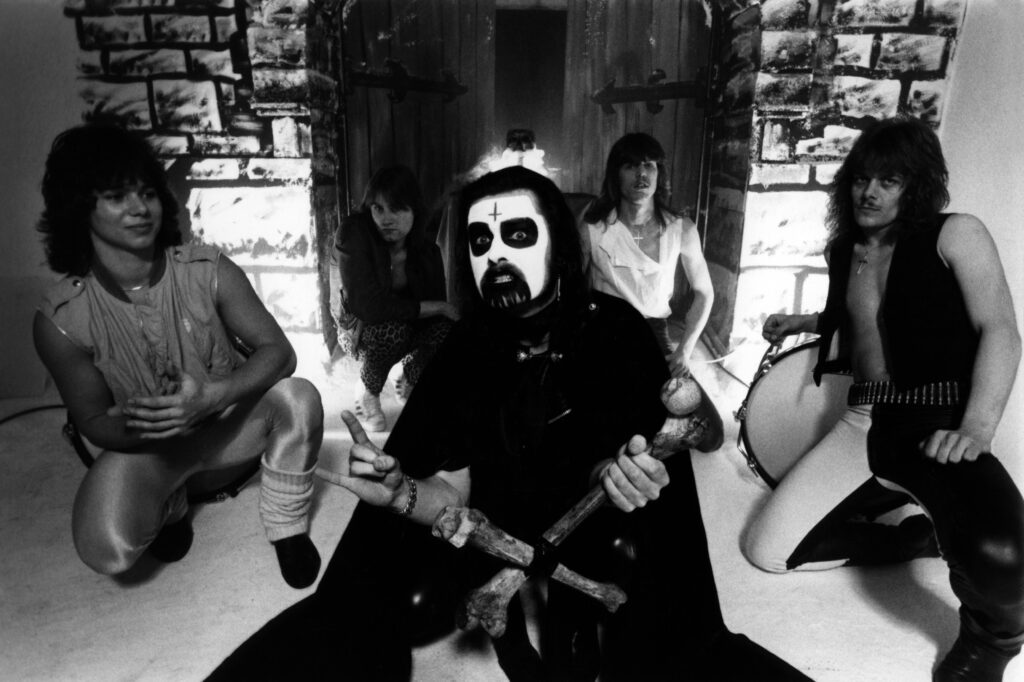 You want to make the wedding reception a debauched bacchanal, cleansed of any holy purity? Put on Mercyful Fate's "Welcome Princess of Hell" and let King Diamond serenade you towards unspeakable indulgence. If King's falsetto doesn't get you downing more margaritas (or Jager bombs — a metal wedding should have Jager bombs, and Kerry King should serve them to you, but I digress), Michael Denner and Hank Shermann's seductive riffing will. The intro riff alone marks a grand entrance, appropriate for a couple's first day of the rest of their (after)lives. "I'm amazed of what I've seen tonight/I won't tell a living soul, they would not believe" is what a reception should invoke. A fair warning: The King of Kings' magick does not work if your reception has a cash bar.
Carcass – "No Love Lost" & "Buried Dreams" (1993)
If you're looking to spike the musical punch with heaping (and possibly heaving) bitterness, Carcass offer not one but two poisons, both from their classic record Heartwork. One of their most popular songs, "No Love Lost" sounds tender from its title, and while Bill Steer and Michael Amott's lead work translates well to romance, the song itself revolves around empty voids and frail human shells. "Buried Dreams" is what happens when the love for one another goes sour — there's nothing but hatred. Trust, you probably know a couple that fits Jeff Walker's biting passage: "Welcome, to a world of pain/Bitterness your only wealth/The sand of time kicked in your face." Ouch. Of course, you're playing these songs at a wedding with a wry grin. A bond from dark humor is a strong one, you hope.
Dio – "Mystery" (1984)
A somewhat overlooked Dio single, "Mystery" is apt for commiserating marriage in two ways. There's something so sweet about you and your partner's love being incomprehensible to everyone but y'all. Isn't that the eternal bliss we seek? Apparently, Dio hated "Mystery," finding it too poppy, and reluctantly sang on it because the rest of his band liked it so much. Compromise is an important part of marriage, or so they say. You don't have to swap this out for "Rainbow in the Dark," but add it to your arsenal anyway.
Oozing Wound – "Surrounded By Fucking Idiots" (2019)
You love your partner. Some of their family, not so much. Weddings are one of many situations where Chicago noise-rock-crossover mutants Oozing Wound's "Surrounded By Fucking Idiots" applies. Conspiracy uncles, crypto cousins, natalist grandmas, that one weird relative whose life peaked during the '96 KISS reunion — you name 'em, Oozing Wound probably hates 'em. Crank this if you have to get stubborn guests to go. The sooner everyone gets kicked out of the banquet hall and you can return to your hotel room to do as you please, the better. Brunch afterwards? That's your problem, bud.
Deftones – "Minerva" (2003)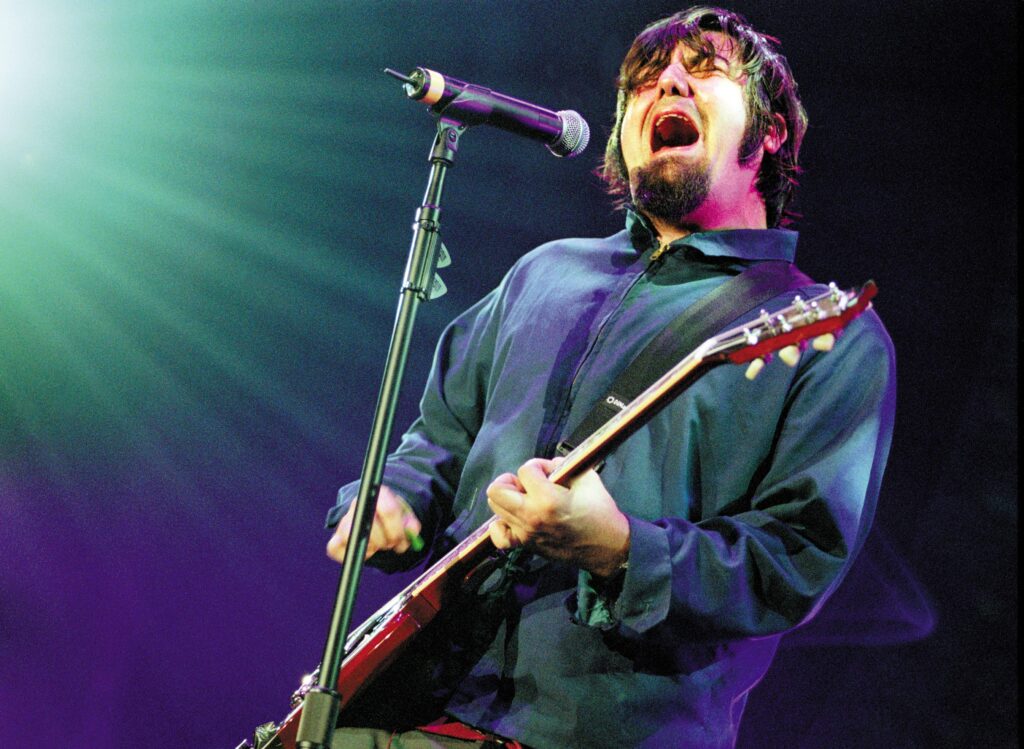 So you went and actually talked to that cutie with the White Pony tattoo, y'all clicked, you curbed your bootleg shirt habit enough to save for a ring, and now y'all are getting married. Good for you, champ. Aside from Type O, Deftones were the most sensual metal bands of the '90s and 2000s, and Pony and Around the Fur could get straight up horny at times. "Minerva," from their 2003 self-titled album, lays it all on crushing texture, with Stephen Carpenter locking in the nexus of gaze-y wanderlust and slamming crunch. Chino Moreno is in full worship mode, awe struck by the beauty he's singing about, even if the song is about heartbreak. But you want your partner to be as powerful as a Greek goddess, and people still play "Every Breath You Take" at weddings even though it's about a stalker, so what's a little dissonance to deter the night?
Lita Ford and Ozzy Osbourne – "Close My Eyes Forever" (1988)
Metal needed its own "Islands in the Stream," and Ozzy Osbourne and Lita Ford came through with "Close My Eyes Forever" from Lita's third album, Lita. A happy couple should sing something to each other on that "special" night (even if one of 'em is on their fourth "special" night), and what better choice than this? A tip for the hetero couples doing the hetero marriage thing: Fellas, do Lita's part. Be brave. Your bond will be that much stronger. And every wedding band needs a guitarist with a double-neck B.C. Rich Bich.
Napalm Death – "You Suffer" (1987)
Will your honeymoon last as long as "You Suffer?" The odds aren't in your favor.