"I have one song about growing up and a bit about my childhood," Annie DiRusso says with some apprehension. "Baptized by a pedophile in a church that reeks of oak and death." She shoots an "OK now let me explain" look. 
"When I was in eighth grade getting confirmed, it came out that this deacon in our church molested young girls years ago, actually before he baptized me — it was past the statute of limitations by that time," DiRusso looks down at her coffee mug pressed against Melissa Etheridge's greyscale grin on her tee shirt. "What made it even more sickening was that one of the other priests at the church said, 'We pray for the deacon — and the accusers.'" 
DiRusso, 23, says in person and in the song ("Emerson") that she was a happy child. What she interrogates through her music is how both can be true. The friction of opposites — the grotesque and the beloved — is the soul of DiRusso's sound and hinges on her willingness to say the quiet parts out loud. Her lyrics are barbed with intrusive ideas that pull you in like a secret. "He loves my face but not my body/ Should I lose weight? Just so he'll want me?" She sings on "Body," which ends with a grunge-rock slam that answers the question. On "Hybrid," she describes a summer drive: "You were driving/ I was lifeless, I liked it."
Her first EP God, I Hate This Place is a joyride packed with over-shares and anthems that summon the wry pop of '90s classics like Liz Phair's Whitechocolatespacegg and Veruca Salt's American Thighs. Like those bands, DiRusso satirizes the cycle of self-disgust and self-righteousness anyone who has been, will be, or still acts like they're 23 would know well. "What if I stayed here and gave it up? What if I cleaned my room and we fucked?" she deadpans on the catchy single, "Nauseous." It's a salient example of DiRusso's brand: bedroom rock made by a self-described "messy room girl." 
"Everyone's done the scramble of shoving things in your closet, Febreze, fluffing the comforter," she says with a laugh, her lily-white bangs hang over her blue eyes. "The song is trying to capture when you meet someone new and wonder 'Am I what you like? Could I be what you like?' There's a high from being exactly what someone else wants you to be — getting it 'right' — but it's exhausting to be anyone other than yourself." 
"Nauseous" was recorded with her producer Jason Cummings at 4115 Studio in Nashville, where DiRusso has lived in the same sprawling, 100-year-old house with fellow songwriter roommates for the last four years. Though DiRusso performs with a full band with guitarist Eden Urry, bassist Zack Lockwood, and drummer Josef Kuhn, she writes all the parts with Cummings in the studio. Those sinuous, over-the-top guitar solos come from DiRusso singing a line to complement her vocals.
"Guitars really speak to me," she says, and they're amply featured in her live set. On her last tour opening for fellow TikTok-fave Declan McKenna, DiRusso rocked a cherry-red Kramer emblazoned with a "Diver Down" flag while Urry bounce-shredded on a literal trampoline. The stage was full of sweet abandon. Four golden retrievers with their heads craned out of the passenger seat window until DiRusso screams "FUUUUUCK YOUUUUU."
"I genuinely didn't realize my music was 'angry' until like two months ago when a friend said that," DiRusso says. "I'm the kind of person who cries. I go to sadness. But it was really freeing for me to realize that I do express anger. My songs are where my anger lives."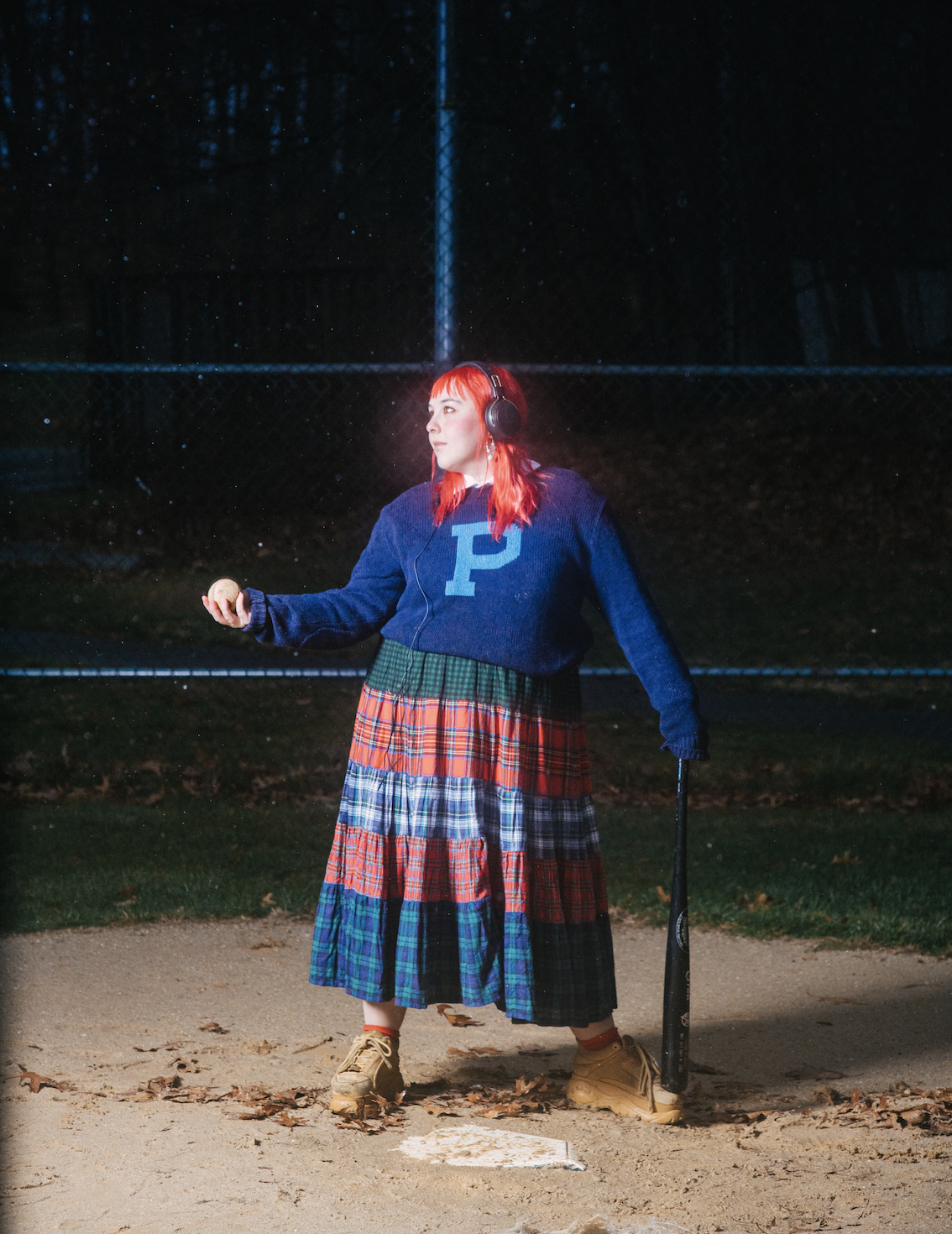 DiRusso grew up north of Manhattan, in the suburban town of Croton-on-Hudson. She was the kid who did everything: basketball, lacrosse, soccer, field hockey, chorus, theater, student government ("I was the president of my class five years in a row"). She took AP classes even though she knew her future wasn't in academics, she says with a surprising twinge of grief. That's where Taylor Swift comes in. 
"I watched this bootleg documentary about Taylor Swift and she said 'Well, you have to write your own songs if you want to sing,'" DiRusso remembers. "So at age 11, I taught myself how to play guitar." 
By 13, DiRusso mapped out every open-mic night in Westchester County and turned her parents into roadies. "It would be me, a 13-year-old, with my acoustic guitar and a bunch of 60-year-olds in Beacon on a Thursday night." By 14, DiRusso graduated to Manhattan clubs like the Bitter End and the Iguana Club, both 21+, which meant she was still playing to her parents' friends. 
After some reluctance about leaving New York, DiRusso enrolled in the pop songwriting program at Belmont University — a baptism by fire. She was no longer the standout student as Belmont was a much bigger pond. Let alone Nashville, where practically everyone under age 25 self-identifies with the plot of A Star Is Born. DiRusso says the first open mics there were terrifying. "I'd be going back to the dorms thinking 'I don't know if I'm good at this,'" she says. "But it was so necessary. Playing with people in Nashville formed me."  
Before leaving home, DiRusso used the money she'd saved from her summer job (shout out to The Blue Pig) to buy herself her first electric guitar. "I played the guy at the register 'Masterpiece' by Big Thief and was like 'I have $50. Can you give me the shittiest distortion pedal that sounds like this?'" 
On that Epiphone Les Paul a few months later DiRusso wrote "Jonathan," a pained ode with a simple rhythm that started her journey from folk to indie rock. Unlike many of her peers going the country and pop route, DiRusso found refuge in the swell of smart, glass-voiced and clear-eyed singer-songwriters — Lucy Dacus, Phoebe Bridgers, Mitski, Aldous Harding, Maggie Rogers, Big Thief — who were reshaping the landscape with ambiguous and ambitious sounds.
"Hearing indie-rock specifically made by non-male people… I realized the lyricism is so conversational and honest in a way that is my favorite thing in the world," DiRusso says. 
She may not be thinking up truck metaphors for Luke Bryan anytime soon, but the commercial songwriting skills from Belmont have served her well. On one of her new songs, "Frisco Forever" — which details a convalescent nightmare at an Airbnb in Texas — she was stuck on the chorus. "Choruses have these wide open spaces," she says, switching to a school-marm-ish tone. "In songwriting school, they say your second verse should make the chorus mean something different than the first verse. So as you keep turning the story forward, you're also going back to that one idea." 
DiRusso rattles off what she considers "perfect" choruses. "Skylight" by Pinegrove, "What I Want" by Muna, Indigo De Souza's from "Pretty Pictures" and "That's Where I Am" by Maggie Rogers.
DiRusso released singles that drew a small audience with melodic rockers like "Don't Swerve" and "Dead Dogs." At a New Year's Eve party in 2020, she met a cool, older guy in New York and they quickly began dating. Three months later, as the world was shuttering due to the COVID-19 pandemic, DiRusso faced a meltdown of her own and wrote what would become her "All Too Well" (Annie's Version"): "Infinite Jest."
"He loves the sound of his own voice," she seethes in the breathless open. "So it makes sense — he thinks he loves me — 'cause I listen and I never fucking speak."
"I was talking to my friends about [he] used to always reference Infinite Jest — and the kind of people who think they're smarter than you and feel the need to over-explain things. My friend said that her ex did the same thing, specifically with that book," DiRusso says with a laugh, "I didn't know it was a thing until after. Like, if you get back to his house and there's a copy of Infinite Jest, just leave, get out of there." But in the song, and in real life, DiRusso didn't leave even when she knew she should have.
 "I think I knew the whole time [it wasn't healthy,]" she says. "He would just say unkind things to me and then apologize and say it was a misunderstanding. [One time] we were in Hudson, New York and he was just going off on me in public and I remember seeing other people notice it and thinking 'I didn't ever think I'd be this girl.'" She wrote that line in her notebook and put it away. 
"I mean, my mom worked with domestic violence victims her whole life as a prosecutor," DiRusso says. "Even with all the tools and knowledge I had, I still stayed."
Exactly one year later — the first pandemic New Year's Eve — DiRusso was inside, alone on her couch in a chunky knit sweater, no makeup, and flicked on selfie-mode and made a TikTok video. "This would be a fun sound to use to show your New Year's Eve fit," says the robo-voice over DiRusso's new song, "Nine Months."
"I was just sitting around thinking what lines would maybe make a cool transition, but it was completely random. No one told me to do it or anything."
The next morning, the clip went viral. Hundreds of thousands of people found "Nine Months" and uploaded their own "before and after"-style copycats using the 15-second clip of her song. The stroke of algorithm luck led DiRusso to open for major label bands like Haim and Peach Pit. Later this month, DiRusso makes her late-night television debut on The Late Show with Stephen Colbert before heading out on a 27-date North American tour. And as of this writing, she isn't signed to any label.
"It's a little bit sickening to tell this story — to release these stories," DiRusso says before she heads back to the studio for the day. "But after playing the shows this year, meeting people who tell me that my song helped them leave a relationship makes it all worth it."