"Not enough can be said about our formative years in the New Brunswick punk scene," Screaming Females vocalist and guitar player Marissa Paternoster says. "I think that is a big reason why we have the kind of work ethic we have, why we have the community that we have, why we make the kind of music that we make. There was a lot of freedom granted to musicians in New Brunswick.
"I wanted nothing more than to be part of some semblance of a cultural community involved with punk or art in some way," Paternoster continues. "It was just non-existent. I'm from Elizabeth, New Jersey, and so was Mike [Abbate, Screaming Females' bassist]. Maybe there were shows in Elizabeth, but I had no idea how to find them. There was no record store within walking distance, for sure. It's just the suburbs, and there are a lot of punk bands that come from middle-class boring suburbs who are just trying to get out."
Screaming Females emerged from the nascent punk rock scene brewing in the quiet corners of a small town as a fierce firestorm of emotive fury, artisans at the helm of instruments they're deftly able to wring every last hint of songcraft from. Drummer Jarrett Dougherty is precise and thunderous behind his drum kit, and Abbate serves as a keenly sharp needle of rhythm on bass keeping all things stitched tight. The heaviest of material all stitched together with seamless grace. Paternoster possesses a controlled demolition of an operatic and thunderous voice while being widely praised for her guitar work.
Now in their 17th year together, Screaming Females remain one of the few groups to not only have a long and acclaimed career but have done so with a consistent lineup since inception. But that sustained success is no surprise to the members — who still draw on advice given to them in the band's early years by renowned producer Steve Albini.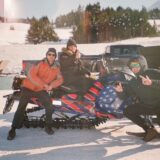 "When it stops having exciting moments, that'll be the end of it," Dougherty says. "We haven't kept this going because it's some sort of cash cow or something. It's still a vital relationship. There's this idea that either you're punk or you make money, and that you should give up the money to stay punk. [Albini's] thing is that there's just not that much money in music, and someone's going to take it from you if you give them the opportunity to. [So] Mike prints our shirts, Marissa does the artwork, things like that are how we've managed to stay sustainable on a financial level."
"We're not doing this because there's tons of cash, we're doing this because we're compelled to do it," Abbate adds. "I fully expect whatever cash there is to dry up, but I don't expect to stop rocking."
"Hell yeah, Mike!" Paternoster responds, all three bursting into laughter.
Screaming Females' eighth album, Desire Pathway, will be released on Feb. 17 through Don Giovanni Records. Recorded at Minnesota's Pachyderm Studios (which is where Nirvana recorded In Utero) and produced by Matt Bayles (Foxing, Pearl Jam, Mastodon), the new album's a sterling example of the band's longstanding commitment to their shared vision. Even after all these years, they still surprise each other with creative new work that draws refreshed energy from one another. In the end, the new album comes down to the same simple pact that carried each of their other releases — to always work to create lasting and meaningful art together.
"When we were literally children, the goal was 'How can we be musicians for a living? How can we make this sustainable? How can we make sure everybody's comfortable and happy and feels satisfied as an artist?'" Paternoster says. "That's in the top five of our priorities. I think if any one of us ever decided that this wasn't sustainable or wasn't making them happy, it would just be over. It's so much more than music. It's family. It definitely transcends the boundaries of the music."
Written in 2019, Desire Pathway's pandemic timing created bizarre circumstances for the long-running band. Instead of the usual cycle of "write, record, tour, repeat," the band had to sit with the album's songs for 18 months before they were able to record them. They couldn't demo new material or make the changes they would've without COVID, and instead remained trapped in their homes with an unfinished record for two years.
"It definitely colored the album in a weird way that we weren't ever expecting — because who would ever anticipate a global pandemic?" Paternoster says. "Except, I guess, scientists."
As for Desire Pathway's musical content, Paternoster points out that it's the first time she's ever "very blatantly" written an album about the end of a relationship. When the world started drastically changing and her former relationship felt like ancient history, she debated turning it into Screaming Females' pandemic record, but ultimately decided against it.
"We were still writing remotely, and I was like 'Should I change the lyrics to a lot of these songs so that it's more reflective of what we're probably going to put out in the near future, or should I just keep the older lyrics that have nothing to do with the pandemic?'" Paternoster says. "I think I needed to use the lyrical aspect of this record as a therapeutic mechanism, which is what I use art for. I was just like 'You know what? I'm just gonna keep them. I'm gonna do my past self that service.'
"I think that the title, Desire Pathway, can be interpreted in a great myriad of ways," she continues. "In my personal life, I was looking to create a shortcut out of this really problematic relationship — but maybe other people had their own desire pathway to get the hell out of the house or escape from this dystopian nightmare that we were all trapped in."
She pauses and says, "Honestly, we still are"