Over two decades ago, in a passionate monologue dubbed Feed The Models, actress Jane Gennaro dreamed of lovingly placing lasagna into the gaunt hands of super models, stuck in a toxic cycle that demanded self-starvation at all costs. Gennaro's commentary, tongue-in-cheek though it might have been, was a condemnation of the inhumane, ultra-thin standards that models in the '90s would regularly conform their bodies to fit. Apparently, not a whole lot has changed since then, as just a few months ago, The New York Post declared "heroin chic" is back—gleefully condemning the slight drift toward body positivity and embrace of healthy, human-shaped bodies that's made its way into mainstream culture over the last few decades.
But, most of us know that newspapers aren't what defines things anymore, and if culture shapeshifters like Hubble Studio have anything to do with it, the push back towards eating disorders, literal drug abuse in order to be thin, widespread anorexia and bulimia, and all manner of toxic cycles will not prevail again. (The fact that a dangerously addicting and life threatening drug is one half of the phrase "heroin chic" is a testament to the otherworldly means necessary to maintain this kind of figure.) As for Hubble, they're determined to be at the forefront of a more accepting and inclusive environment for those who make a living in front of a lens. They've dubbed their latest collaboration "Feed The Models," building on the legacy this phrase has embodied before them, and updating it as only Hubble could.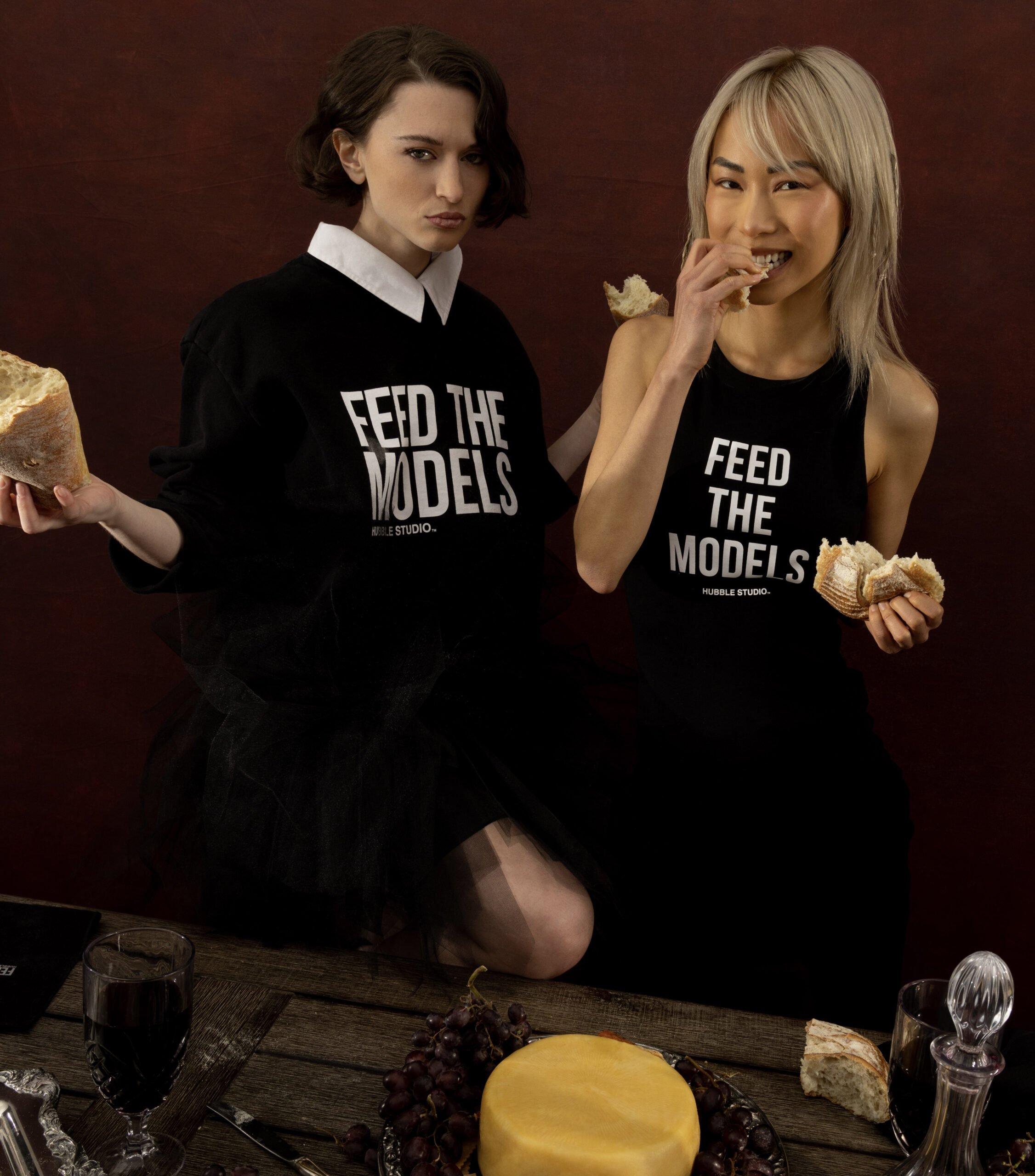 "For years, I've experienced the feeling of not being worthy enough for a particular fashion show or photoshoot, only to find out all of my friends in the industry have felt the same," explained Hubble's Creative Director Braden Myus. "Our world is built on a false reality of filters and unrealistic standards. We want to normalize the truth behind the scenes of this industry while promoting an ideal way of healthy living. I saw an opportunity with this campaign to make an impactful promotion around inclusivity and community-building while maintaining a healthy lifestyle. Our creative agency brought my vision to life with the Feed The Models campaign."
In their latest collaboration, Hubble decided to highlight the experience on the other side of the camera, because for the models, life definitely isn't always as glamorous as it might seem. For decades now, the toxic reality of eating disorders and America's obsession with thinness have been a major force in the fashion world, and despite repeated attempts to shine a light on this harsh reality, little has changed. Seeking to spotlight the behind-the-scenes treatment of some of the most important, and frankly, underserved, members of the community, this campaign plays with archetypes like recreating Da Vinci's The Last Supper to bring a sense of gravity to the shoot, then immediately undercutting it with playfulness.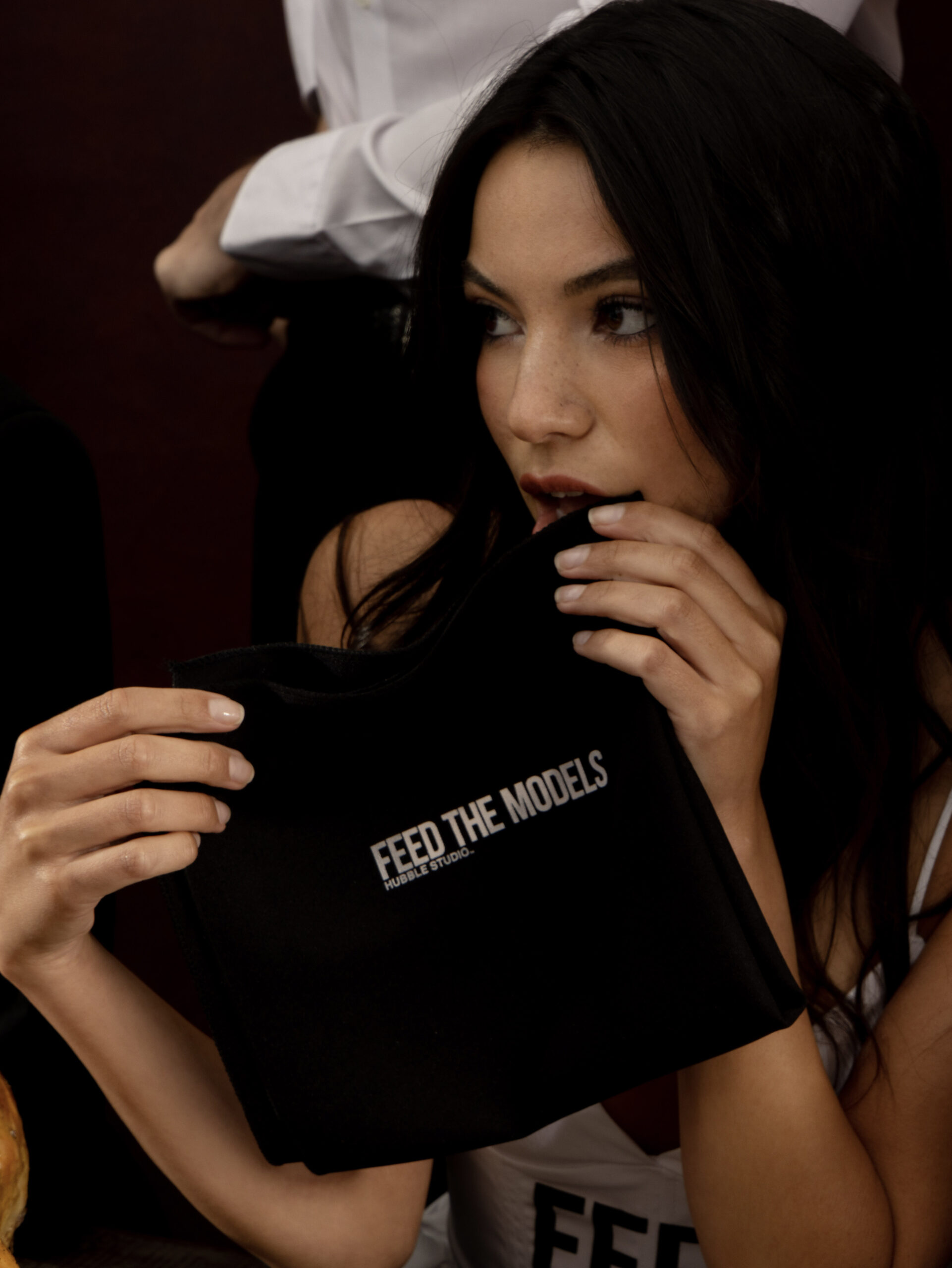 "We recreated DaVinci's painting of The Last Supper with nine models all wearing custom pieces with Feed the Models printed on them," Myus said. "It was one of the most light-hearted and enjoyable shoots I've ever been involved with. We had a beautiful dining table and our creative team curated a spread fit for a king. It was not just for show either, everyone was eating and drinking wine. After the shoot, we went to Craig's with our creative team and all the models to celebrate the shoot." LA's best vegan restaurant doesn't have lasagna on the menu, but the plentiful pastas serve the same purpose as Gennaro's sentiment.
As part of this movement, Hubble invites everyone to help create a brighter, healthier future for models by partnering with Project Heal. 10 percent of all sales from the Feed The Models line will be donated to Project Heal in their efforts to provide support and relief for those suffering from eating disorders, and to help raise awareness for this resource. In both this shoot itself and all the other content they host and produce, Hubble remains committed to meeting people where they're at, cutting through the bullshit and helping their talent get to a place of radical vulnerability.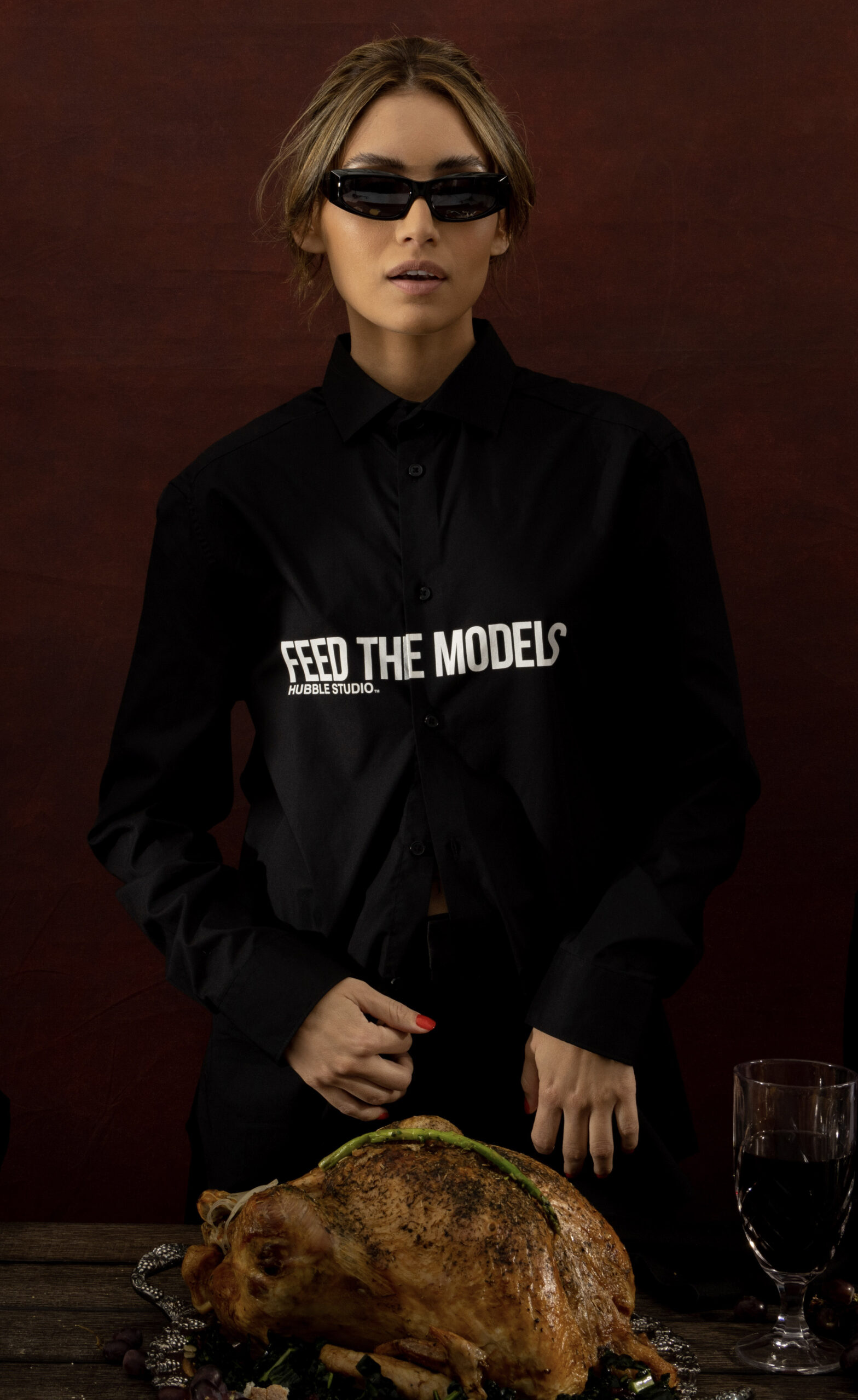 Clearly, something is working, as their constantly sold-out clothing line, thriving agency arm, and countless side hustles all stand in testament to. Feed The Models is another way for the studio to put their money where their mouth is, and stand up for those who are caught up in destructive habits because of societal pressure. Whether it's multi-millionaire athletes like Julian Edelman, world-famous celebrity like Kim Kardashian, or an unknown model working at their own day job, on a shoot for a brand, Hubble brings the same hospitality and empathy to the table.
"Our team embodies a culture unlike any other and it was surreal to create a campaign that we hope positively impacts and inspires our generation to live life to the fullest," Myus said. "As a company, our mission is to make our clients, friends and community really feel comfortable in their own skin. When they come here, they can relax, be themselves and not feel like they have to live up to some unrealistic expectation. That being said, we always strive to set high standards of excellence within the industry and push all stereotypes."
Check out Hubble's Feed The Models campaign right here.