Pavement certainly made up for lost time last night (May 23) at Los Angeles' Fonda Theatre during its first show since Nov. 22, 2010, playing a 30-song, 120-minute set packed with music the beloved indie band hadn't performed since the 1990s.
In fact, 11 of the songs were not played on Pavement's prior reunion tour some 12 years ago, including "Fame Throwa" from 1992's Slanted and Enchanted, which was dusted off for the first time since the year after its release. Other long-buried treasures that hadn't been played since the Bill Clinton administration were "Serpentine Pad," "Black Out" "Motion Suggests" from 1995's Wowee Zowee and "Type Slowly," "Transport Is Arranged" and "Embassy Row" from 1997's Brighten the Corners.
Pavement also played the non-album B-side "Harness Your Hopes" for the first time since 1999; the track has unexpectedly become the band's most-streamed song on Spotify in recent years and even enjoyed a viral TikTok moment in 2020. This was Pavement's first show with new keyboardist Rebecca Cole, augmenting core members Stephen Malkmus, Scott "Spiral Stairs" Kannberg, Mark Ibold, Bob Nastanovich and Steve West.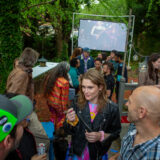 Last night's gig was a one-off warmup before Pavement's June 2 co-headlining set at the Primavera Sound festival in Barcelona. North American dates resume Sept. 7 in San Diego. Among the newly announced opening acts are Circuit des Yeux, Horsegirl, Steve Gunn, The Goon Sax, 75 Dollar Bill, Film School, Guerilla Toss, Kelley Stoltz, Piranha Rama, Annalibera and Weak Signal.
Here is Pavement's set list:
"Our Singer"
"Frontwards"
"Embassy Row" (first time since 1997)
"Black Out" (first time since 1997)
"Trigger Cut"
"Kennel District"
"Spit on a Stranger"
"Gold Soundz"
"Transport Is Arranged" (first time since 1997)
"Serpentine Pad" (first time since 1996)
"Motion Suggests" (first time since 1996)
"Two States"
"The Hexx"
"Shoot the Singer"
"Grounded"
"Harness Your Hopes" (first time since 1999)
"Silence Kid"
"Cut Your Hair"
"Type Slowly" (first time since 1997)
"Perfume-V"
"Fame Throwa" (first time since 1993)
"Range Life"
"Folk Jam" (first time since 1999)
Encore:
"Shady Lane"
"Unfair"
"Grave Architecture" (first time since 1999)
"Major Leagues" (first time since 1999)
"Summer Babe"
Encore 2:
"Here"
"Witchi-Tai-To" (Jim Pepper cover, first time played by Pavement)