If there's anything to learn from Joyce Wrice, it's that she's unbreakable.
We're about 20 minutes into her pre-show makeup routine at New York's Terminal 5, as she fires off answers to questions about her first nationwide tour and her debut album, Overgrown, when an eyelash mishap almost hinders her ability to keep the interview going for a brief moment. But Wrice never pauses. The R&B up-and-comer finishes her thought with complete focus, even with the irritation of an eyelash being removed from her right eye. She doesn't miss a beat, and maybe never has, given that's just how she treats her live set on the Candydrip Tour.
"You see people like Janet, and Missy Elliott, and Aaliyah, and Britney Spears. You could tell like, 'Damn, that's just in them," Wrice tells SPIN as she sits mid-makeup routine, two hours before showtime on the final tour date. "I want to continue to break that out with my shows, my visuals, and everything that I do."
After a 25-date run, the natural-born performer and Southern California R&B up-and-comer is about to part ways with being Lucky Daye's opening act for good–and with the way she captivates an audience, she likely won't be anyone's opening act ever again. Her 10-or-so-song set was sprinkled with kinetic choreography and the occasional impressive vocal flourish on songs like "So So Sick" and "Chandler," and even when a wardrobe malfunction proved to not be much of an obstacle, similar to the eyelash from before, she took an emergency intermission to toss on some sweatpants, and her powers only grew.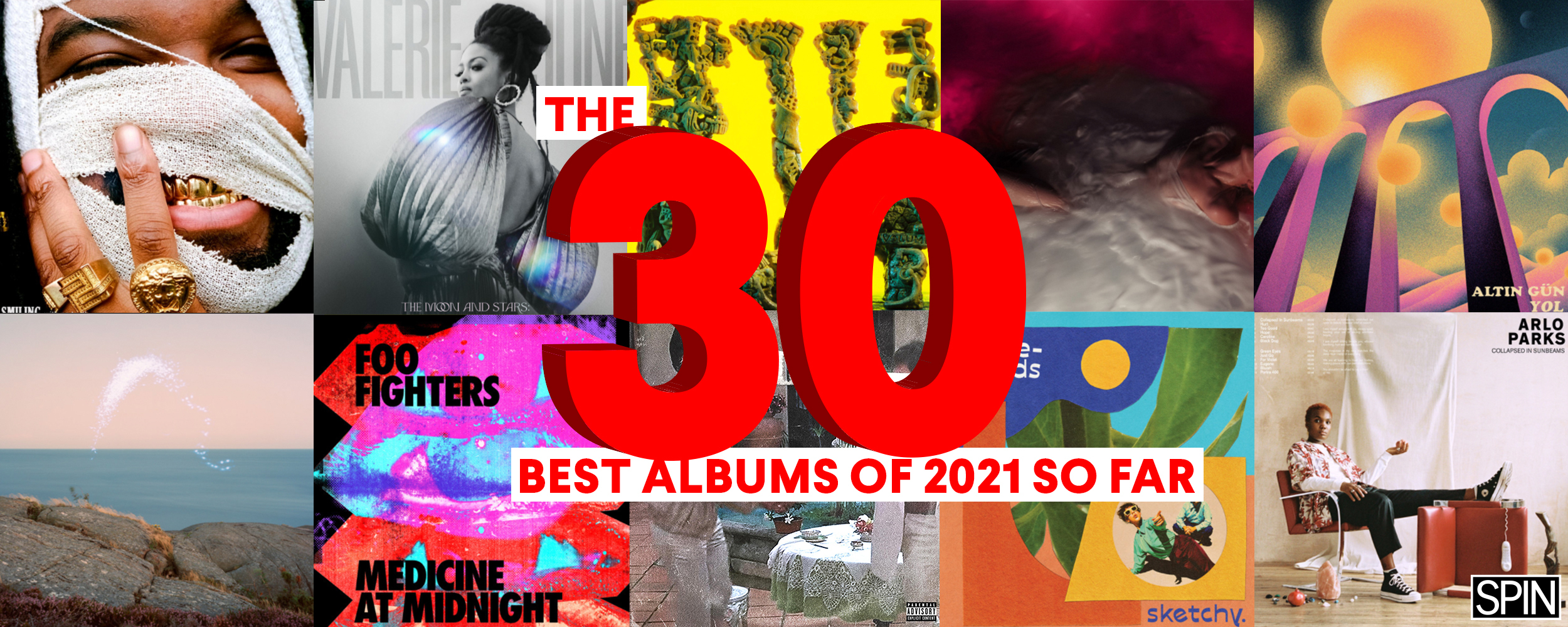 With the help of cuts from Overgrown, and her latest offering in Kaytranada collab "Iced Tea," Wrice earned plenty of new supporters on April 23, so much so that you could spot the Spotify app opening up across the venue, with a few concertgoers clearly tossing "Joyce Wrice" into the search bar.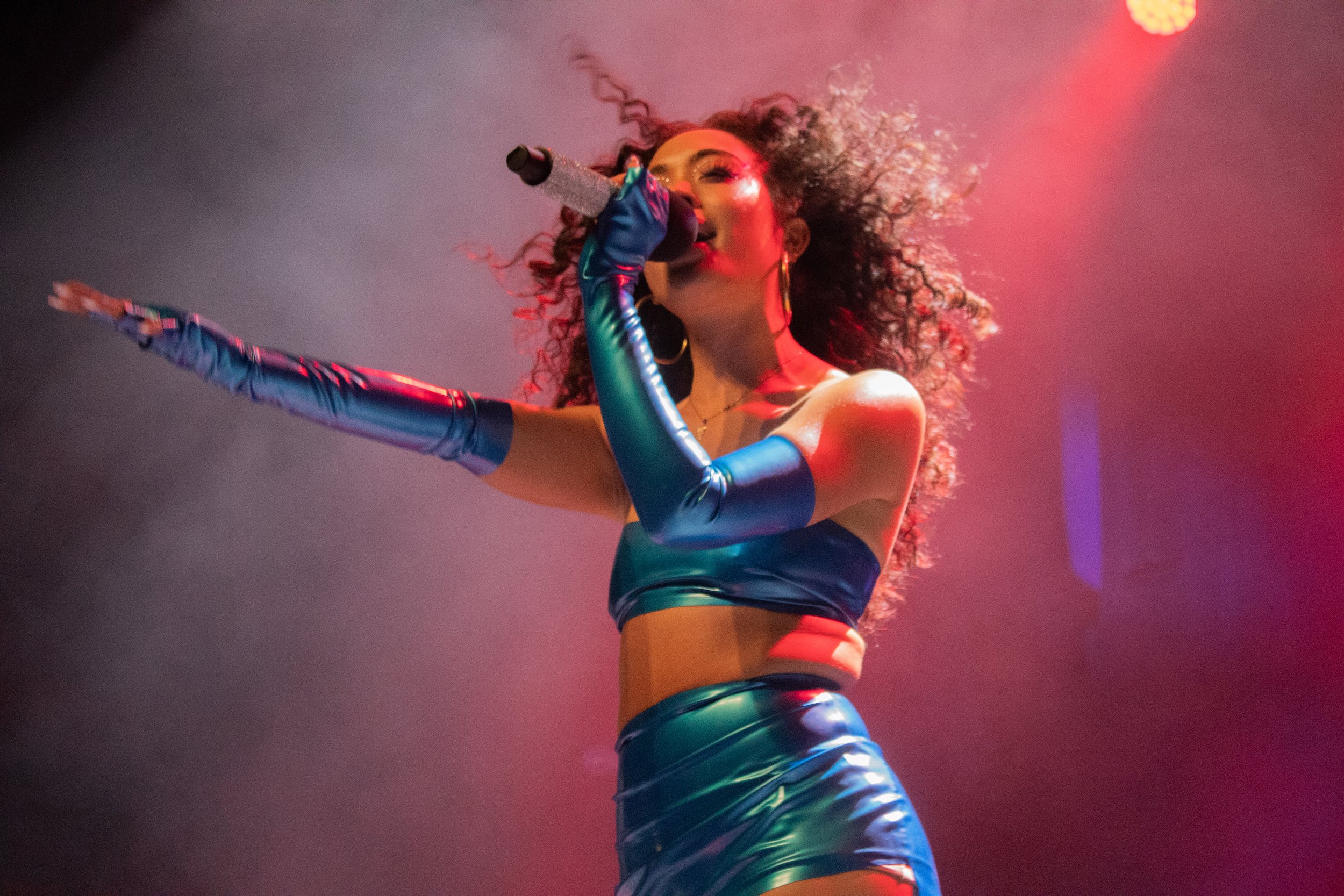 But it wasn't always this easy to capture an audience's attention for Wrice. As she tells it, her live performance, just like her music, needed time to grow.
"I used to be so shy on stage, like painfully shy," she says. "And now, it's so weird how I can find one person in the audience and just stare them dead in their eyes to tell a story. I just really want to keep growing as a performer. I want to have an impact. I just want to make music that the world needs. I want to do whatever I have to give in this lifetime, I want to do all of that."
Growing as a performer shouldn't be a challenge for the already commanding soon-to-be superstar. On Daye's Candydrip tour alone, she's pushed herself creatively to learn the entirety of her "Iced Tea" choreo, something that wasn't available to her before she hit the road. It was only during the tour that choreographer Brian Drake fed her some moves, which inspired her to waste no time memorizing every last one of them in between dates. As a result, she gave her and Lucky Daye's crowds a little bit of a fuller performance with each show, agreeing that her New York set marked the default grand-finale performance of "Iced Tea." At least before the video, that is. "You are stopping at a gas station in the parking lot, asking the dancers to teach you the choreo. You're sitting in the sprinter van learning it from video. And you're doing bits and pieces of it at every show, and it's getting better and better."
Wrice, who performed in hip-hop dance groups and was a staple in school assemblies in San Diego as a kid, learned this type of discipline early on, just as she learned about her connection to music from some of the most disciplined performers in the game. One of the albums that opened her ears to the possibilities of blending hip-hop and R&B, as she does so effortlessly on Overgrown with features from Freddie Gibbs and Westside Gunn, was Mariah Carey's 1997 effort Butterfly, she says. Memories of the album, like the Mobb Deep sample on "The Roof" and her own personal maxi CD single of "My All," still connect with her today. That's the type of music Wrice wants to, and has continued to, make–from her 2016 debut EP Stay Around to her latest single in "Iced Tea:" Music that makes you feel, and gives listeners a feeling that lasts.
"People really connect with you and your story," she says."They relate to it. And I don't know, for me, it's just surreal. When people tell me my album got them through things and how it's just been like the soundtrack of whatever time of their life. It validates me even more that I have a purpose. And it's really encouraging me to just keep going and trust my journey."
Overgrown celebrated its year anniversary back in March, and Wrice admits that it feels like the album is growing alongside her on the road. While her creative process changes over the years, on Overgrown, she worked primarily with executive producer D'Mile (Silk Sonic, Victoria Monet, Lucky Daye) to make a project that felt whole with just one man behind the boards, rather than tapping multiple producers. Despite some dream beatsmiths on her radar in Madlib, the Neptunes, Anderson .Paak, and The Alchemist–a real all-star lineup that she spit out immediately after being asked the question–Wrice says that working with a Grammy and Oscar favorite in D'Mile was beyond compare.
"It was my first time really working with the hands-on executive producer though," she explained. "D'Mile, he's just untouchable. So working with him was an honor and I would love to continue doing that. Even if he can oversee something where I have multiple producers on there, I'm open to that. I'm still very open to working with multiple, multiple producers on a project."
Regardless of whatever direction she heads toward on future projects, Wrice's current focus is on promoting Overgrown to a wider audience, and spreading the word about "Iced Tea," which her fans are already "eating up."
The non-album single was born from a session with Kaytranada for Overgrown, and Wrice reveals that with her tour now complete, a visual will be soon to come. "It happened to be the first song that we made," Joyce says of her musical connection with Kaytra. "And he just played me not even five beats. This song just really came together, it's me just wanting to let go and be this fearless, independent woman, Black woman. So it was easy. Like it was like, 'OK,' we were all just in rhythm at that time."
Wrice has a promising year ahead of her. Some plans, however, she can't talk about too much on the record about quite yet. But as her tour comes to a close, she jokes about what it's like to play for a crowd that, for the most part, is just figuring out who she is, with other fans in attendance wishing she had more time on stage. "There's people that have been rolling their eyes at me on stage. There's people yawning, there's people upset I'm singing with Lucky, there's been so many different responses," she laughs. "But overall, it's nothing but love, which I'm so grateful for."
After all, all in attendance at last month's show are going to learn her name soon enough. And she'll eventually have all the time in the world up on stage to share her story in its entirety.
"Sometimes I'm so impatient," she says. "But I just have to remind myself to look up, to be patient, to be in the present, and to know that there's so many more opportunities and so many more shows and things that are coming. You want to crescendo. I don't want to start big, because then how the fuck am I supposed to grow from that? It's a tease."