Blue Chips is a monthly rap column that highlights exceptional rising rappers. To read previous columns, click here.
Water sloshes in the background when Adam Levin answers the phone. Bath time ran longer than anticipated, so the 32-year-old Chicagoan calls back when his infant daughter is occupied with episodes of Sesame Street. Teacher by day, recent father and husband by night, Levin also raps as Defcee whenever possible. These days, multi-tasking is imperative.
"I'm still figuring out how to structure my time to honor all of my commitments in full," he says on a Tuesday evening in late May. After a decade-plus of veritable obscurity and spotty releases, Levin's released a series of increasingly gripping albums and EPs since 2018, including April's For All Debts Public and Private on Closed Sessions.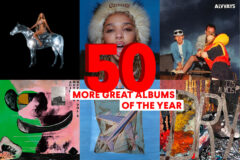 He's also adjusting to teaching college and career skills to freshmen at EPIC Academy, a charter high school in South Chicago. Governmentally neglected and thus economically blighted, the area has a childhood poverty rate 86% higher than all other U.S. neighborhoods and 20% unemployment. Levin characterizes himself as a teacher and counselor.
"[My students] are really smart and funny — not as funny as they think, like all teenagers — and they have a lot of potential," he explains. "They're three-dimensional people, not the caricatures they're portrayed to be even by the mayor here."
Levin's antipathy for elected officials and compassion for his students surfaces in his music as Defcee. On last year's Trapdoor, he indicted and unpacked the chilling indifference of capitalism ("Shell Game"), racist policing underwritten by invertebrate politicians ("Snares"), the plight of children ensnared by the school-to-prison pipeline ("Time Off"), and more of our failed American experiment. The insight, cynicism, and empathy in his layered verses partly explain why Trapdoor dropped on Backwoodz Studioz, the label behind critically-acclaimed New York rap vanguardists Armand Hammer.
If Levin delivered Trapdoor behind a lectern, he plants both feet in the cipher on April's For All Debts Public and Private. He asserts his rap skills with witty and clever jabs at unnamed opponents, his forceful delivery imbuing even comedic punchlines with severity. For every competitive flex, there's relatable self-awareness. Levin reflects on his shyness in adolescent romance ("Summertime 06"), lacerates himself for mismanaging money ("Qtna"), and recruits Armand Hammer to examine various vices ("Rossi"). His earnestness allows him to move seamlessly between moods and topics as producer and fellow Chicagoan Boathouse provides a cohesive palette of gritty, knocking, and frigid beats that modernize the '90s New York sound.
"[Adam] really showcases the density of his writing while making sure these records will translate well at a show," Boathouse says. "…[Y]ou might catch a few bars on your first listen that make you go, 'Damn,' but it's one of those albums that is going to keep rewarding you with gems the more you come back to it."
The seeds of Levin's affinity for lyrically dense rap took root in his hometown of River Forest, an affluent and predominately white Chicago suburb. His Irish-American mother tutored in the notoriously crime-ridden and long-demolished Cabrini-Green housing projects, where she befriended Levin's elder Godsisters, Bree and Tiffany. The pair spent summers and weekends with the Levins and turned a toddler-aged Adam onto hip-hop through Kris Kross. An admitted childhood ham, Levin acted in school plays while listening to Scarface, Jay-Z, and Nas on local rap radio station Power 92. Levin's Jewish father, an investigative journalist and businessman, imparted his appreciation of the arts on trips to the symphony and art museums.
Both of Levin's younger brothers eventually played college basketball, but coordination skipped his generation. He channeled teenage anxieties and his Adderall-addled battle with ADHD into writing raps and poetry during his four years at Oak Park River High School, attending writing workshops at Young Chicago Authors (YCA), the youth literary arts organization responsible for open mics and programs that would eventually nurture rappers like Saba, Mick Jenkins, and Noname. At his high school graduation barbecue, Levin sold attendees his first mixtape.
After graduating from the University of Wisconsin with a degree in Latin American studies, Levin continued processing his life through music, recording while working for non-profits, holding writing classes in juvenile detention centers, and co-founding a rap workshop at YCA.
"I'm paying forward what people gave to me, which is the space to feel validated, affirmed, safe, and worthwhile… If I don't pay it forward, it doesn't feel like it was something I was worthy of, especially as a white guy in hip-hop. I'm a guest in somebody else's house, so I have to make sure I'm respectful and lending a helping hand when asked."
While Levin helped others sharpen their craft, there were years when he considered giving up on his music. He was frustrated and dejected by his lack of recognition outside Chicago, but his girlfriend and eventual wife encouraged him to continue. In the last four years, he's dropped six projects while earning a master's in Secondary English Education, getting married, and becoming a father. For All Debts Public and Private singles remain in rotation on Shade45 Radio and Apple Playlists, and Levin has reached over 10,000 monthly listeners on Spotify. That figure may seem slight if you're cynical and unaware of the deluge of music released every 24 hours, but it's a significant milestone for an independent rapper in 2022. (Two days after our conversation, Levin racks up 700 more.) He's as proud as he is astounded, elated that he'll have yet another reason to write in the fleeting moments between school bells and bathtime.
"There's part of [having that many listeners] that feels earned… And there's a majority of what I feel that's just surprise," Levin says. "Now I have 10,000 people who expect me to do the same or better next time I come out. And they're expecting me to do all of the things that I do well in different and new ways. That's really intimidating, but I've never been more prepared for the challenge."