When Canadian post-punk act Ought broke up in November 2021, it was an unlucky loss for rock music. In just three full lengths, an EP, and a remix collection, the Montreal band made a name for themselves as one of the more critically acclaimed indie groups to emerge in the 2010s.
Fortunately for Ought fans, the day that the band announced their split, guitarist and vocalist Tim Darcy and bassist Ben Stidworthy launched a new project, called Cola. To complete the lineup, the duo enlisted drummer Evan Cartwright, who had previously played in acts including U.S. Girls and The Weather Station.
"The three of us had been friends for a while," Darcy tells SPIN over Zoom. He's wearing an understated black hoodie, and calling in from the weathered-looking backstage of the Capitol Theatre in Olympia, Washington–he's on tour with Snail Mail, working as their guitar tech. "We were kind of getting to know Evan, but even before we became pals, he had a rep in the scene for being this amazing drummer."
The trio didn't overtly intend to form a post-Ought project. Late in 2019 – while Ought was inactive but still hadn't officially announced their disbandment – they started writing songs together to see if it led anywhere. Each member walked into their first practice with a couple of ideas, and they walked out with a song called "So Excited." However, after they took a break for the holidays, COVID hit. Suddenly, they were forced to collaborate over Google Drive. Darcy and Stidworthy would write tracks using their home studio setups, then send them to each other every Friday. Once a month, the three of them would put on KN95 masks and meet up to work on the songs in person.
"When we were workshopping things, Ben was in Montreal and Tim and I were in Toronto," Cartwright tells SPIN, Zooming in from Canada while at home. "We would have to have these very committed few days each month where Ben would come in–usually on the train–or Tim and I would sometimes drive to Montreal." In those intense pockets of focus, they honed their dynamic as a band. Cola came to life somewhat serendipitously as a product of these sessions.
Suddenly they found themselves with over 40 loose song ideas. They decided to lay some of the tracks down over the course of a week at Montreal's Studio Mixart. The album was produced by Gabe Wax (Helena Deland, Deerhunter), who quickly grasped how to inject Cola's studio recordings with the feel of a band playing live. In May 2021, Darcy and Stidworthy flew to Los Angeles to mix the project with engineer Gabe Wax (The War on Drugs, Adrianne Lenker). After the mixing process was complete, they reached out to New York City label Fire Talk, who were willing to get down to business right away.
Cola's sound is more instrumental-driven than any of the members' usual output. Darcy's prior releases tended to be centered around poetic lyricism. In contrast, the songs on Deep In View are murky and technical. Darcy's ornate guitar parts coexist comfortably with Cartwright and Stidworthy's taut rhythms. "In Ought, my role in that band was much more of, like, 'the front person.' Maybe it was kind of unspoken, but going into this project, a thing that felt really different was having it be more songwriting that happens within the band format," Darcy explains.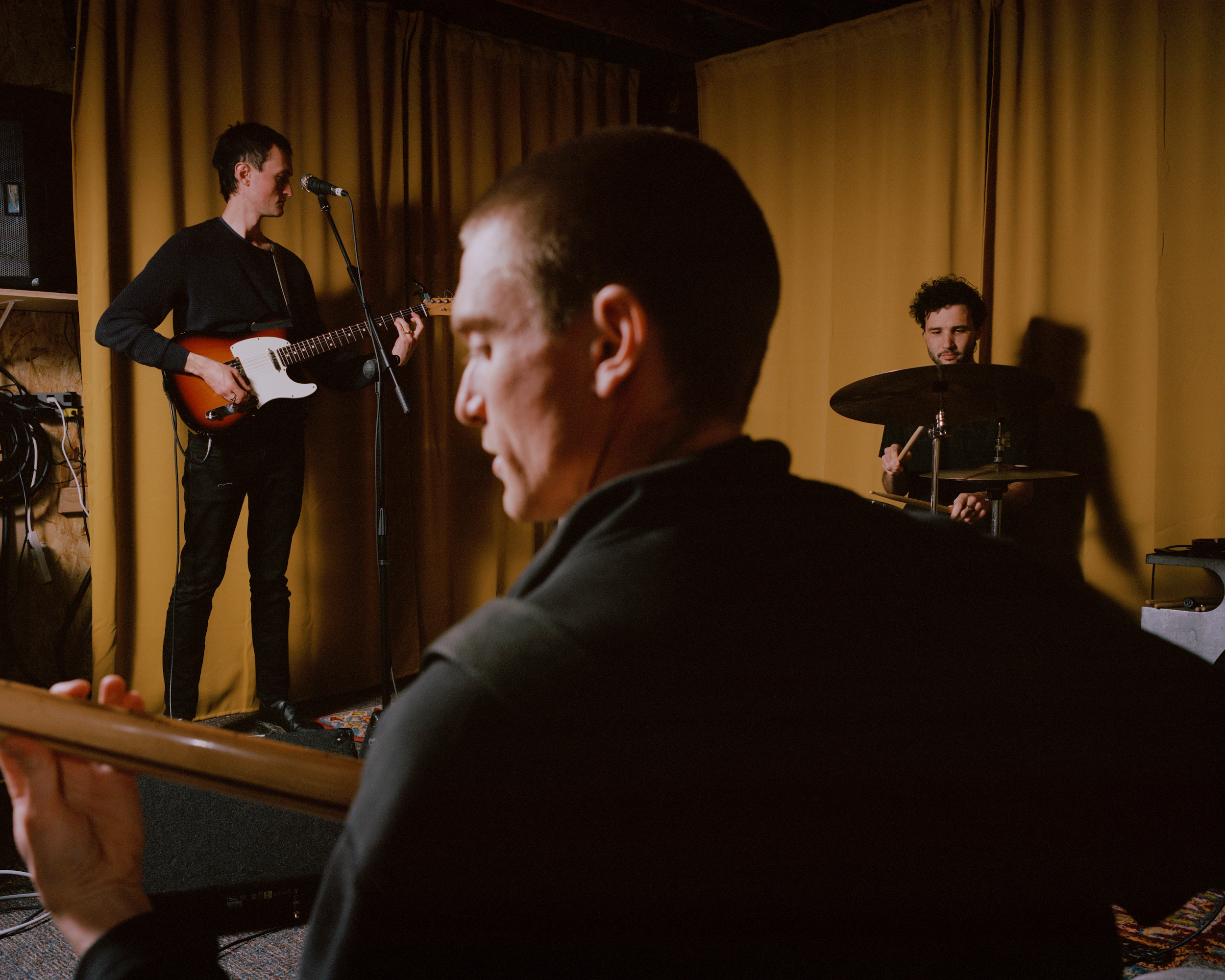 With Deep in View out in the world, Cola already has a lot lined up. Beginning in June, the group will be embarking on a 31-date world tour. They're also already working on a second album. They're once again running new musical snippets by each other virtually. This remote composition process allows Cola's members to bounce between Los Angeles, New York, Toronto, and Montreal.
"What I feel like I can control as an artist is a sense of creative stability. I'm gonna keep making things and it feels really exciting to already be starting on the next record and to be energized by that," Darcy says. "It feels like a really fruitful creative partnership that's still unfolding."