At a time when it would be understandable to pack things in, Spiritualized leader J Spaceman (Jason Pierce) found himself thriving in the past few years of isolation. As he'd walk through an eerily silent London, Spaceman found himself inspired by the world "full of birdsong and strangeness and no contrails." The experience allowed him to create a largely self-referential record run by an overwhelming sense of urgency within the tracks.
With that in mind, Spiritualized's latest album, Everything Was Beautiful, is an homage to themselves. The album is curated like a museum, preserving the best of their sound while polishing the crucial details. Spaceman continues to fine-tune his astral pop sound with shocking consistency throughout the familiar but delightfully hypnotic space rock album.
The band's ninth studio album doesn't do much to expand upon the psychedelic pop sound they've been honing, but it delivers a joyous and cathartic space rock romp. Many aspects harken back to their bittersweet evocative third album, Ladies and Gentlemen We Are Floating In Space, with similar structures of massive walls of dreamy sound layered upon rich vocals and instrumentals.
The album's lead single, "Always Together With You," is a lavish love ballad imbued with serene orchestral flourishes that was originally released on The Space Project, Spiritualized's 2014 compilation of recordings from Voyagers I and II. The song begins with sparse guitar strums and soft-spoken vocals — layered upon soft background vocal flourishes — before descending into a fuzzy overgrown psychedelic dream.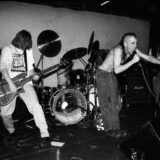 "The A Song (Laid in Your Arms)" self-destructs into a distorted blend of raucous percussion, winds and wailing guitars after building suspense with a restrained introduction, while "The Mainline Song" follows suit with a similar style: an introduction led by abstract instrumentation layered with train sounds and brass under an urgent synth and guitar. The instrumental introduction grows with a lighthearted nature, drifting with an ethereal nature as Spaceman describes a night out in the city. The ambient buzz of guitars and understated vocals places listeners in a pleasant trance.
"Crazy" offers a refreshing change of pace as a well-crafted twangy love song wrapped together with rich harmonies and warm slide guitar. It exudes the vulnerability and specificity of classic country artists such as Patsy Cline.
Much of the beauty of this album is created through the carefully balanced layers of sound, the rich density of the instrumentation delivers an impactful and delightfully eclectic listening experience. Spaceman played 16 different instruments on the album and employed more than 30 musicians, including his daughter, Poppy.
The layers (which contain sounds of strings and brass, finger bells, choirs, and chimes layered upon vocals, guitar, and ambient sound) create a hypnotic sense of controlled chaos. The tracklist reads as a decadent spread of sonically rich songs that improves upon the more bare instrumentation of their 2018 album, And Nothing Hurt.
Spaceman is refining his eye for detail-oriented musical pieces. While the style is nothing new, Spiritualized creates a spellbinding space pop album with memorable and musically dense songs.