When director Alice Gu set out to make a film about beloved L.A.-based luthier Reuben Cox, she envisioned creating a 12-minute mini-documentary. That plan quickly changed as Cox's famous clientele (Jackson Browne, Wilco's Jeff Tweedy, Phoebe Bridgers, The National's Aaron Dessner and My Morning Jacket's Jim James, among others) also agreed to appear in the film.
The resulting full-length documentary, Really Good Rejects, is a deeply absorbing and moving look at Cox and how his instruments have inspired these artists. Through candid artist interviews and intimate performances, the film takes an in-depth look at the ways in which music fosters positive mental health, self-actualization and addiction recovery
SPIN spoke with the film's director about everything that went into making one of the most introspective mental health documentaries the music world has ever seen.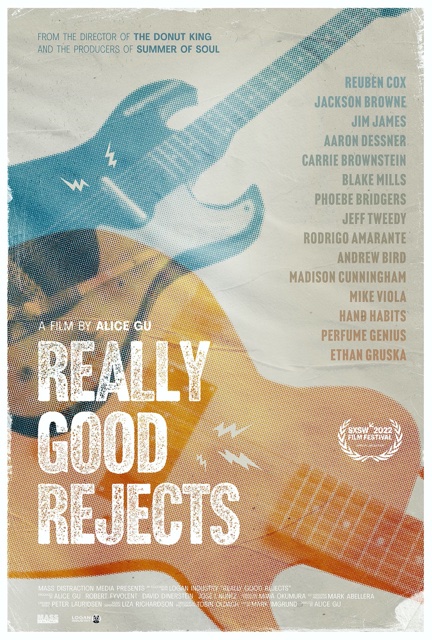 SPIN: Why did you title this film Really Good Rejects?
Alice Gu: It's got a little bit of a double meaning. A lot of the guitars that Reuben modifies are overlooked and abandoned instruments from yesteryear, [such as] old Sears catalog guitars that people blow off because it's a starter guitar and it doesn't have such-and-such pedigree. So these guitars end up in pretty bad shape in flea markets, estate sales and garage sales, and Reuben sees something in them. They've been cast away as rejects, and he takes them and puts love into them and turns them into an inspiring instrument that influences and shapes sound. The further I got into my interviews with the artists, I found a commonality between a lot of them: they also didn't necessarily feel like they fit in. They were rejects or outsiders, and they're really good. There's some really good rejects out there.
How did you know you should expand the story to encompass things like mental health and addiction recovery?
The conversations would go surprisingly deep in my time with the artists. I can't express enough gratitude for how open and giving everybody was with me. I wanted to know how music helped them. I wanted to know when they first felt like they found connections with other people. They were very forthcoming in their answers. There was another commonality between the artists. [I'd ask] "What's your first musical memory?" and that would lead into what the guitar meant to them, and how they were as a child. I think a lot of these artists found comfort and solace in this instrument. There is confidence-building in their songwriting and their relationship with the instrument. Maybe somebody watching this who is feeling alone or feeling a little bit like an outsider can connect with it, see a little bit of themselves, and pick up an instrument.
What's the main message you hope people will get from watching this film?
It's a bit of a love letter to creativity, and the magic and the healing power of music. You don't have to be a super fan of any of these artists to really connect with the film. Particularly after what we've been through in isolation, I think there's been a lot of people who have felt lonely. It's been a difficult time, and I think music really helped people through some tough times. This film is a reminder about that — the magic of music and human connection, and connecting us to our humanness.