Like the "ethical" (their word) psychotropic drug industry, the music recording business exists to discover, refine, and distribute new product to alter minds and enhance well-being. So when a euphoric sound makes its way into anyone's ears — let alone the best new music I heard in years — without the benefit of professional dispensers or promoters, you have to wonder: "How did that happen?"
Sure, loads of musical artists pop up on the charts straight out of their first basement recording sessions, but that's not the case for an original, addictive hybrid style you could call "punk 'n' billy," as practiced by a veteran crew known as The Raelyn Nelson Band (RNB).
Imagine three blond, three-chord rocker fellers backing a neo-Linda Ronstadt/Rosanne Cash lead singer, to tunes out of The Cars meet The Chicks. It's been eight years since they began, yet odds are you've never heard them, nor of them, even close to their Nashville roots. But this is a band you should know about.
Listening to the RNB for the first time feels like they're already inside your head, drawing on rockabilly, British rock, thrash, and outlaw country priors, with hard-driving, toe-tapping, smile-inducing originals. A good place to start is the Raelyn Nelson Band's website, featuring the low-budget video for "Friend," a kickass action-comedy accompanying her classic breakup song, punctuated with Raelyn's refrain "I may be small, but I am pretty strong" summing up her infectious persona.
After a first addictive taste, the band's album-length 2019 release, Don't—with its cover art homage to the classic Clash London Calling album—is the way to go, either streaming or on CD. The collection includes wasted, brash, and woo-manly anthems like "Weed and Whiskey," "Nothing On," and "Rebel Girl." Order a small-batch CD online and Raelyn mails it out personally, scrawling her autograph in red Pentel. She may add a free black and white sticker proclaiming, "I SMOKED WEED WITH WILLIE NELSON'S GRANDDAUGHTER."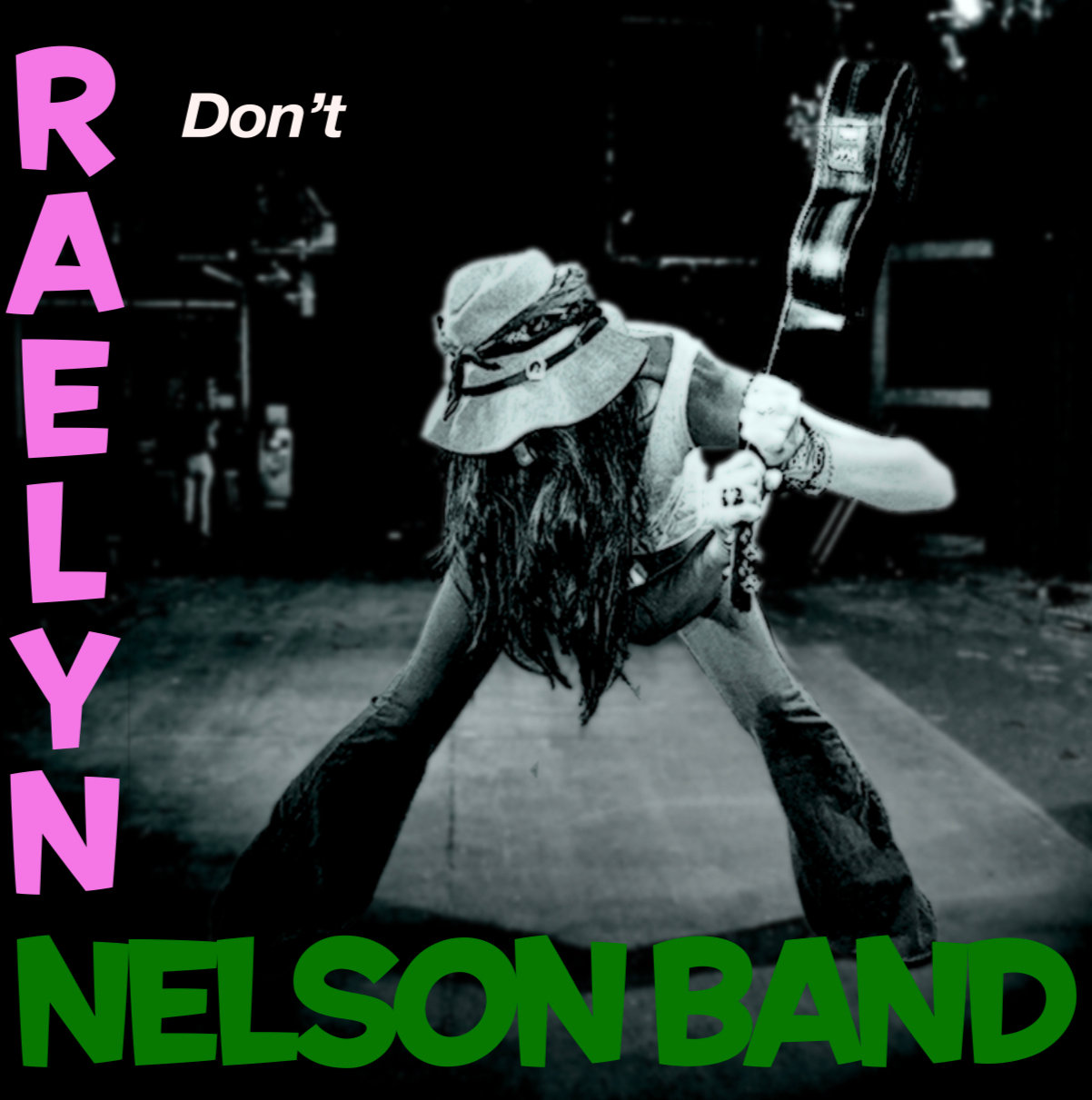 Indeed, Raelynn was born into show biz aristocracy, a third-generation progeny of mythic songwriter, singer, free-spirit and American iconic doper Willie Nelson. He's been an influence throughout her life. Among her earliest memories is being taught by her dad and "Papa Willie" to sing "On the Road Again" when she was three or four. When she was 14, the player of a legendary worn-through guitar known as "Trigger" gave her a prized new Martin, on which she still composes her songs.
Growing up in Nashville, almost 900 miles northeast of Willie's Texas home, Raelyn developed a songwriting style of her own, with less emphasis on wordplay and more hot flashes of emotion. For all her faster, louder rhythms "Papa Willie" has been fully supportive. Among the Raelyn Nelson Band's earliest big gigs were a couple of Willie's outdoor Farm Aid concerts in 2014. Since then, they've also shared the stage at Willie's legendary Fourth of July picnics. He even sang harmony on one of Raelyn's earliest recordings, "Moon Song."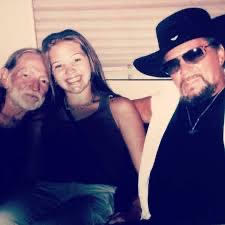 "He's told me he's really proud of me," Raelyn beams. "He's always telling me: 'you're on a roll. Keep doing what you're doing." In the wake of anyone telling her to change, he advises her: "you just stick to your guns." She adds: "Of course he would say that. He went through people trying to change him."
These days, there's little pressure for the RNB to change grooves, since no one in Music City has yet approached the group with a recording contract tempting them to compromise artistry for financial perks. "As an unsigned band, we don't make money," Raelyn admits, "but we can create what we want and when we want."
One would think being blessed with a Nelson connection would have brought interest from at least one recording firm by now. But upon further review it may well be there's a family hex; throughout his long career Willie (now age 88) has been more successful at remaining married than at staying signed to a company — a mere four nuptials compared to record releases with as many as 11 different labels.
In his first autobiography (he's done several), Willie Nelson describes his first wife (Raelyn's grandma) Martha as "the prettiest girl I had ever seen in my life…Martha did love a good time, and we had plenty of them all over the country…"
Raelyn didn't fall far from the family tree.
Her father, Willie Nelson Jr. (often called Billy), met Raelyn's mother in a promotional whirlwind, when riding on the tour bus with Willie Sr. At a stop at a Nashville radio station, Billy met a local "radio promo girl" and fell in love, marrying her and settling down in Music City, where Raelyn was born. At the age of seven, she would be left fatherless when one of his demons caused Billy to take his own life. (Raelyn paid an upbeat tribute to him in one of her signature songs, "Daddy's Grave.")
Her conservative, pious mother tried to keep Raelyn away from the progressive, wild weird Willie side of the family, but would take her to see him when he came through Nashville. He remained an inspiration as she embarked on her own show biz career, playing the cards that fortune dealt.
"I started out writing country songs and I went to record some demos at a backyard studio that belongs to Jonathan Bright," says Raelyn. "JB comes out of underground rock and we decided to start a combo at the end of that first session."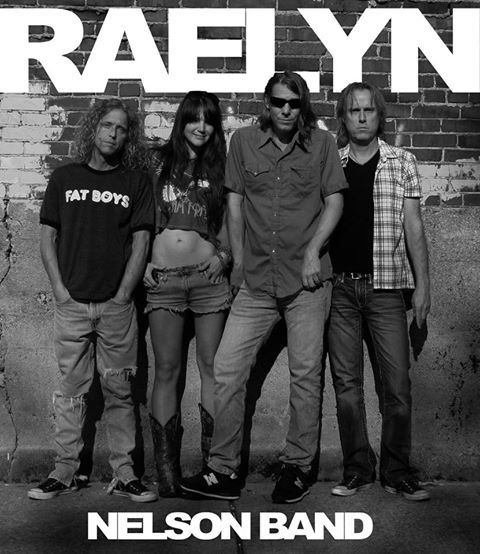 Bright plays guitar and arranges the RNB's tunes. In his studio, Raelyn discovered that the ukulele suited her diminutive frame better than a guitar — as a performance instrument. Preach Rutherford soon joined up as the group's bass guitarist, while more than a dozen different drummers have been their collaborators over the years.
Because she was a young mother sticking close to home, it took a while before Raelyn and the band began releasing finished recordings and started touring to expose their tunes to wider audiences. Even now, with all their day jobs and domestic commitments, the group plays only about a dozen live shows per year across the USA.
At their slow but steady pace they have paid their share of performers' dues — playing the likes of The Basement and The Basement East, The Rabbit Spot, Hummingbird Stage, Punkinstock, and most recently were on the menu at the Farm-to-Fork Festival in Sacramento, California. "We'll play for 10 people or a stadium full of folks," Raelyn declares. A Nashville friend acts as their booking agent—all very indie and home-spun.
Nonetheless, after all the independent fun interacting with fans on the road like country musicians of old, by securing industry backing a talented group like theirs could advance to the next level of global exposure and popularity they rate. The RNB's members have yet to play a concert in Europe or Asia—where they might score as big or bigger than in their native land. "I would love it!" Raelyn says. But that's not in the cards for now, without a multinational label to pay their way.
Someone on staff at one of the Big Three record labels should have taken notice of The Raelyn Nelson Band. The group has opened shows for major rock and country acts and grown an enthusiastic fan base. Multi-tasking off their musical chops, RN and JB also host and produce a well-received podcast called "Music Is Funny," with musicians talking to comedians about music and comedy.
As if that weren't enough, Raelyn also oversees Willie Nelson's online communications with his fans. Every email sent to him is read by her and passed on to Willie or family when appropriate, though not all messages receive replies. Instead of some anonymous screener, having kin make better decisions is doubly beneficial. Says Raelyn: "My grandpa gives me the job so I can stay home with my young'uns and pursue my dreams." With twin sons aged 14 and a daughter 11 she's been home-schooling since they were this tall, there's been little time to obsess over not scoring a lucrative recording contract.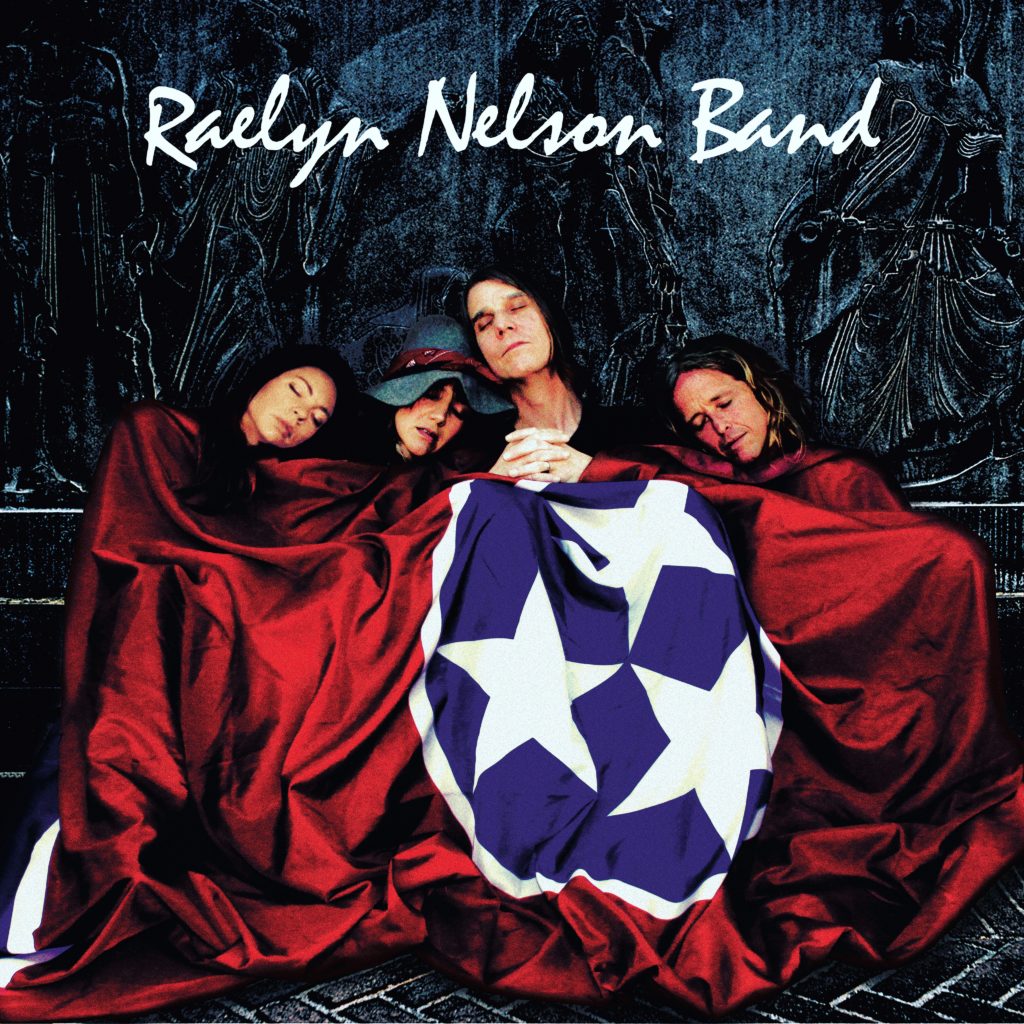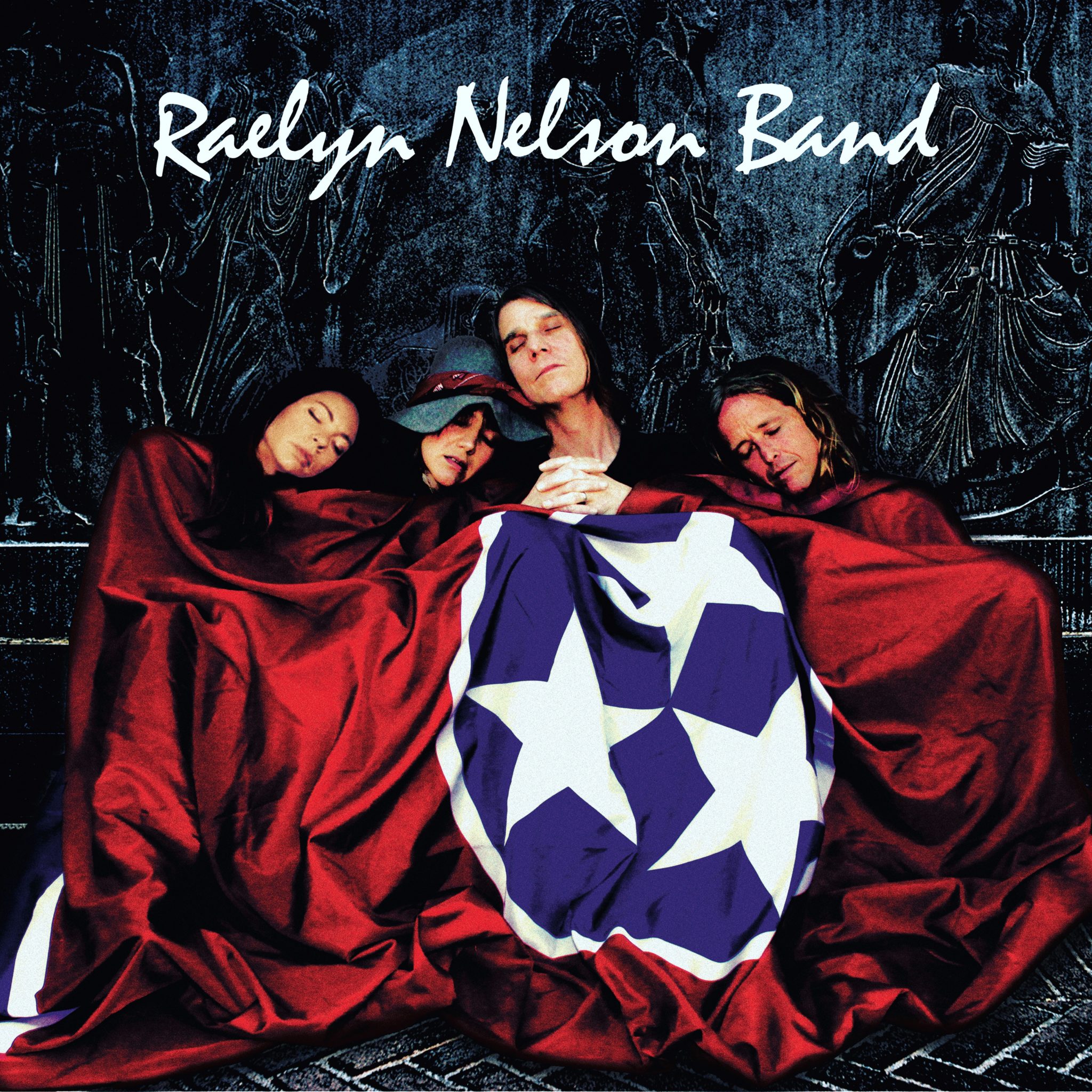 Even if signed, artists like the Raelyn Nelson Band may only get one chance or two to score a hit and impress a music industry backer, before being shuffled backstage. A study published two years ago (and currently being updated) shows an increasing number of acts scoring contracts with the Big Three record companies that dominate the business—Universal, Sony and Warner—with about two deals a day, 365 days a year. Ultimately the most resources will go to the successful proven acts, with others soon left behind.
The author of the study, Larry Miller, is also the Director of the Music Business Program at New York University's Steinhardt School of Culture, Education, and Human Development. Having once founded and run his own independent record label, Miller notes artists need support in creating awareness. The barriers to getting music uploaded to streaming services have never been lower, but with over 60,000 daily song uploads to services like Spotify — nearly one per second — it's never been more difficult to breakthrough.
He cites another study confirming the waning of traditional means of music discovery, including physical copies like CDs and radio play, now far outweighed by streaming services and digital downloads. But who wants to depend on bloodless algorithms to find welcoming ears?
Fortunately, there's still serendipity. The way I discovered the RNB was entirely by chance–the result of emailing [email protected] on behalf of a friend. When Raelyn responded, a quick online search uncovered her underappreciated music.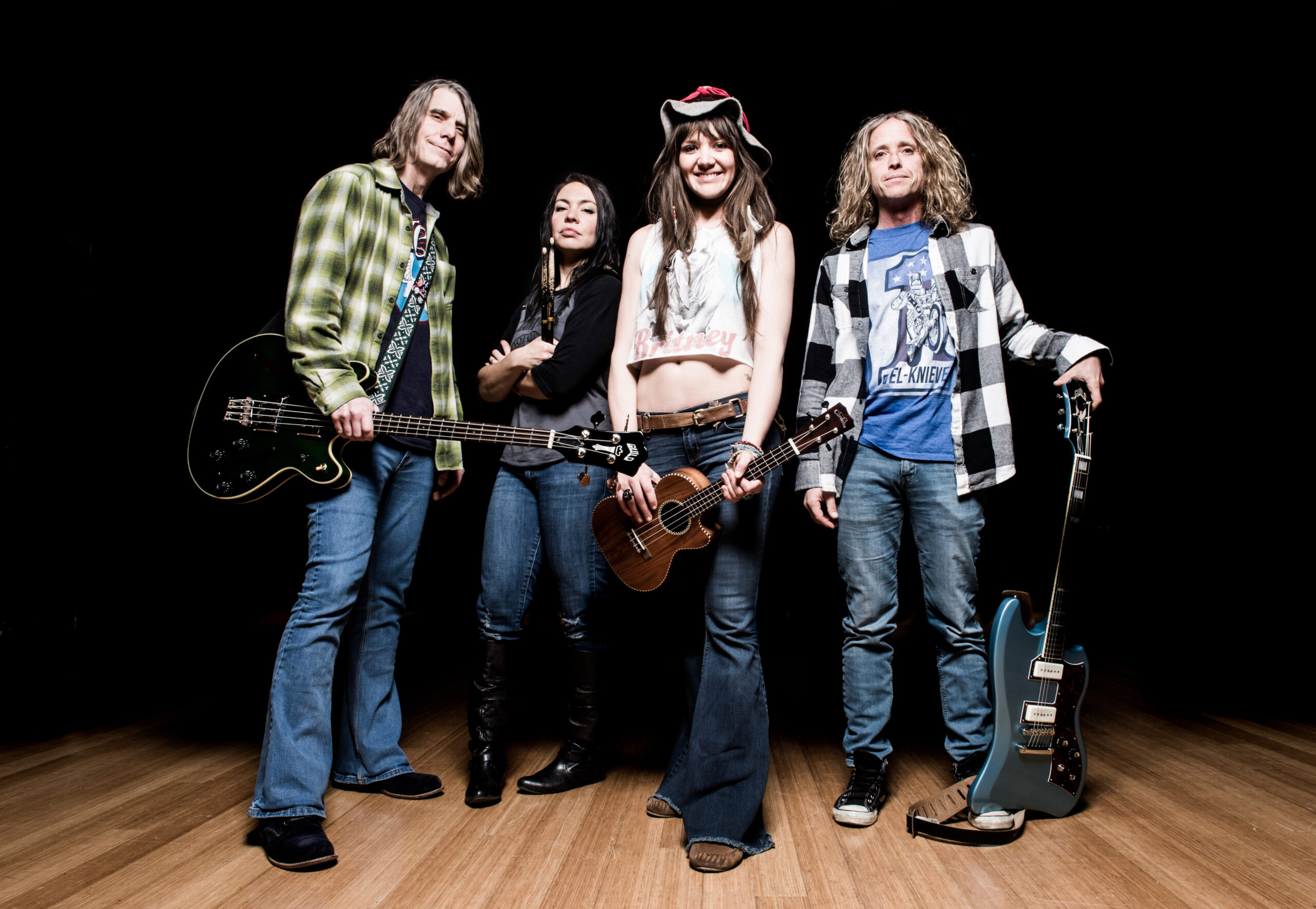 By coincidence, some 48 years earlier I praised Willie Nelson's album Shotgun Willie (which I witnessed recorded) in Rolling Stone with the then-less-than-obvious prediction: "At the age of 39, Nelson finally seems destined for the stardom he deserves."
Jon Landau was my editor for that review, a year before he would declare in Boston's Real Paper: "I saw rock and roll's future and its name is Bruce Springsteen." In one of history's great conflicts of interest, Landau morphed from objective music critic to big money manager, masterminding The Boss' climb into entertainment's Elysian fields.
Nobody needs someone like me to lead the Raelyn Nelson Band's just claim to fame.
It would be enough for Raelyn, now 36, for this story to catch some record executive's attention, leading to a long-overdue contract and finally the stardom she and her band deserve.