Sweaty little hands yearn my wife and I, with some urgency, towards the giant bouncy castle in the distance. The inflatable structure is jouncing wildly with the flailing kids inside, this, in spite of the scorching heat and smoky haze from the nearly 300 forest fires burning around British Columbia that day. Bubbles slowly drift by, captivating my two-year-old son, while, on a small hill, some older kids skim down an inviting slip-and-slide. But suddenly, just barely above the soothing white noise of squeals, laughter – and some crying – the reverie is interrupted by a "Cut! Let's do it again!" and a camera guy loaded with expensive-looking gear darts past us. Nope, this is not your typical child's birthday party – it's actually the video shoot for hardcore band Comeback Kid's new song "Heavy Steps," the second single off of their new album of the same name coming out early next year.
 "Are you and your family staying somewhat cool?" asks Comeback Kid vocalist Andrew Neufeld after he takes a long swig of water. "It's fucking hot, but I know it'll be worth it in the end."
"Heavy Steps" is the second in a two-part video series that features a desperate, psychotic father who captures his son's favourite band to play his birthday party. (Part one was their first single and slasher-themed video, "No Easy Way Out," which came on in mid-September.)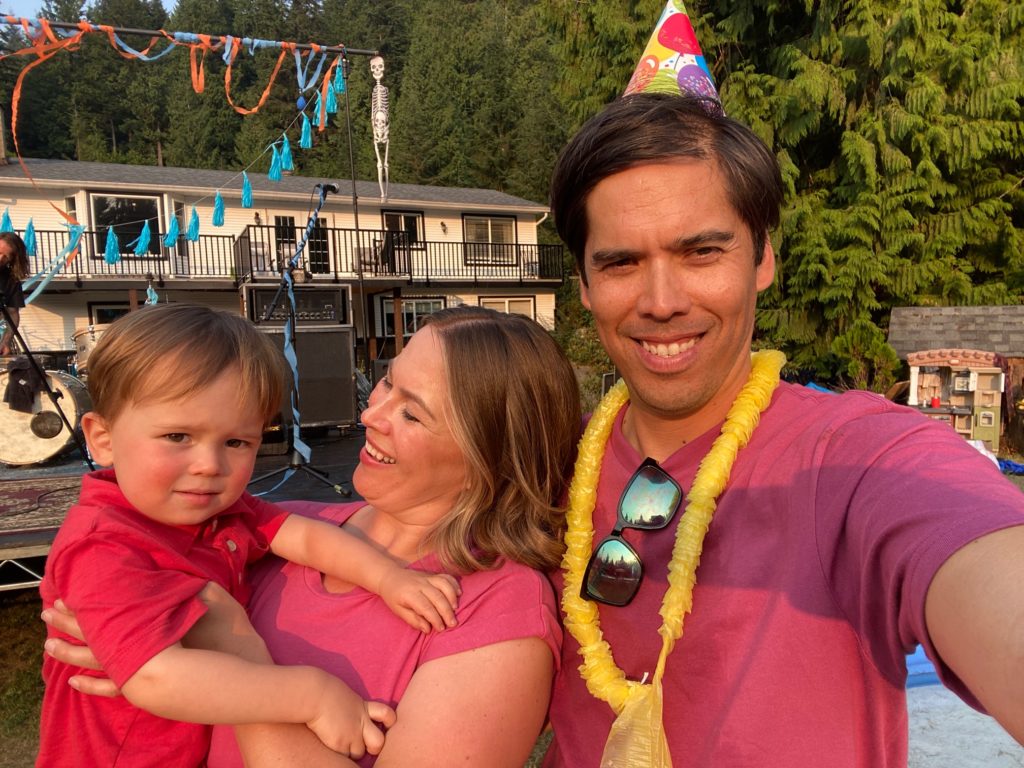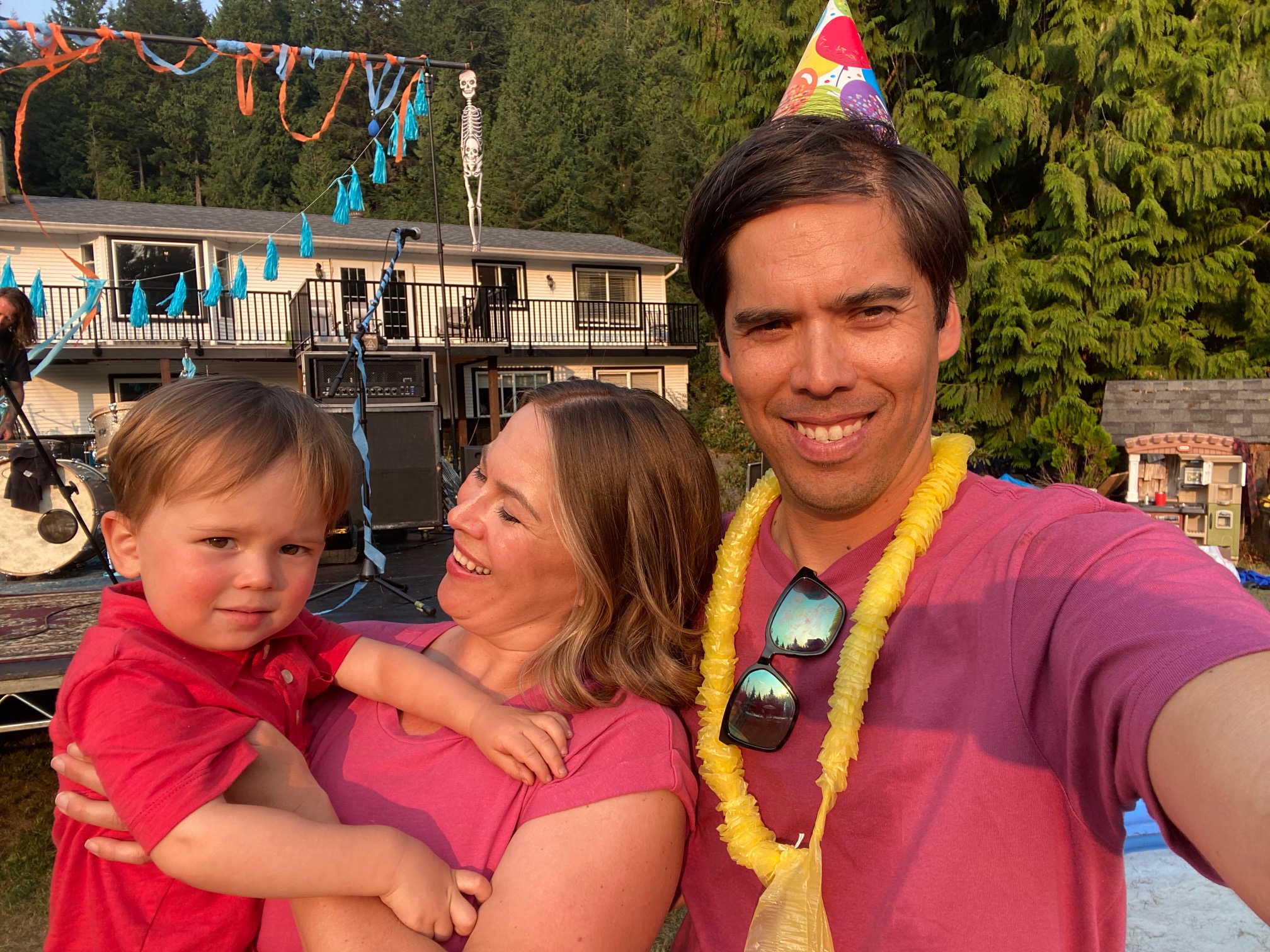 We are here today after responding to a social media post from the band inviting kids aged one to 12 and their parents to attend a "birthday party and BBQ" at an address in a smaller city nearby called Mission (about an hour outside of Vancouver). My wife and I had both looked at our oblivious son picking at his Cheerios and she shrugged her shoulders, "This sounds like it could be really cool?" (As a long-time fan of the band, I of course agreed, doing a little fist pump once she left the room.) The only instructions we received were to wear clothing without large logos and that abided by the colorful album cover art, a palette of "reds, yellows, blues, pinks, and greens," which, aside from the inevitable punctuation of punk-preferred black, were what most of the people we met wore that day.
"This is a bit crazy but I'm excited about what we're getting," says director Kevin Keegan, running his hands through sweaty hair, with a weary laugh. Today, he has a very agile crew of 12 camera operators, grips and other important roles all involved in the video's production. "I've never done anything like this before."
"We loved Kevin's vision for these songs and his work with other videos," Neufeld tells me later. "We had some ideas at first but he came in with his own angle – it sometimes better to have somebody outside of the band bring their own unique take."
Keegan's unique take seems to be working with what genuinely feels like a good old hot, summer birthday party. I guess the sweltering circumstances are somewhat appropriate because it's all for a fiery, force of an album that takes a big blazing step forward (pun intended) in their now-signature, fast and aggressive sound that, on the new record, blasts the metallic elements and riffs – as well as the glorious gang vocals and melodic sing-along melodic moments – even further. This album will, like past records, challenge expectations, burn your face off and continue to confirm Comeback Kid as one of the most gratifying and exciting bands in punk rock and hardcore. 
While the "kids birthday" theme may seem like a somewhat random direction for a hardcore video, there's a spirited chemistry between the kids and the band members whose ever-present smiles make it completely clear that they're also having a blast on this beautiful summer day. Almost identically to how he commands and leads the raucous pit and crowd at a Comeback Kid show, Neufeld accomplishes the same with this much younger, arguably rowdier audience, employing the same playful charisma and connection that has made him a frontman everyone needs to see live.
And because they couldn't play live, Comeback Kid, like many artists, spent pandemic lockdown writing the new record, taking full advantage of the copious time to let these songs grow and evolve at their own, intuitive pace. Having said that, the extra time was also a double-edged sword for the perfectionists.
Guitarist Stu Ross says that over several months, they "passed around" more than 150 versions of the first single, "No Easy Way Out."
"After a while, we had to just cut it off and move on to the next song," Ross says laughing.
Neufeld nods in agreement about the lessons learned during the album's genesis.
"The key thing is to not be precious about your material – you need to be able to let it go," he adds.
Our first taste of the said new album is short but very sweet when the band performs a playback of the title track for a short scene. We are instructed to look underwhelmed and bored when they unveil the "surprise" band. As brief as the song clip is, I need to concentrate really hard on keeping every one of my 26 neck muscles tensed so that I don't headbang to the ferocious clip, saying a lot about the new song.
As we headed home that evening, my wife and I reflected on the crazy day with exhausted smiles while our son yelled for more ice cream in the back. Behind the many happy scenes that day, we got to experience how a music video came from together, but we also met some great characters who were consistently cool and open, all connected via their collective love for this punk band from Winnipeg, Manitoba. 
Regardless of the many musical rabbit holes my son will get lost down, learning whatever bands and artists resonate with him most (one can only hope), the warmth of Comeback Kid, and this song and its video, will be eternally akin to this surreally rad family day and birthday party out in BC's Fraser Valley.