Why is Billie Eilish So Unique?
Billie Eilish's fame has skyrocketed over the past few years, going from a completely unknown artist out of Los Angeles, to one of the most well-known and sought after female vocalists on the planet. 
Her unique and almost strange sound, voice, style, and all round personality has enabled her to stand out from the crowd, sell millions of albums, sing the James Bond movie theme song, and break the mould of a typical singer, proving that talent will always trump what you look like or how you act. 
What makes her so unique though? Her style is probably one of the main things that sets her apart from other female singers. She does away with the usual tight dresses or revealing clothing, but for a reason deeper than aesthetic. 
She constantly reinforces the idea that she does not want to be sexualised and praised for how she looks, but rather praised on the music she makes. She has made it clear that she has nothing against those who dress like that, she just doesn't want it to be a part of what she is known for. 
She has also been an advocate and very vocal about a few issues she cares about. She appeared in campaigns encouraging young people to vote back in 2018, and has also been advocating against anti-abortion laws, saying that women should be able to make a free choice, and not be told by the government, or religious entities, what they can and can't do witht their bodies. 
Another aspect that many have noted, is that she promotes being one entity. This may sound silly to some, but in the world of celebrity and fame, many have two personas, an onscreen, "famous" one, and then the person they are at home. 
What you see is how she is. How she acts, dresses, and her personality. She promotes and encourages people to be who they are all the time, no matter who that person is. She believes you don't have to act when in certain environments, which most definitely goes against the grain in the world of fame she lives in. 
It may not be a completely unique aspect to her, but her relationship with her brother and their working relationship has stayed consistent throughout her rise. They make music together, tour together, seem to have a very strong bond, and neither have let their popularity change what made them famous to begin with. 
And talking about her music, her style and sound is also incredibly different. The beats of her songs, lyrics, her voice, are all unique to her, and they obviously work. She has this ability to almost "whisper" sing, but still make it powerful and "loud" in a sense.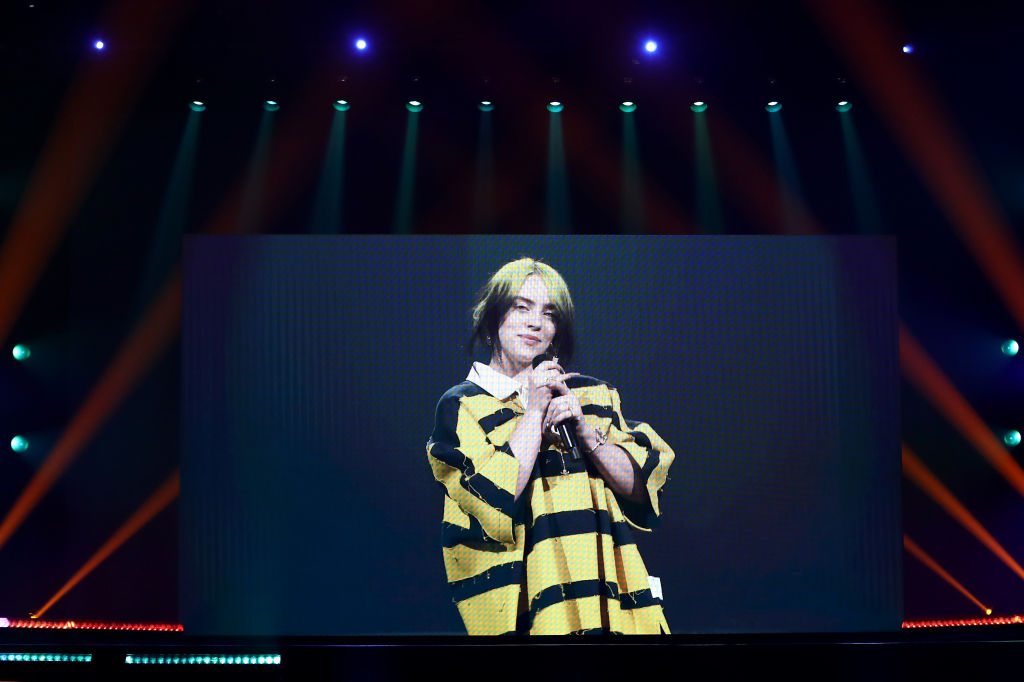 Even simple things like referring to herself as the "bad guy" in the song of the same name. It's a slight nuance that really changes the way you listen to the song and absorb it. Whether she means it literally or figuratively is irrelevant, it's a change from the norm. 
She is also quite quirky when it comes to her music. On her album, "When We All Fall Asleep, Where Do We Go?" The first track is a 14 second recording of her getting her slurping from her Invisalign aligners, and then announcing the album, before breaking into a fit of laughter, saying she wanted to add some humor to a fairly "heavy" album. 
She has also spoken fairly candidly about having Tourette's Syndrome. During an interview on the Ellen show, she spoke about how she has learnt to hide her ticks quite well, but she doesn't hide the fact that she has the disorder. 
She made it clear that she didn't want it to define her, she didn't want to be the "singer with Tourettes", but rather speak about it in a way that shows it isn't negative at all, and that it is just a normal part of her. 
During that same interview, she discussed how varied her audience is, considering Dave Grohl was in the audience because he is a massive fan, and that Stella McCartney, called her father Paul McCartney, during a meeting with Eilish because Paul is a huge fan. 
This just shows the length and breadth of her fanbase. Older, incredibly famous musicians, as well as younger, "normal" people all enjoy her music, she doesn't appeal to a singular audience, once again, something that is quite unique and rarely seen. 
And on the more random side, she is a massive Justin Bieber fan, as well as a superfan of the US version of the show "The Office", she even did a trivia quiz with a star of the show, Rainn Wilson. 
Billie Eilish has become one of the most recognizable names in the music world over the past couple of years, and this is down not only to the music she makes, but also how she is as a person. 
With her unique sound, really out there yet incredibly stylish clothing choices, her need to advocate for causes because she has a large platform to do so, she has broken the mould of what a young, popular musician should be, and this has not only changed the game, but most definitely added to her already immense popularity.