Lana Del Rey released the digital audio version of her poetry collection, Violet Bent Backwards Over the Grass, on July 28 and over the weekend shared a candid video for one of its entries via social media.
In the grainy clip, the singer-songwriter recites an abridged version of "Salamander" while collaborator Jack Antonoff's sparse instrumentation plays in the background. "Get out of my blood, salamander," she reads from a manuscript. "I can't seem to blow off enough steam to get you out of my head/ Soul cycle you to death, run you out of my blood to San Pedro/ And yet, everywhere I go, it seems there you are/ And there I am."
Watch Del Rey recite "Salamander" below.
https://twitter.com/LanaDelRey/status/1289704402396184576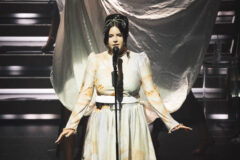 Violet Bent Backwards Over the Grass is the first of two poetry projects Del Rey plans to release this year. Though the second, behind the iron gates – insights from an institution, doesn't have a release date yet, she did share a piece from it — "patent leather do-over" — in May.
The poetry collection will be available physically as a hardcover and digitally via ebook on Sept. 29, with CD and LP formats releasing Oct. 2. Half of its proceeds will go to benefit Native American organizations.