Ten years ago, Mariah Carey began her eleventh album, E=MC², with a series of cascading, a capella banshee wails, a shameless showcase of her legacy-sealing abilities. At this point, Carey's voice was still a literally Guinness-worthy force of nature. In her vocal prime, she was able to access upper-echelon dog-whistle notes even her forebear Minnie Riperton couldn't muster. For years, Carey's seemingly physically impossible head voice was the clear common denominator in her music. On her records, she pivoted between Whitney-esque piano ballads, uncompromised Top 40 pop productions, and exercises in attitude aligned with contemporary hip-hop trends. After the commercial failure of Glitter in the early 2000s and its attendant tabloid lore, her "whistle range" began to feel like a depressing preoccupation, and her ability to access it became less and less consistent.
In some sense, Carey's relentlessly enjoyable fifteenth album Caution is the least Mariah-Carey-sounding album ever—the result of a complete lack of vocal extremes, outside of a couple of brief, reverb-drowned background wails that may or may not be synth patches. Instead, the unusually brief 10-song record explores Mariah's natural, warm alto, signs of surface wear and all. Carey pivots away from breaks in her range that are now precarious (see the leapfrogging between octaves in "With You"). She doubles melodies in lower registers for emphasis, when formerly just one high-range track would have done the job. On "Portrait," the album's sole ballad, the huskiness of her mature voice—with a slight flutter on the surface, sometimes easing into notes rather than hitting them—-is thrown into stark relief. One recalls the poignant, late-period delivery of Ella Fitzgerald, which resulted in stirring, imperfect performances of more manageable material.
But like most great pop singers, Carey's most crucial gift is her assured and sensitive phrasing. She has a natural aptitude for selling a line, whether in the context of a stuttering hip-hop cadence or belted in the middle of a bittersweet torch song. Stratospheric range or no, Mariah delivers all of Caution like a very recognizable version of herself. These shrewd and self-assured songs are anchored by a panoply of market-tested hip-hop and club grooves of the most laid-back variety, but Mariah's voice distinguishes them from so much of the featherweight modern R&B wrought in her image (and that of Aaliyah, one of her most notable stylistic heirs).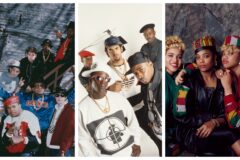 Most of Caution's songs could have reasonably fit on any of the albums Mariah Carey has made in the last 15 years. Either pop music hasn't changed much during that time, or Carey's signature hip-hop-inflected style became inextricably central to it. Likely, it's both. In an alternate universe where people had their priorities straight, Caution could have yielded a murderer's row of charting singles. In many ways, the production of these songs (especially the first side) sound totally in line with trends in contemporary R&B, absent its glitchier, experimental tendencies. A notable exception is "Giving Me Life," helmed by Blood Orange, who imbues the track with his customary retro collage-and-quotation approach; in its lugubrious coda, Carey's voice is reduced to a collection of cave echoes. When it comes to rappers more venerated in Carey's commercial heyday, Slick Rick is as inspired and unusual a choice of collaborator as she could make in 2018 (thankfully, there's nothing as tired as a Nas and Snoop appearance). Another appealing callback is the "Crush on You"-flipping "A No No," the latest in a long and invigorating tradition of Carey anthems based around familiar samples.
Instead of conspicuously inserting Carey into contexts where she doesn't necessarily belong or want to be, Caution's younger producers and co-writers build worlds that sound custom-engineered to her skill set and stylistic universe. (Old friend Timbaland, on the other hand, sounds almost anonymous on "8th Grade.") "The Distance" is a collaboration with Skrillex and Ty Dolla $ign—two contemporary industry assets with strong success rates for crafting addictive pop music—and it's almost objectively irresistible. The Nineteen85-produced "GTFO," caustic and reserved, has the kind of kiss-off hook that has defined Carey's best music since her commercial comeback with 2005's The Emancipation of Mimi. To everyone's delight, it rhymes "Caymus bottle" with "martyr." It is hard to imagine Young Thug protege Gunna and Mariah Carey hanging out in the studio together; indeed, they probably didn't. Still, the up-and-coming street rapper is an appropriate playfully flirtatious sideman on the functional "Stay Long Love You," serving the worthy purpose of most rappers who've ever collaborated with Mariah. (It's only slightly weird that he was born the year Music Box came out.)
Caution feels particularly unimpeachable because of its razor-sharp focus, a definite anomaly for Mariah Carey albums. The stylistic parameters are much narrower than her sprawling previous album, 2014's Me. I Am Mariah…The Elusive Chanteuse, if the high-water marks are perhaps not as striking. Ultimately, Caution feels like the most canny and dignified possible statement for Carey at the outset of the fourth decade of her career. It distills and gently repositions her appeal around crystalline radio-ready jams, and makes a tremendously convincing statement for her as more than a historically important pair of vocal cords. More than just a sound effect, "Mariah Carey"-ness is a style and an attitude, a mode in which so many artists continue to make music. On Caution, she is still doing it better than most of her students, and sounds more comfortable than she has in quite a while.