Though not quite as drastic as Phil Collins's transformation from a time signature-juggling prog drummer to schmaltzy pop megastar, the late Chris Cornell went through a similarly radical mid-career shift. Like Collins, Cornell started his career behind the drum kit, though only those people who saw him perform during his formative years in mid-'80s Seattle will remember him that way. Still, Cornell's oddball sense of rhythm provided one of the many jagged edges that defined his work as the frontman and driving force behind Soundgarden, a pillar of the '90s grunge movement and the broader alternative uprising that encompassed it.
Unlike Collins, however, Cornell's fortunes didn't increase when he stepped out on his own, though he did manage to stay in the public eye. As the new career-spanning posthumous box set An Artist's Legacy demonstrates, after pulling the plug on Soundgarden in 1997, Cornell either sublimated his quirkier instincts in pursuit of a more conventional muse or lost touch with those instincts outright. Over 64 songs on four discs, An Artist's Legacy documents Cornell's winding evolution from wailing rocker to sentimental crooner with a taste for offbeat pop. If you come to this collection strictly as a fan of one particular period, you may have to work to appreciate the others.
An Artist's Legacy is certainly comprehensive, but it fails to highlight any common threads that might help us navigate Cornell's long and varied career. Opening tracks "Hunted Down" and "Kingdom of Come," both from Soundgarden's 1987 debut EP Screaming Life, reflect the profound imprint of post-punk acts like Killing Joke and Wire and give listeners the proper context for Cornell's longstanding contention that he and his then-bandmates weren't actually looking to Black Sabbath and Led Zeppelin for inspiration (as listeners and critics tended to assume, not without reason). But fans of those early Soundgarden efforts are unlikely to relate even to the band's more commercially successful material, much less the slick mainstream appeal of Cornell's post-millennial output.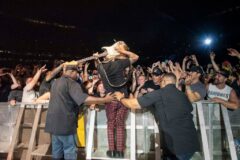 Moreover, the set's running order doesn't always serve the breadth of the track selection. The inclusion, for example, of a latter-day re-recording of "Storm," which dates back to Soundgarden's second demo and flaunts the band's goth influences, is laudable. But the song appears sandwiched between the sweeping orchestral rock of "Misery Chain" (a 2013 duet with Joy Williams off the 12 Years A Slave soundtrack) and the 2015 solo single "Nearly Forgot My Broken Heart," which pairs a string section with rootsy mandolin and a soaring chorus for a remarkably coherent synthesis of Cornell's pop, soul, and rock instincts. A better choice than "Storm" for that triptych would have been the previously unreleased "When Bad Does Good," an organ-heavy gospel ballad that shifts into dreamy adult contempo. Stuffed with rich, jazz-inflected chord changes, all three of these songs illustrate just how far Cornell had come as an arranger, but they aren't given an opportunity to work together.
An Artist's Legacy presents Cornell's various pursuits not as the work of an eclectic in search of new expressions, but as a tangle of clashing affinities. No matter how many times you remind yourself that his first officially released music was delivered via underground-avatar labels Sub Pop and SST, it remains hard to fathom that the same person would one day release the Timbaland-produced techno-lite of "Scream." Cornell's soul-R&B influences actually pre-date his time in Soundgarden, though you wouldn't know it from An Artist's Legacy. The band's apparently non-ironic early cover of the Ohio Players classic "Fopp" is just the sort of connective tissue that might help us make sense of the singer's later period, but unfortunately, it is not included here.
Some of the hardest-hitting music Cornell made with Soundgarden was actually the quietest, eschewing the primordial roar on which the band had staked its reputation in exchange for lilting psychedelia. And An Artist's Legacy does a fine job representing that side of his oeuvre. Two such songs, "Dusty" and "Burden in my Hand," both from Soundgarden's 1996 swan song Down on the Upside, appear back to back at the conclusion of the first disc. "Burden," an acoustic guitar-driven murder ballad inspired by Neil Young, strikes a deeply mournful chord when interpreted as an ordinary account of relationship collapse, where the narrator retreats as the other party desperately holds on. Describing the Soundgarden radio staple "Black Hole Sun," the author of a 1996 Spin cover story marveled at Cornell's knack for writing songs that were "mellow, quiet, and pretty without dipping into dreaded power balladry." It's a testament to Cornell's sense of craft that he could turn a naked longing for the world to be swallowed whole into a chorus hook—"Black hole sun / Won't you come / And wash away the rain"—so memorable that it rocketed the band's 1994 blockbuster Superunknown to No. 1 on the charts and sealed Soundgarden's permanent household-name status.
Even during Soundgarden's earlier period, when the band was still revelling in guitars as heavy as a Brontosaurus rolling in swamp mud, Cornell was also crafting gentle but engrossing solo-acoustic numbers like the Singles soundtrack cut "Seasons," and finding the sweet spot between bedroom soul and soft rock with "Say Hello 2 Heaven," a song from his one-off Temple of the Dog project with Soundgarden drummer Matt Cameron and members of Pearl Jam. Slighted at the time by the newfound praise for his songwriting, Cornell insisted that he'd been writing these kinds of songs all along.
His platinum hit streak in Audioslave, where he joined the remaining three members of Rage Against the Machine stranded by frontman Zack de la Rocha, showed some initial promise, with Cornell penning some of his most bluntly personal lyrics. But the band eventually settled into an arena-ready formula that secured corporate radio airplay and stunted any potential to stand apart from the glut of generic 2000s-era heavy rock. The seven Audioslave tunes here showcase how comfortable Cornell became wearing his soul and blues influences on his sleeve in a quasi-metal context. By that point, though, he'd ceased to be the challenging artist he once was. And though he brought an expanded palette to a reunited Soundgarden in 2010, he never quite recovered the intangibles at the heart of his appeal.
That later work stands in stark contrast to a recording like the 1992 live rendition of Soundgarden deep cut "Mind Riot," on which Cornell works like an impressionist painter, conjuring vividly surreal images of walking a tightrope with two-ton shoes and building an elevator out of a dead man's bones. After 1996, he never again approached subjects from that sort of metaphorical vantage point—a bewildering about-face from an artist who, on "Dusty" for example, talked in circles rather than just come out and say he was in a pretty good mood. An Artist's Legacy doesn't help us understand why that guy disappeared, but at this point, it's probably best to accept that we might never know.