Twenty-seven years ago, Fox premiered an episode of The Simpsons rumored to feature the voice of Michael Jackson. Titled "Stark Raving Dad," the episode allegedly depicted Jackson as an animated character entering a mental facility under the pseudonym Leon Kompowsky. Die-hard Simpsons' fans have long held theories about the King of Pop's involvement with the show, but now the show's creator Matt Groening has confirmed that Michael Jackson did actually do the voice of the character.
"We really did have Michael Jackson," Groening said on Australia's The Weekly. "He has a voice that sounds like someone doing a Michael Jackson bit," Groening explained after saying that he initially hung up on a cold-call from the multiplatinum performer. "He said that he loved Bart [Simpson] and wanted to be on the show."
Groening also said that Jackson's name never appeared in the credits due to a dispute with his record label. "He did do the show. He didn't want credit for it, it was some kind of deal with his record company or whatever," Groening said. "When it came time to do the songs, he had a sound-a-like singer and he stood there and watched the guy—and he was so nervous—who had to to sound like Michael Jackson." Groening also revealed that Jackson was credited under the pseudonym John Jay Smith.
Earlier this week, a Los Angeles Times report disclosed that the Michael Jackson estate is planning to release a batch of new "reworkings" of Michael Jackson songs. Watch a clip of The Weekly's Matt Groening interview below.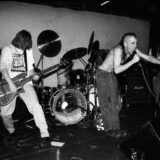 The rumours circled every school playground in the 90s – was M.J. on #TheSimpsons? @Briggs ask the man himself, Matt Groening. #TheWeekly pic.twitter.com/8SSxqhKY7i

— The Weekly (@theweeklytv) August 29, 2018