As promised in last week's teaser clip, Lana Del Rey has released a moody new song called "Mariners Apartment Complex." It's to be followed by a second single, "Venice Bitch," both expected to appear on an as-yet-unnannounced album with an anticipated release in 2019, according to various reports. Her most recent album, Lust for Life, was released in July 2017.
The new songs find Del Rey working for the first time with pop producer and Bleachers frontman Jack Antonoff, known for his high-profile collaborations with the likes of Taylor Swift, Lorde, and St. Vincent. The pair first publicly hinted at their collaboration with some dress-alike photos posted to social media last month.
Del Rey announced "Mariners Apartment Complex" last week with a photo of herself wearing a shirt including the words "Venice Bitch." (The phrase "Venice bitch" also figures into the lyrics of "Mariners Apartment Complex.") According to the announcement, the new song's video was directed by frequent photographic collaborator and younger sister Chuck Grant. Revisit the teaser photo and watch the new, black-and-white video for "Mariners Apartment Complex" below.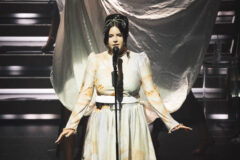 Mariners Apartment Complex
Out next week pic.twitter.com/bsBmWF99Ld

— Lana Del Rey (@LanaDelRey) September 7, 2018