One of the selling points to seeing the Foo Fighters on tour is the possibility that any random audience member has the chance to be pulled onstage to perform with the band. The latest lucky Foo fan to share the stage with the band is a young woman named Madi Duncan who was plucked from the crowd at the Vancouver's Rogers Arena show by drummer Taylor Hawkins after apparently waving a sign requesting a duet.
"You wanna sing 'Under Pressure' with me?" Hawkins is heard saying to Duncan after a brief sidebar with Dave Grohl. "Do you just want to come up here and hang out with us?"
The answer was obviously yes as Duncan climbed over the barricade to sing the Queen song with the band. According to Victoria Music Scene, Duncan was joined onstage by "superfan Roxanne Engli of Kamloops," who apparently follows the Foos like they're the Grateful Dead.
You can watch the performance below, which begins at the 3:30 mark.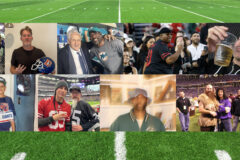 Bringing the sign requesting the duet was clearly a shrewd move by Duncan, who is the singer in a Vancouver Island band called Stranger Than Fiction.
Last month, Queen's Roger Taylor joined the band onstage during an "Under Pressure" performance at a warmup show in the parking lot of the Hollywood Palladium.
Update (2:50 pm EST): After getting misidentified by several outlets (including Spin) as being Duncan's mother, Victoria Music Scene confirmed the second woman's identity as Roxanne Engli. The dedicated Foo Fighters fan tweeted some love for the band after her impromptu performance. Her Twitter profile picture, fittingly enough, is a selfie with Dave Grohl.
Thanks @foofighters for making all our dreams come true…..AGAIN!
PS You can run without a voice and sing without a leg…..but ya can't sing without a voice! Please take care and see you in Edmonton, Calgary, Vancouver……. https://t.co/edutekkvqh

— Roxanne Engli (@roxengli) September 2, 2018
It turns out that Duncan is just 16 years old. She wrote about the experience of being pulled onstage with the band and how their music helped her deal with mental health issues.
"A lot of people are aware (or maybe not) of my struggles with mental illness and have been very supportive of me throughout it all," Duncan wrote, "but something that you may not know is how much Foo Fighters helped my younger self during the worst time of my life."
You can read her entire statement below.