"The nursing child will play by the hole of the cobra. And the weaned child will put his hand on the viper's den." – Isaiah 11:8
Like a vengeful deity testing the loyalty of his subjects, Young Thug cursed music media this week with a plague of vicious serpents. Just kidding! The little guys were sent to various outlets as promotion for Thug's upcoming mixtape Slime Language, and they're super cute. One's in our office right now, sent to our colleagues at Billboard: a whip-thin tangle of bright green scales who seems uninterested in anything other than munching on crickets and basking under the heat lamp. Her name is Digits.
Sending snakes named after your own songs to media companies is obviously an awesome flex on any rapper's part. But it raises some logistical and ethical questions. Editorial teams are busy enough; who has time to take care of a snake? According to wildlife control site CritterControl, pet snakes live 20 to 30 years if properly cared for. Will music media even exist for that long? Will the snakes eventually be given editorial responsibilities after a future round of layoffs? What will cricket prices look like once the water wars get started?
We reached out to publications who received the reptiles to check up on how they're preparing for the long haul.
"People were surprised to see the box show up," said Mass Appeal staffer Kyle Petreycik. But everyone "calmed down once we got Freaky on-boarded." Now the company plans on keeping the snake full time. They've set Freaky's terrarium up on a desk (see below) in the video editing room. The staff have adopted a feeding rotation: 25 crickets a week. Petreycik himself fed Freaky five crickets this morning. He describes the snake as "cool, calm, and collected," if "slightly anti-social."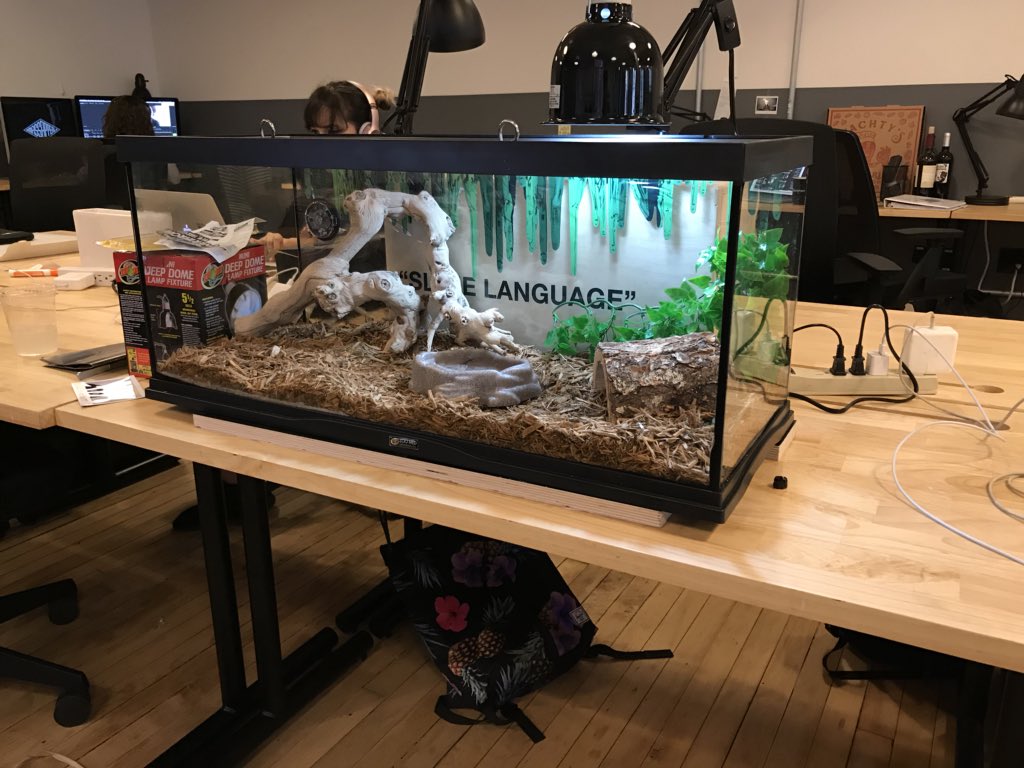 The staff at the Fader weren't as enthusiastic. "Mixed emotions," said Editor-in-Chief Duncan Cooper, describing his staff's response to their scaly delivery (which didn't come with a name tag, unlike others). PETA, if you're reading this, don't freak out: one merciful Fader staffer offered to care for the snake themselves. "Someone who is happy about the snake is texting their roommate to ask if it's ok if they have a snake now," Cooper said. "Update, their roommate is happy too," he added a few minutes later. Asked for his thoughts on the ethics of using live animals as album promo, Cooper sent SPIN a link to this incredibly evocative cartoon. "Everyone is happy now it has a loving home," he concluded.
No "animals that slither along on their bellies" (Leviticus 11:42) ever made it inside One World Trade Center, home of Pitchfork. "We politely declined the offer," said Pitchfork Senior Editor Jeremy Larson.
Snake mail has taken longer to reach Williamsburg. "We haven't received one, but apparently there's one on the way," reports Eric Sundermann, Editor-in-Chief of Vice's music outlet Noisey, whose office is in the neighborhood. "In terms of what the plan is for taking care of it, I have no idea, as I don't even know what it is yet. But we'll definitely make sure it's properly taken care of." Hopefully Action Bronson will be kept far away.
On Twitter, NPR Music producer and staff writer Lars Gotrich posted a picture with a snake. "Young Thug sent the @nprmusic office in NYC a snake to promote 'Slime Language.' NPR has strong ethics guidelines about gifts of significant value, so we sent it back, but not before I got a pic." Their commitment to avoiding conflicts of interest is admirable.
Young Thug sent the @nprmusic office in NYC a snake to promote 'Slime Language.' NPR has strong ethics guidelines about gifts of significant value, so we sent it back, but not before I got a pic 🐍 https://t.co/aYy7JTS0hF pic.twitter.com/CGcBjQiUBs

— Lars Gotrich 🍷🌊 (@totalvibration) August 1, 2018
As for Digits, she's here for the long haul. "Digits stays as long as no one in the office has any objections or complaints about her," said Billboard hip-hop editor Carl Lamarre. "Digits is a part of the Billboard family and will stay in [VP of content] Ross [Scarano]'s office for the time being. She's the company pet."
Digits took some getting used to. "Initially, everyone was scared to hear that we were being given a snake, until they realized how small she actually is," Lamerre added. "Digits is very shy and timid. She rarely makes appearances and is always hiding."
All in all, this promotional stunt probably could have gone a lot worse for all involved. Still, we urge rappers in the future to keep our strained budgets and busy workweeks in mind regarding living gifts. Would a succulent plant be so bad?