Late last night, Nicki Minaj and Future cancelled the North American leg of their joint NickiHndrxx Tour, which was set to span 29 dates across the U.S. and Canada from late September through just before Thanksgiving. The reason given was that Minaj wants to "reevaluate elements of production" and "contribute more time to rehearsal," though it's fair to wonder the extent to which the production would need to be reevaluated given that the first scheduled date, Sept. 21 in Baltimore, is still a month away.
Hours before the announced cancellation of the tour, the New York Post ran a story about what a Live Nation source described as shockingly low ticket sales, with the Post, almost certainly in an attempt to get out ahead of the story, writing that the "tour is in danger of being cancelled." Via the Post:
A Live Nation source told us, "Nicki's tour could be the most disappointing ticket sales of the year for any artist. These are big arenas with up to 20,000 capacities. Sales for opening night in Baltimore is 2,000 tickets. LA is 3,400, New Orleans 1,000, Denver 1,300, Chicago 3,900. Even her hometown Brooklyn is only 5,050."
Minaj and her team would surely assert that ticket sales were healthy and the cancellation was solely due to creative reasons. Live Nation, which depends on tentpole arena tours from established stars like Minaj, would likely argue the same. Reps for both Minaj and Live Nation did not respond to requests for comment from Spin regarding the Post's report.
One place we can look is Ticketmaster, which provides detailed maps of venues that show exactly which seats have been sold and which are still available for purchase. Consulting those pages—which are, as of this writing, still accessible through the tour's official website—would make you believe that an enormous amount of tickets remained unsold for several of the scheduled shows, including entire sections and in some places essentially the whole arena.
For instance, here is that first scheduled stop in Baltimore. (Note: In all the below images, blue dots refer to available tickets, pink dots refer to tickets available via official resale, and yellow dots refer to available tickets tied to VIP packages such as meet-and-greets.):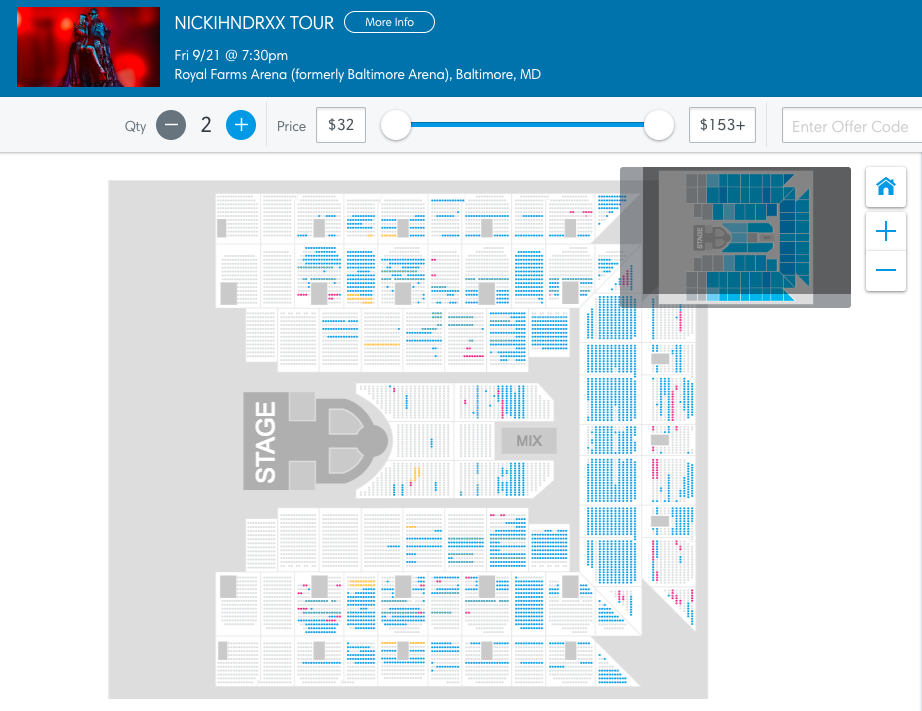 Here is Oct. 23 in Memphis: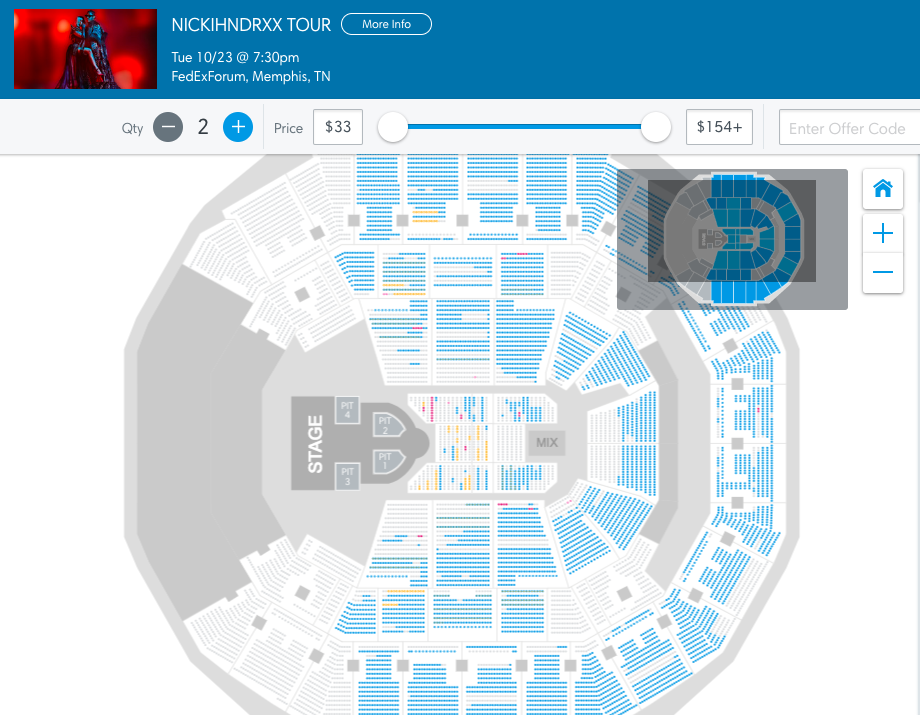 Oct. 30 in New Orleans: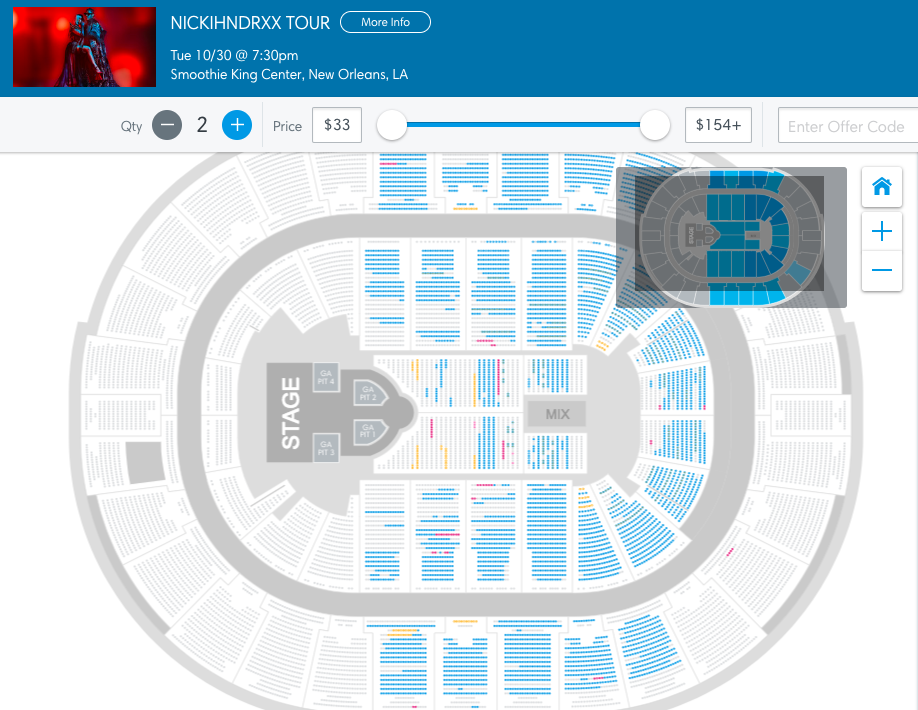 The situation was not quite as dire in some other cities, though. For instance, here is Sept. 23 in Washington D.C.:
And Sept. 28 in Chicago: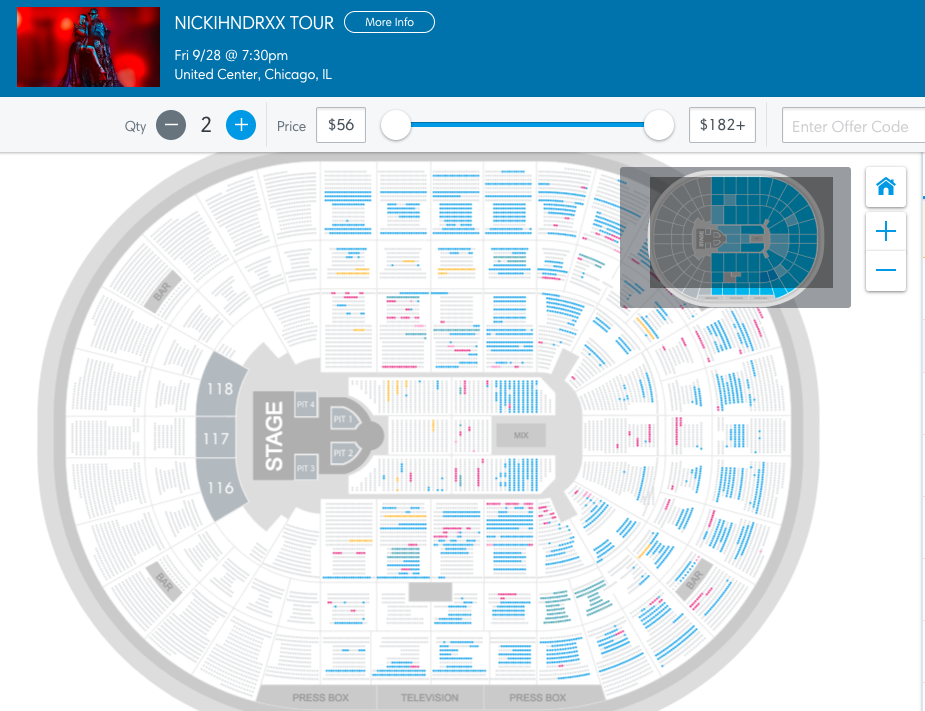 And Oct. 4 in Boston: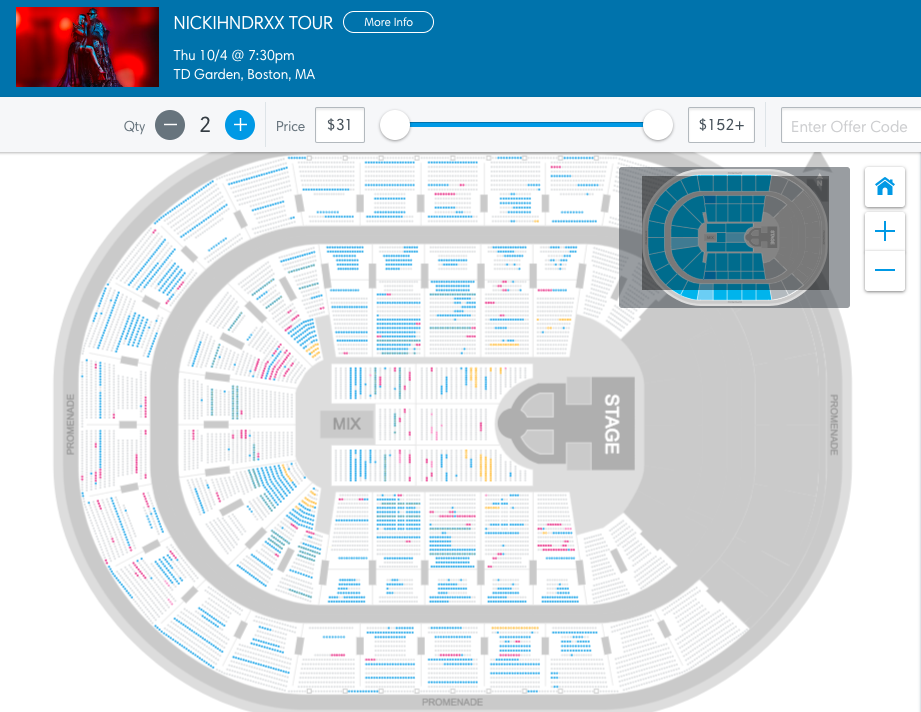 Still, these are far from sellouts, especially in major markets, even with over a month or two still to go for some of these dates. In the biggest cities on the tour—New York (well, Brooklyn) and Los Angeles—the situation was about the same.
Oct. 11 in Brooklyn: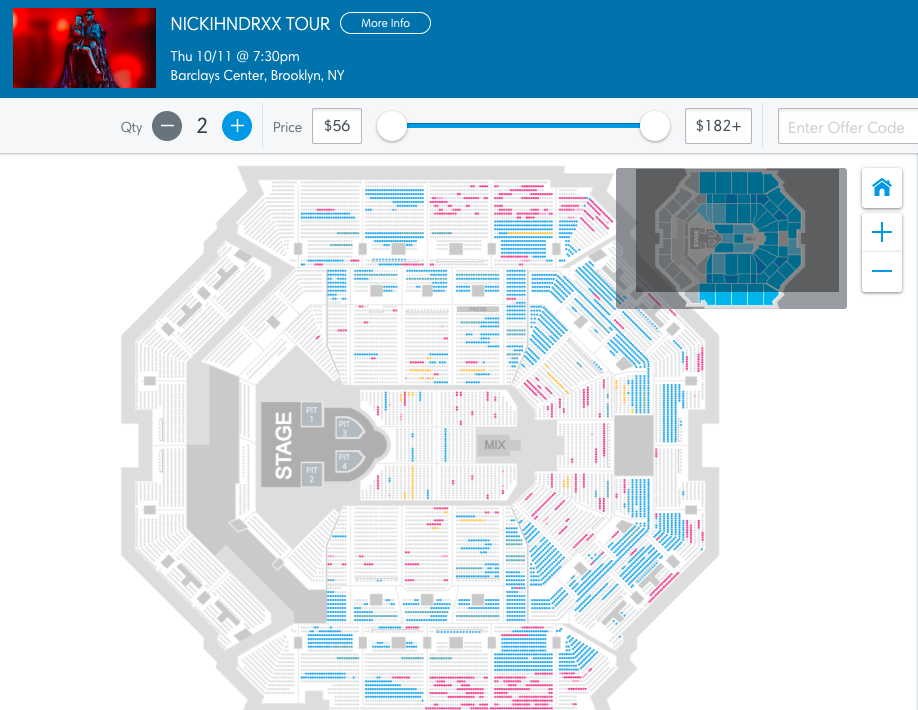 Nov. 20 in Los Angeles:
But in other big markets, the sales appeared to be about as low as in places like Memphis and New Orleans.
Oct. 1 in Toronto: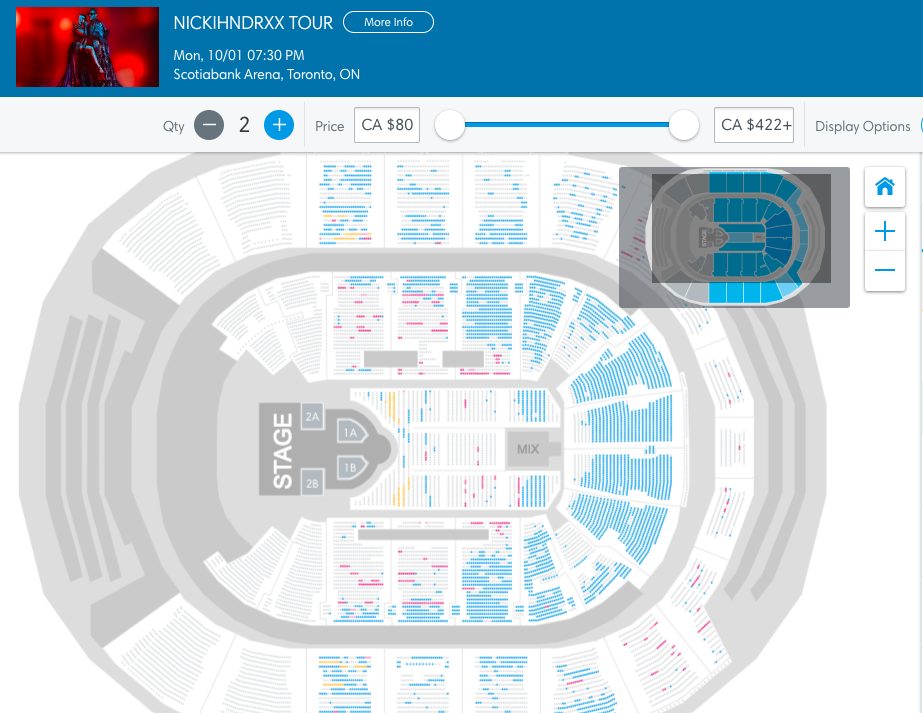 And Oct. 7 in Newark (considered part of the New York City market):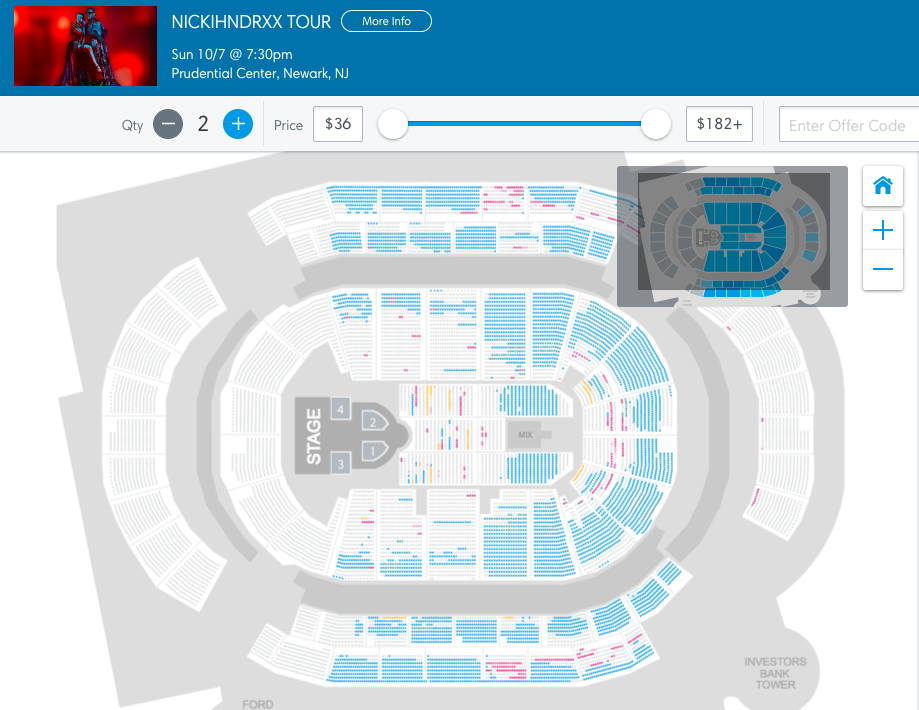 It's tempting to blame this all on Minaj, and to connect it to her burgeoning feud with Travis Scott, which itself is a public reckoning with the status of the current popularity of her music. Indeed, that is explicitly what the New York Post did, for instance, in its story on the tour's reported sales. But it's worth remembering that this was supposed to be a co-headlining tour, and Future has had a mostly quiet 2018—his only Billboard hit of the year has been Jay Rock's "King's Dead," on which he has a memorable and meme-y verse, but still. Future also spent large portions of last year on the road, including the well-attended Nobody Safe arena tour with the Migos, which he followed up with a smaller amphitheater tour over the summer. In 2016, he co-headlined a tour with Drake, which spanned three months and sold out many of these same arenas across North America. If you're a person who wants to spend $100 or so to see Future, you've probably already done so in the last two years, and nothing he's put out in 2018 would exactly motivate you to do it again.