Aaaooougggghhh? From Home Improvement to his current sitcom Last Man Standing, Tim Allen has carved out a reputation as an anti-intellectual type, a performative macho man whose creative output seems dedicated to reinforcing simplistic ideas about masculinity. So it's more than a little surprising to learn about Allen's passion for the photorealistic paintings of ex-Guided by Voices member Tobin Sprout, but there it is: a 17-minute audio interview with Allen about that very subject.
As Superchunk/Mountain Goats drummer and The Best Show cohost Jon Wurster pointed out on his Instagram (and as subsequently blogged by The A.V. Club), Allen spoke to Flood Content, an art sales company that represents Sprout.
Allen explains that Sprout's family home is near a home Allen owns in northern Michigan along Lake Michigan. He first spotted one of Sprout's paintings at a gallery in Leland, Michigan and ended up buying one or two of them that day. He mentions that while attending art school before switching to industrial design, he developed a taste for the kind of photorealism Sprout once specialized in. "His perspective is pretty particular," Allen notes. "It's kind of like a semi-wide angle lens… There's a whimsical, kind of cartoony — there's too much of something. I can't be specific about it, I just — it affected me. I like his composition 'cause again, it's not dead on. It's a little asymmetrical I guess. He has a clever eye, and I appreciate clever eyes."
Allen eventually invited Sprout to come paint his red hot rod on the set of Home Improvement, visible four minutes into the interview. There's lots of other Sprout art in there and more than a few surprising revelations about Allen's artistic background. I guess there's more to him than just conservative talking points. Marvel at this entire situation below.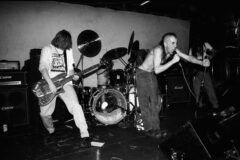 This article originally appeared at Stereogum.