The following is a partial inventory of epithets assigned to the Bay Area metal band Deafheaven since their formation at the dawn of the decade: black-metal visionaries, sinister shoegazers, hipster-metal scumbags, starry-eyed romanticists, theatrical doomsayers, awe-inspiring puglists, pompous posers, critical darlings, drug-addled assholes, extreme-music messiahs, self-important pilferers. Mostly, they're known as the guys who made 2013's Sunbather, one of the most ambitious, beloved, and downright divisive metal albums ever recorded.
The six-piece may not have been the first to leaven black metal's bleak brutality with shoegaze's sun-dappled gorgeousness, but they certainly left the biggest impact. (Can you name another black-metal band who've rocked Coachella?) Any lingering suspicions regarding their staying power dissipated with 2015's revered New Bermuda, the frigid midnight to Sunbather's midsummer morning.
Three years later, Deafheaven step back into the light with Ordinary Corrupt Human Love, their most organic, expansive music to date. Awash in impressionistic splendor, the seven-track suite doubles as the band's monument to, well, Ordinary, Corrupt, Human Love, the common, conflicting sentiments that make us human: oxytocin highs and suicidal lows, primal aggression and poetic eroticism, future children and long-lost lovers. Go ahead and roll your eyes at the sentimentality if you must, but know that you'll walk away feeling something.
With its intermittent clean vocals, abundant alt-rock solos, and near-constant warmth, Ordinary Corrupt Human Love qualifies as Deafheaven's most accessible effort thus far, not to mention one of 2018's most universally-palatable collections of heavy music; with the exception of George Clarke's demonic fury and Daniel Tracy's intermittent blast-beat bursts on "Honeycomb," "Canary Yellow," and "Glint," the arrangements don't feature much metal, certainly not of the blackened variety. "Near" finds Clarke swapping his devastating screams for sweetly-sung melodies while his bandmates pull a Mogwai, swaddling their compatriot in gauzy post-rock riffs. "Night People," a haunting duet with labelmate Chelsea Wolfe, seeks devastation through a similar tenderness, its hazy arrangement landing halfway between darkwave and dream-pop, between love and death.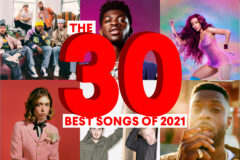 Kerry McCoy's fretwork defies convention, too, guiding the listener along a nostalgic stream of consciousness as deep as it is diverse. Hints of Eric Clapton's "Layla" ("You Without End"), Smashing Pumpkins' "Cherub Rock" ("Honeycomb"), Radiohead's "Man of War" ("Glint"), and per usual, every song Slowdive have ever written ("Canary Yellow") pop up. Deafheaven have always worn their influences on their all-black long-sleeves—sometimes a bit too openly, to the disdain of metal purists and shoegaze snobs. But here, the band's allusory aesthetic functions less like a roadmap and more like a basket of sonic Easter eggs, a clever exercise in collective memory that reinforces the work's populist aims writ large.
The big-tent backdrop Deafheaven erect on Ordinary Corrupt Love doesn't always hold up. In casting such a wide stylistic net—and by extension, abandoning the singular approach of their last three albums for the heavy-music equivalent of a mixtape—the band occasionally undermine their own cathartic goals. Notable dynamic deformities include the fumbled, abrupt pivot from shoegaze heaven to metal hell midway through "You Without End"; the texturally rich but over-extended outro on "Honeycomb"; and worst of all, a lazy fade-out to the finish line in the final moments of "Worthless Animal," the otherwise stunning album closer. Given Deafheaven's stark ambition, you'd think they'd put a little more effort into the big finale.
Then again, perhaps a lack of force is precisely the point. Consider the following lines from Graham Greene's 1951 modernist novel The End of the Affair, from which album's title is sourced. "I want ordinary corrupt human love. Dear God, you know I want to want your pain, but I don't want it now. Take it away for awhile and give it [to] me another time." Save the masochism for another day: Right now, Deafheaven just want to love. And we could all do with more of that.