Snail Mail has become somewhat of a "media darling" since the release of their 2016 EP Habit, signing to Matador Records, landing coveted spots at South By Southwest, and receiving comparisons to nearly every female-fronted, slightly angsty girl group that has ever existed. In interviews, frontwoman Lindsay Jordan repeatedly distances herself from the hype machine that inevitably tries to swallow female musicians whole: "It sometimes feels like I would rather just be compared to male artists in a lot of ways, because there are bands that we could be getting compared to that we're not, just because I'm a woman."
Refusing to partake in the gender-based dichotomy that so often drives rock criticism was smart on Jordan's part, even if they might help promote, say, a debut album. Instead she leaned on her natural inclinations toward earnestness or her experimentation with marrying dissonance and glistening guitar pop. Her new album Lush pushes boundaries on both fronts.
Compared to 2016's Habit EP, Lush is largely lacking in gritty garage rock, and instead finds the band leaning into Jordan's voice. Jordan cites Avril Lavigne as an early influence, and on tracks like "Full Control," it's clear she's a learned student of Lavigne's particular brand of pop punk vocal affectations, slightly deadpan and slightly warm. Were the album's lyrical themes not so immediate and melodramatic, Jordan's swirling guitars and small instrumental flourishes–a tambourine on emo surf-rock anthem "Golden Dream," a trombone on the morbidly pensive slow-burn "Deep Sea"–calls to mind melancholic folk rock à la The Mamas and The Papas.
Mentored by none other than Mary Timony, Jordan makes good on the influence of the icon's guitar tutelage: On "Speaking Terms," she pairs her softest vocal on the record with a quirky minor chord progression that recalls arcane math-rock progressions, a sonic affectation made all the more impressive by the fact that she elected to record Lush in standard tuning. Single "Pristine" most closely recalls her Timony's knack for off-color power chords, and instrumentally mirrors the 90s paradigm that Timony helped define, complete with the quiet-loud verse-chorus pattern that so perfectly accented Helium's disaffected vocals. Which isn't to say the album feels anachronistic; the instrumentation is sharp and sweet, a contrast to the muddier production on Habit, likely thanks to producer Jake Aron, whose penchant for introspective indie pop leaves a trail of polished, sunny tracks in his wake.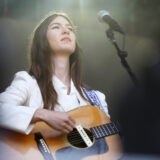 When it comes to sentiment, Jordan is at her best when she's waxing banal about the social trivialities, heartbreaks and specific memories of her still-teenage life. "Did you tell all your friends? What is it about them? Would they stick around?" she sings on "Stick," a holdover from Habit. She wields her words with staggering finesse, with almost a birds-eye view of her own high school dramatics.  On "Heat Wave," she uses an ex-lover's words against her so directly that you can hear the conversation happening in real-time: "And I hope the love that you find / swallows you whole-y / like you said it might." And on "Pristine," lines like "It just feels like the same party every weekend, doesn't it?" recall fourth-wave emo rockers like Modern Baseball and Tigers Jaw and their painfully quotidien portraits of self-loathing suburban youth.
But more than an album about youth, Lush is an album about confrontation; it just so happens that the latter gains an extra boost from a touch of the former. It's an album written entirely in the first person, a one-way conversation aimed directly at its subjects. The "you"s and "I"s inevitably give the album an unmistakable presence, an almost uncomfortable closeness to the parties involved, especially when such dire stakes as teen romance are on the line. At times, her honesty is unbearably raw:  "Golden Dream," a beachy loner anthem that recalls early-aughts Sheryl Crow, finds Jordan pontificating on God and sleeplessness, before she pines, "stupid me." But the record's brutal frankness belies its lyrical depth–small touches, like the reprisal of the intro track "Anytime" as the album's closer, leave the listener with a sense of a hopeful, if ambivalent, closure: "Still for you, anytime," she repeats as the album's last note resonates into silence. Lush reads like the most literary Livejournal, or perhaps a teenaged Roy Orbison, depending on how the light hits it.