Michael Jackson did his first moonwalk onstage almost exactly 35 years ago, at Motown's 25th anniversary TV special on 5/16, 1983. And today, the shoes that he wore to rehearse for that famous performance — including "Billie Jean" and the move that would soon become his signature dance move — are going up for auction.
The black leather Florsheim Imperial leather loafers, size nine and a half, are marked "Motown 25″ and signed "Michael Jackson" on the soles in blue marker, and one of the shoes is also numbered "Michael #2." Jackson reportedly gave them choreographer and dancer Lester Wilson in his dressing room after rehearsing with his brothers for the special, and they come with a letter of authenticity in which Jackson refers to the pair as his "magic shoes."
"Anything related to Michael Jackson is extraordinary, and to have something so incredibly historical as these shoes worn by Michael when he first did that now famous moonwalk is beyond special," Brigitte Kruse, owner of GWS Auctions, told CNN in an email. "We are so very honored to be able to offer them at auction."
The auction officially goes live at the Hilton Hotel in Los Angeles today, and bidding is already set at over $10,000. Check out the listing here and watch Jackson's first public moonwalk below.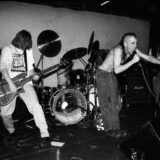 https://www.youtube.com/watch?v=7lvsBBNV-U4
This article originally appeared on Stereogum.