For a band comprised of a sibling pair, Cain and Abel might seem a tricky subject to tackle. But leave it to Hop Along's Frances Quinlan, purveyor of fairy tales disguised as charming indie rock, to craft a distinctly human narrative from these few opaque Biblical verses. (Mark Quinlan, Frances' brother, is Hop Along's drummer.) On "Not Abel," the second single from the Philly indie rock band's new record, Bark Your Head Off, Dog, Quinlan turns the traditional narrative of good and evil on its head. In her version, Cain is deeply troubled by his complex relationship with the brother he ends up killing. Cain is said in the Bible to be the first human born into this world, after his parents arrived ex nihilo. Therefore, he was among the first to grapple with the entirely human emotion of jealousy. He wanted something that his brother had but he did not—acceptance, and the power that comes along with it. 
Peeling back the curtain on the multivalent nature of power is a persistent theme on Bark Your Head Off, Dog. In the third act of "Not Abel," the song turns from Biblical commentary to personal anecdote: "Voice on the radio again / Strange to be shaped by such strange men," Quinlan sings. It is a concise reflection on the ways that she and her characters have been influenced by the desires of men around them, unwillingly ceding power to those who don't deserve it. The sentiment repeats throughout the album, and so does the verbatim phrase, appearing again in the chorus of "What the Writer Meant." The titular writer is tellingly absent from the song's narrative, while a woman instead explains his or her intentions. The act of interpreting art from a distance, of pouring one's soul into the passions of others, is a testament to the power of mystification. Quinlan scatters "Writer" with impressionistic details—a scene of animal violence, a conversation about changing one's mind—and the ambiguity lends her lyrics a certain universality. 
"How Simple," Dog's poppy opening track and lead single, operates similarly. The chorus, an earworm featuring hand claps and female backing vocals, could be the sign-off to a break up letter. ("Don't worry, we will both find out, just not together.") But the song is remarkably self aware, also functioning as commentary on the ways that our fleeting emotions can obscure deeper truths, which only become clear with the passage of time. Hop Along doesn't write love songs; they write meditations on the foibles of falling in love.
The band recorded and self-produced Dog at guitarist Joe Reinhart's own studio The Headroom in Philadelphia. Free from outside influence, they explored sounds traditionally not found in "indie rock," and the album's most obvious departure from Hop Along's previous efforts is its instrumentation, including mandolin, electric piano, and even vocoder. Where the band's 2015 breakthrough Painted Shut toyed with such eclecticism, Dog makes these flourishes the focal point.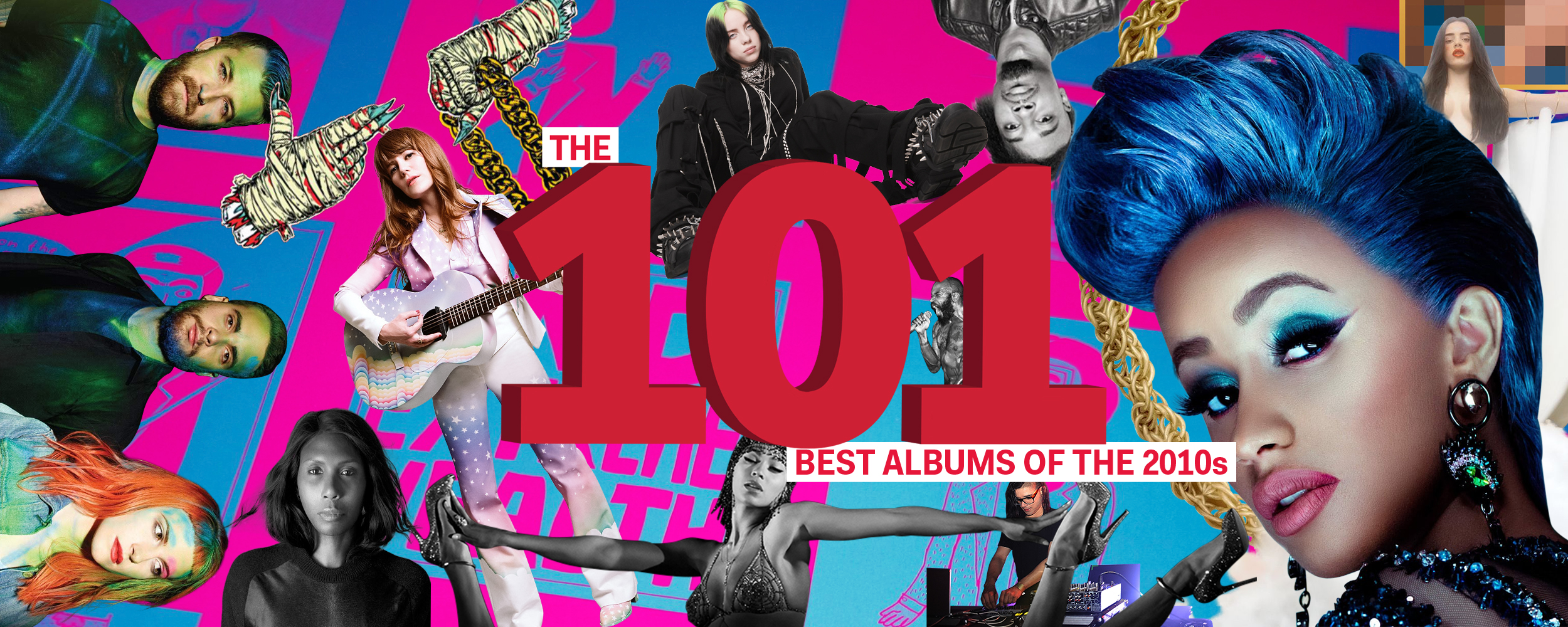 On "How You Got Your Limp," whistles and violins echo the nostalgia of the song's lyrics, which recount an overconfident old professor. "Somewhere a Judge" and "The Fox in Motion" feature bright electric guitars layered with reverb that lend the album a taste of prog rock, while the tinny recording on the intro to "Look of Love" recalls '90s lo-fi. But Dog hardly feels overly ambitious or removed from the band's folk-rock roots. Quinlan's voice, which nimbly move between breathless falsetto and husky scream, is largely responsible for holding it all together. 
Quinlan's vocals on Dog are sometimes reminiscent of Hop Along tourmates Kimya Dawson and Joanna Newsom, as she incorporates both emo- and folk-inflected styles according to the contours of the music and lyrics. She sings with such fervor that she can sometimes be heard panting for air, as if to get a running start on the intensity she'll need for her refrains. But her voice is more controlled than on Painted Shut and its predecessor Get Disowned. Mellower tracks like "One That Suits Me" highlight a new, gentler approach, highlighting Quinlan's increasingly sophisticated melodies. 
It's a sign of maturity, perhaps, or possibly just newfound confidence gained from casting off the shackles of those aforementioned "strange men." Freer of their influences, Hop Along have produced a stunning batch of songs—each of them like a small world of its own, continuously unfolding.