Cardi B co-hosted The Tonight Show With Jimmy Fallon last night. She noted that she was "the first last-night co-host who's not a white guy," but she was also The Tonight Show's first co-host ever. She joined Fallon for the opening monologue, responding to a stitched-together clip of Donald Trump rapping along to "Bodak Yellow" with an ad lib of "He's gonna kill me" and a series of burns directed at an unflattering picture of Trump in a coat. "I don't know if it's the strength of the fetus, but I have never felt so hungry to succeed," she told Fallon at one point.
Among the best moments of Cardi's charming appearance were the exceptional pigeon noise she delivered during a segment explaining some of her catchphrases, and her interaction with a fan and fellow Bronx native from the audience who she recorded a voicemail greeting for. Arguably the highlight of her appearance came during an interview with John Mulaney, during which the rapper told the comedian that he looked "British" and like "a Pet Shop Boy." She also recounted a story about "her nana" driving her to prom after her boyfriend dumped her two weeks before graduation.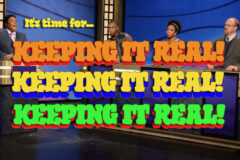 More important than any standalone moment was the raw charm and spontaneous attitude that Cardi exuded during every moment she appeared on screen, playing against Fallon's over-earnest, dead-eyed professionalism and making the show immeasurably better than the average episode of late night television. She also got an opportunity to perform, donning a blonde wig to debut her live rendition of the Invasion of Privacy track "Money Bag" on TV. Watch highlights from the show below, and read our tribute to Cardi's recent, baby-bump-unveiling Saturday Night Live appearance here.
https://youtube.com/watch?v=fgD-4JN4jw4