Is Kevin Barnes a man out of time or just someone wearing a broken watch? The of Montreal bandleader has spent the majority of his shapeshifting project's 21-year existence staying off-trend, whether intentionally or incidentally. Emerging from the '60s-redolent psychedelia of Athens' Elephant 6 collective, of Montreal's early work emphasized small-scale twee and sunny psychedelic pop as indie's biggest acts favored darker, louder, and occasionally more complicated sounds. His moment of clairvoyance came with the 2007 masterpiece Hissing Fauna, Are You the Destroyer?, a (literally) nakedly personal record that anticipated indie's collision with melodic dance music by a few years.
Similar to Animal Collective's trajectory after their own 2009 landmark Merriweather Post Pavilion, of Montreal have spent the decade after their most culturally visible moment by following Barnes' genre-hopping, diaristic muse, which, in a bit of unintended prescience, often turned to gender and mental health years before those topics entered the wider discourse. For most of the 2010s, of Montreal have operated in one of two modes—tuneful or inscrutable—and the band's 15th album, White Is Relic/Irrealis Mood (a title worthy of an as-yet-unrealized of Montreal Random Album Title Generator) falls somewhere in between them. There are glimmers of melodic gems—but that's all they prove to be, sagging beneath the weight of these overstuffed songs.
Inspired by "extended dance mixes" as well as a wide-reaching list of stated influences ranging from author Chris Kraus to late Fall frontman Mark E. Smith and Malcolm X (yes, really), White Is Relic/Irrealis Mood feels like a step backward despite its ambition. The last few of Montreal records were, if not a return to form, at least intriguing in how they worked new sonic wrinkles—the paisley narco-pop of 2013's Lousy With Sylvanbriar, Innocence Reaches' soft-focus EDM textures from 2016—as Barnes continued to explore deeply personal and complicated lyrical territory.
Something feels off with White Is Relic/Irrealis Mood, though: these six songs—none shorter than five minutes, with several pushing beyond the eight-minute mark—are difficult to digest despite the glittery dance-pop structures they aim to resemble. Barnes has stated that he was inspired by a new relationship and the ever-increasing threat of digital oblivion brought on by "simulated reality," and the album often reflects this incongruous thematic duality. The moaning, soft-rock mist of "Writing the Circles/Orgone Tropics" gives way to grating, rinky-dink synths on "Plateau Phase/No Careerism No Corruption," while the airy, pleasing funk that populates the back half of "Sophie Calle Private Game/Every Person Is a Pussy, Every Pussy Is a Star!" feels hard-won after six minutes of a winding, mid-tempo melody that wears out its welcome fast.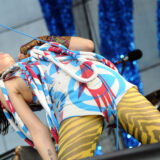 Generally, Barnes' embrace of the extended-dance-mix format on White Is Relic/Irrealis Mood seems more functional than sensible—a way to service the dense, personal lyrical concerns he's expressed since Hissing Fauna. Indeed, reading this new album's lyric sheet is a bewildering experience, from Bushwick namedrops to tales of sliding into one's DMs and watching early Pedro Almodovar films all night; at this juncture, it's unfair to scrutinize Barnes' words because they seem written for a space meant for him and no one else. This, perhaps, sums up his approach to creative pursuits at large; similar to 2012's dense, aggravating Paralytic Stalks, White Is Relic/Irrealis Mood is proof that Barnes' tendency to burrow inward can result in a final product that's comprehensible to himself and potentially no one else. His continued boldness, situated within modern indie's trend-dependent environs, is admirable; but it's also not getting any easier to listen to.