Howard Stern's Howard 101 SiriusXM station has been collecting exclusive tracks for a massive David Bowie tribute special over the past year. The radio special will be hosted by Bowie's longtime producer and friend Tony Visconti, and will feature over 25 Bowie songs covered by acts including Todd Rundgren, Billy Corgan, Daryl Hall, Sun Kil Moon, Car Seat Headrest, Aimee Mann, Peter Frampton, and Garbage. The special will air on Friday night at 1opm EST.
Stern explained his motivation for organizing the special in a statement to Billboard. "When I got into rock & roll music, one of the artists that I first really got into was David Bowie," Stern said. "He was always evolving, he was always on top of things, he was just a great musician and a great songwriter and a great singer. I want to make sure that people remember David Bowie."
Corgan also made a statement about his cover of "Space Oddity" and his relationship with Bowie's music. "Growing up, Bowie was one of my idols, and getting to know him some when we played and worked together was a real honor," the Smashing Pumpkins frontman said. "But that said, 'Space Oddity' wasn't necessarily one of my favorites of David's, and after his passing I found myself drawn to the alienating lyric the song, and singing it each night became my own personal way of mourning his loss. Eventually, too, I'd realize I was wrong about this tale of Major Tom. It's truly fantastic, and like no other."
Read more about the special at Billboard. See the full track list for the special below.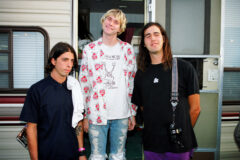 Peter Frampton "Rebel Rebel" (Live)
Michael Penn and Aimee Mann "After All"
Greta Van Fleet "The Jean Genie"
Kristeen Young "Moonage Daydream"
Britt Daniel (Spoon) "Never Let Me Down"
Durand Jones & the Indications "Young Americans"
Daryl Hall "Fame"
Corey Taylor "Fashion"
The Struts "Suffragette City"
Lisa Loeb "All the Young Dudes"
Sun Kil Moon "John, I'm Only Dancing"
Umphrey's McGee (Feat. Huey Lewis and Jeff Coffin) "Let's Dance"
Jade Bird "Quicksand"
Biffy Clyro "Modern Love"
Todd Rundgren "Life on Mars?"
Bones "I'm Afraid of Americans"
Dawes "Oh! You Pretty Things"
Nikki Lane "Golden Years"
Bleachers "Ziggy Stardust"
Car Seat Headrest "Ashes to Ashes"
Low Cut Connie "Diamond Dogs"
Gogol Bordello "Rock 'N' Roll Suicide"
Shawn Colvin "Heroes"
Garbage "Starman"
William Patrick Corgan "Space Oddity"