Over the weekend, Nas reportedly finished a 24-course meal in about the same time it takes to listen through one of his albums.
The New York Daily News reports that Nas visited the Sushi by Bou at Brandon and Hank Freid's Sanctuary Hotel to try out their omakase concept, which requires him to run through a 12-course mini meal in 30 minutes before giving up his seat to another guest. He finished his food, and the time came for him to leave. But in his most inspirational moment since his "Triple Beam Dreams" verse, Nas decided to stick around and finish another 12-course helping. Esco even washed it down with sake.
"Nas did 24-courses in 60-minutes," a witness reportedly told the Daily News.
However, at his core, Nas seems to be a fried chicken dude. Earlier this week he was at the Prospect Heights opening of Sweet Chick, a Southern-style restaurant in which he's a partner. To commemorate, listen to his late-career classic "Fried Chicken" below.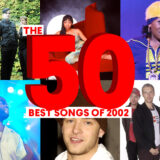 https://youtube.com/watch?v=GGCqd7LRxLc%3Fecver%3D1