Lana Del Rey's albums are swanning, magisterial projects, as long as some films, except that films have multiple characters. Her stage has just one spotlight; the plot usually traces doomed loves and open roads, rarely interpolating an event more current than the Kennedy assassination. They've been an impractical outlet for social commentary, to say the least.
Yet in 2017, Lana Del Rey is out here doing witchcraft against Donald Trump, and unlikely cracks of sun are peeking into her aura of gloom. Her fourth full-length, Lust for Life, opens on the pneumatic purr of "Love," as calm and satisfied a song as she's ever written. For the first time, there are guest artists, representing an already well-established spectrum of sonic and creative inspirations: The Weeknd, Stevie Nicks, A$AP Rocky, Sean Lennon, and (barely) Playboi Carti. On "Coachella—Woodstock in My Mind," Del Rey observes Father John Misty, nuclear standoff with North Korea, and her own songwriting process in real time. The result is predictably awkward, but no matter, because "Coachella" is too busy cribbing from "Stairway to Heaven" to pose the ponderously strange question of what Lana would say to God.
Lana Del Rey, lest you forget, reinvented herself only once. Her music comes with certain constants. Lust for Life is a spectacular 72 minutes long. It trades in the same intently, atmospherically narcotic sound Del Rey and primary producer Rick Nowels have favored since the beginning. In place of Ultraviolence's strung-out surf guitar and Honeymoon's soporific strings, Life has a few cloudy synthesizers and samples of the wind. "13 Beaches" opens with a clip from Carnival of Souls, a half-forgotten 1962 cult horror perfectly in line with Del Rey's love for eerie, cinematic Americana.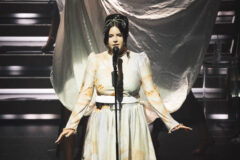 But one needs little background in anything to appreciate her. She's always borrowed freely, and on Lust for Life, she relishes her position as a kind of cultural medium. "Beautiful People Beautiful Problems" steadies itself on Stevie Nicks' richly honied vocals, and the song itself (on which Nicks receives a co-writing credit) is a more-than-passable homage to her style. For the length of the line, "When I love him get a feelin', somethin' close to like a sugar rush," you'll wish they'd recorded a whole album together. Meanwhile, "Tomorrow Never Came," Del Rey's duet with Sean Lennon, seems a woefully obvious attempt to raise the vibration of his father. Its sentimentality is a mismatch for Del Rey's pensiveness, and yet one gets the sense she put poor Sean up to it. Maybe it's the way she smilingly slips his name into the lyrics, as if she's just mounted a trophy. (At least his mom likes it.)
In the spirit of fan service, perhaps, Life's innovations seem often as not to appear side-by-side with their first drafts. Thus, the 2017 update of "National Anthem" is "God Bless America—And All the Beautiful Women in It," and it's also the very next song, the heady "When the World War Was at War We Just Kept Dancing," on which Del Rey wonders, "Is this the end of an era / Is this the end of America?" The exhaustive track list forces A$AP Rocky's star turn on "Summer Bummer" to compete against his own weaker verse on "Groupie Love."
Cutting through the pervading sense of double vision is undeniable sleeper hit "In My Feelings," a decadent, gothic trip-hop revenge ballad allegedly inspired by an affair with rapper G-Eazy. The lyrics are desperately in-character ("I'm crying while I'm cummin'"), and yet you've never heard Del Rey lick her wounds so vividly. "Who's tougher than this bitch? / Who's freer than me?" she sneers. Her deadpan echoes from the coffin, while in the background, she flips a Beyoncéism ("Got me feeling so crazy right now") into a breathy self-harmony that sounds genuinely possessed.
The end of Life feels far removed from its opening, but it groups together a trio of songs that might change your mind about Lana Del Rey, if ever you make it that far. "Heroin" is nearly as honest as you're likely to hear her on the subject of addiction and mental health, even while consciously maintaining the all-important aesthetic ("movie stars, liquor stores, and soft decay"). On the other side of its coin lies "Change," a quietly moving testimony to overcoming apathy in search of personal transformation. Stripped down to piano and a halo of mellotron, it plays without a trace of cynicism or self-destruction.
Left on its own, "Change" leaves all manner of questions open, and so the album closes properly with Lana Del Rey the self-important mystic on "Get Free." "This is my commitment, my modern manifesto," she declares, before pursuing—sigh—an extended metaphor about chasing rainbows. Try to take her seriously in spite of herself: Lacking purpose, a project like "Lana Del Rey" becomes a lifestyle drug. Lust for Life is hope for a cure. When the album finally cuts out on a crystalline hum and seagull calls, it really does sound like she's headed into the horizon.