Chris Cornell, singer for bands such as Soundgarden and Audioslave, has died. He was 52, Billboard reports. Cornell passed away Wednesday night, according to his representative. The death was described as "sudden and unexpected," though a cause was not revealed. Soundgarden had performed in Detroit on Wednesday night.
Soundgarden were one of the first bands to release music for storied label Sub Pop, who were at the center of the '90s grunge movement. They came to broader attention with 1991's Badmotorfinger, and exploded into full-on superstardom with 1994's Superunknown and singles like "Black Hole Sun." Soundgarden would break up in 1997, though they'd reunite to release a new album, King Animal, in 2012.
Cornell also released several solo albums. In 2001, he joined with the members of Rage Against the Machine to form Audioslave, who released three records. Last year, he also toured with the reunited Temple of the Dog.
UPDATE 8:18 am: Police are investigating the death as a possible suicide, according to the Associated Press and WXYZ. A police spokesman told the AP that Cornell was found dead on the floor of his hotel room's bathroom by a friend, who'd forced his way into the room after receiving a concerned phone call from Cornell's wife.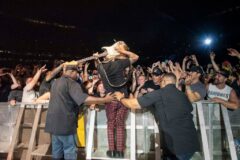 UPDATE 9:50 am: Dontae Freeman, a spokesman for the Detroit Police Department, told the New York Times that a white man with Cornell's birthday "was found with a band around his neck" in an MGM Grand casino hotel room just after midnight local time. The man, who Freeman declined to identify, was pronounced dead at the scene of an "apparent suicide."
UPDATE 2:05 pm: Cornell's death has been ruled a death by hanging.
— RageAgainsTheMachine (@RATM) May 18, 2017