For those who haven't checked: You cannot find a single Tool song on Spotify, unless you count a DJ called TooL whose single "Anti-Nuclear Bacteria" has racked up over 500,000 plays thanks to its crafty branding. You can't sample the prog-metal superstars' music on Apple Music either, or even download them on iTunes. Tool, who have not released an album since 2006's 10,000 Days, remain one of the most high-profile acts to still be resisting their bleak future of digital music dissemination and measly royalities.
But according to a new report from Bloomberg, that might all be about to change. According to "people with knowledge of the matter," Maynard Keenan and his cohort have been talking to Spotify and Apple Music about making their catalog—including albums like Lateralus and Undertow—available to stream, for the first time ever. This would happen ahead of the impending release of the band's first new album since 2006's 10,000 Days, according to Bloomberg. (The band didn't comment.)
Rumors of a new Tool LP have been circulating for years, but in January, sketchy, non-commital comments from the generally-reclusive Keenan about progress on new Tool music began to fuel speculation anew. Guitarist Adam Jones has also released cryptic Instagram communiques that seem to indicate that Tool has been working on new material. The band is also set to perform a slew of shows in the United States and Canada in May and June, including an appearance at Governors Ball in NYC. For more information, visit their website.
Read our November feature about seeing Tool in New Orleans–and diehard Tool fandom–here.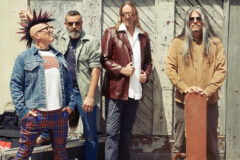 https://youtube.com/watch?v=hglVqACd1C8