Lou Reed's personal and professional archives will become part of the New York Public Library collection. The library announced the news today at a press conference at the Library for the Performing Arts at Lincoln Center, scheduled to mark what would have been Reed's 75th birthday.
"We're here at the library because Lou was an amazing writer," artist Laurie Anderson, Reed's longtime partner, said. "Lou had a cast of Shakespearean characters, and wrote down what they said and what they might have thought. It was really many, many novels in short form. I know he'd be thrilled, so thrilled to be at the library."
Gathered from Reed's offices and storage, the archival materials span from his high school band through his rise with the Velvet Underground and his lengthy solo career. They include documents, tour itineraries, album artwork, promotional items, press clippings, and more than 600 hours of audio and video. The archive also holds records of Reed's other interests: reading, writing, photography, and tai chi. The legendary rock 'n' roller was apparently known for saving all of his receipts, even handwritten bar tabs from Max's Kansas City.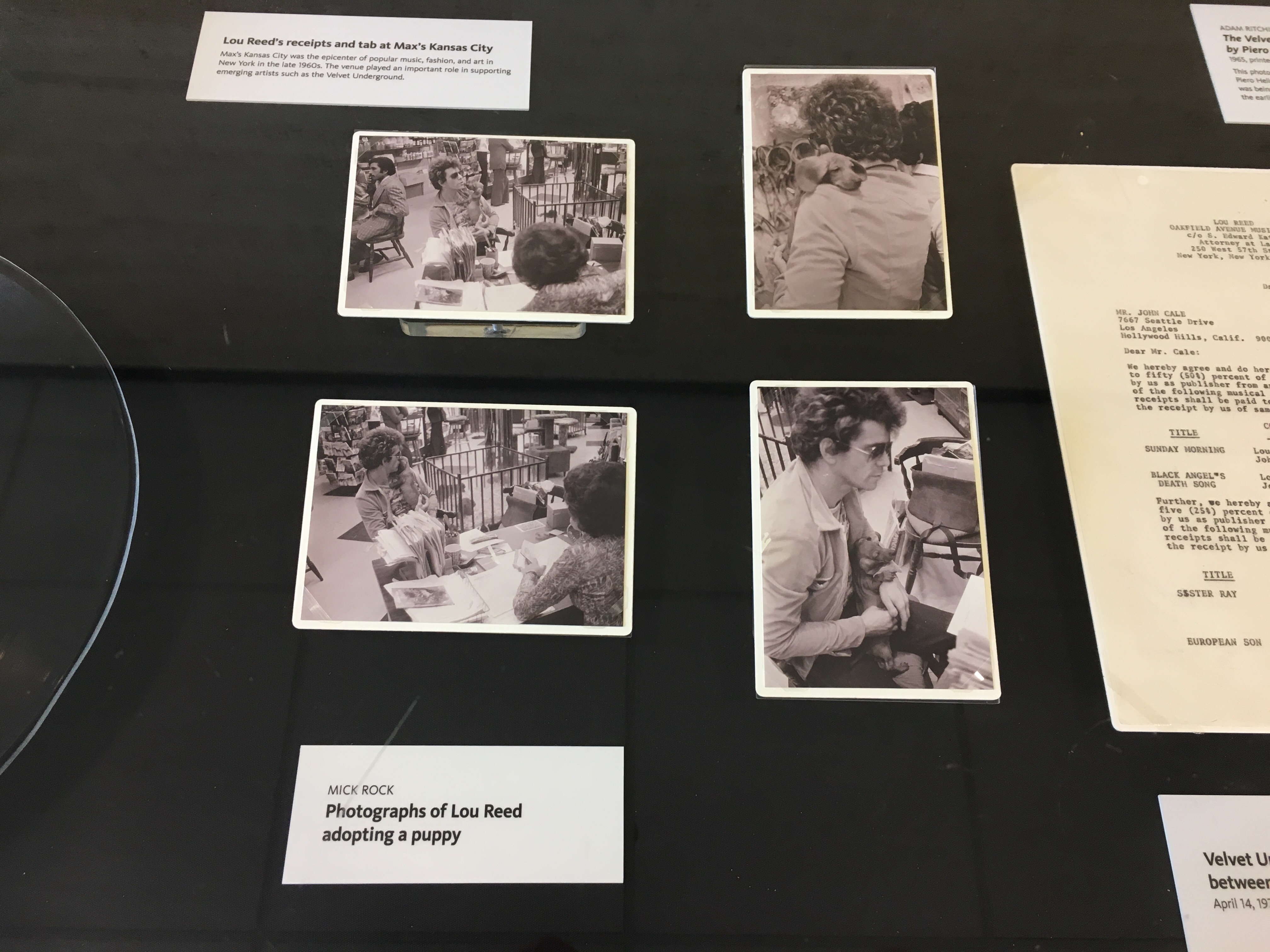 Several archival releases are in the works, including a recording of Reed's 1973 concert at Lincoln Center's Alice Tully Hall, a book of Reed's early poems, and a book about tai chi. The archive will be available to the public, although much of it, including the audio recordings, is still being processed. A few items, including those pictured, are on display now at the Library for the Performing Arts.
"After the audio is processed, it will be available for listening to patrons here in the library, upstairs, on headphones," lead archivist Don Fleming said. "But we do hope to help the LPA create a listening room. Lou was a real gearhead, and he believed in listening to music on the best audio equipment, and usually at very loud levels, so we'd like to help that become a reality here."
Anderson also shared the advice she received from David Bowie shortly after her husband's death: to listen to Lulu, Reed's misunderstood 2011 collaborative album with Metallica. "David said, 'Lou is always way ahead of his time. People won't understand that record for another 25 years,'" Anderson said. "I listened to it again with slightly different ears and it's such a masterpiece."
If you're in New York City, the library is holding two performances of Reed's work this month: his interpretation of Edgar Allen Poe's The Raven on March 13 and his installation piece Drones on March 15. Both events are free with an RSVP via www.nypl.org/loureed.