This morning, Republican Utah Representative Jason Chaffetz defended the GOP House members' plan for an Affordable Care Act replacement by saying on CNN that poor people should consider spending money on health care instead of a new iPhone.
"You know what? Americans have choices, and the've got to make a choice," he said. "And so, maybe, rather than getting that new iPhone that they just love, and that they want to go and spend hundreds of dollars on that–maybe they should invest it in their own healthcare."
In addition to being wrong about how much health care costs, the comment was tone deaf and callous, even by GOP standards; Chaffetz himself admitted later that he didn't make his point "as smoothly as [he] possibly could." It should also be noted as a member of Congress, Chaffetz is eligible for healthcare that is subsidized by taxpayers.
But there's another layer of hypocrisy to the congressman's statements. As noted by The Intercept's Lee Fang,  FEC filings to show that Chaffetz's donors not only pay his campaign's Verizon bills– which last year ranged between $400 and $515 each month–but also, on at least one occasion, for his Apple electronics. On July 15, 2016, Chaffetz, or someone from his office, spent a total of $775.04 in two purchases (one for $738.08 and another for $36.96) at an Apple Store in Salt Lake City using funds from the Friends of Jason Chaffetz committee. That would be enough to purchase a new iPhone 6S and a case.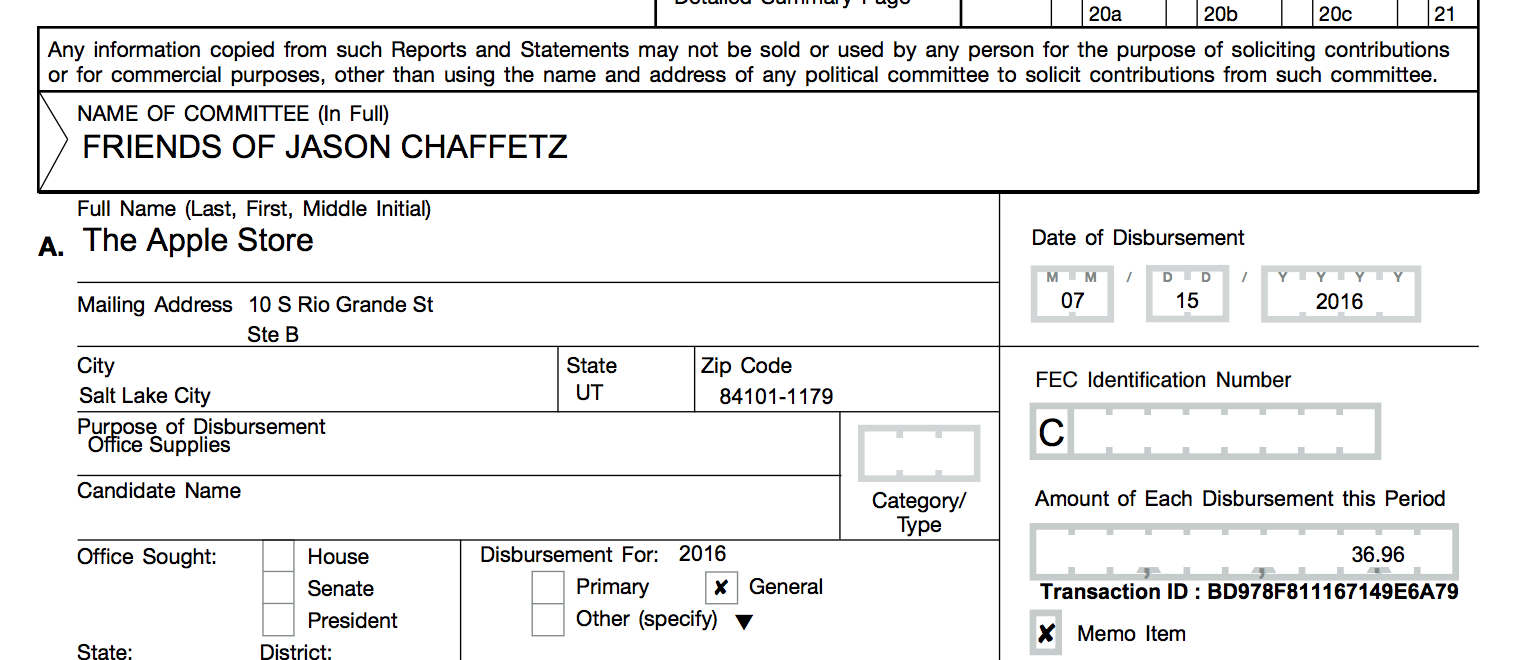 The totals are even higher if you go back a few years. The New York Daily News reports that since 2014 the Friends of Jason Chaffetz committee has filed more than 20 expenditures for Verizon Wireless for a total of $11,021. $704 more was spent by the committee on two iPads in 2015, in addition to over $3,000 at Apple Stores.
Choosing between an iPhone and healthcare would seem pretty easy when taxpayers are covering your insurance and corporations like Pfizer, Amazon, and Koch Industries are paying for your fancy phone and cell service.