Adele's win over Beyoncé for Album of the Year drew criticism from a swath of viewers and artists, including Adele herself. Herbie Hancock, who won the award in 2008, is the category's last black winner, but despite this fact—and the criticism of the Grammys that stems from it—Recording Academy President Neil Portnow said today in an interview with Pitchfork that Grammy voters don't see race, and neither should listeners.
Portnow defended the Academy's votes, arguing that its 14,000 members are "the highest level of professionals in the industry." Thus, he reasoned, "I don't think there's a race problem at all":
We don't, as musicians, in my humble opinion, listen to music based on gender or race or ethnicity. When you go to vote on a piece of music—at least the way that I approach it—is you almost put a blindfold on and you listen. It's a matter of what you react to and what in your mind as a professional really rises to the highest level of excellence in any given year. And that is going to be very subjective. That's what we ask our members to do, even in the ballots. We ask that they not pay attention to sales and marketing and popularity and charts. You have to listen to the music. So of the 14,000 voters, they listen, they make up their minds, and then they vote.
To further make his case, Portnow pointed to Chance the Rapper's Best New Artist win as proof of the Academy's diversity: "You don't get Chance the Rapper as the Best New Artist of the year if you have a membership that isn't diverse and isn't open-minded and isn't really listening to the music." Portnow omits Chance is just one of five to win it since 1999. Lauryn Hill's The Miseducation of Lauryn Hill won Album of the Year in 1999, the last time that award was won by a black woman.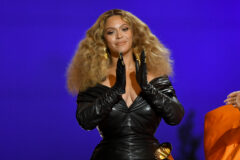 Portnow's main argument is the Academy's size means it is diverse. But the Academy does not release the exact demographics of its voter base, nor does it seem like it's planning to, and one must wonder if the data really would back up his claim.