Classical music world farce Mozart in the Jungle and alt-historical noir The Man in the High Castle have little in common, other than being bedrocks of Amazon's original programming wing. Considering the two recent shows side-by-side is instructive, however, in understanding the landscape of modern "prestige" television. It's not just in terms of their screwball farce and dystopian genres: Mozart poses a vision of a somewhat sustainable, artistically healthy future for the diseased Peak TV era, while High Castle scans like a harbinger of its imminent demise.
Mozart in the Jungle, which despite a slew of Golden Globe wins still needs some introduction, is a show that's actually about what it says it's about: professional classical music performers in a dire cultural climate that increasingly has no framework to support them. The dominant soap opera narrative—unrequited love between the eager, aspiring professional oboist Hayley (Lola Kirke) and the flaky, temperamental star conductor Rodrigo (Gael García Bernal)—is central to the show's conceit, but it gets a tiny fraction of the screen time spent delving into the schisms within the ranks of the orchestra. There is little self-serious reflection about the human condition, modern relationships, or social media. Pop culture diatribes extend no further than oddball moments like Hayley meeting with the ghost of Mozart's sister Nannerl. It's a comedy that's 90% silly and fun, which makes it feel revolutionary in the context of modern, scripted, live-action TV.
It also featured a couple of the most distinctive scenes I saw this year—the kind of genuine, "How did this get filmed?" moments that make me continue to feel excited about ten-episode seasons as a fertile creative medium. Early on, contemporary classical composer Nico Muhly appeared out of thin air (as himself) to pitch an Italian diva (Monica Bellucci) a role in a tragic opera about Joey Buttafuoco. Later in the season, Rodrigo engages in some ambitious musical outreach: The New York Symphony (the fictional institution around which the show centers) travels to Rikers Island to perform works by 20th-century French composer and former WW2 POW Olivier Messiaen. The episode, positioned as a documentary-within-the-show, features actual interviews with prisoners and corrections officers about their reaction to a real performance mounted by the showrunners. It's a moving intermission in the middle of an otherwise desperately goofy season, one of the most adventurous episodes of TV I can recall.
In the past few years, grim tales of co-dependent cadres of narcissistic and/or clinically depressed 30-something urbanites have grown to make up an overwhelming percentage of the "TV Comedies" recommendations of one's favorite streaming service. (Many seem to huddle together on Hulu: You're the Worst, Casual, Difficult People, and The Mindy Project come to mind.) Lena Dunham has apologized for a lot in the past few years, but not for institutionalizing this phenomenon. It sometimes feels as if there is a union of showrunners who believe it is a moral imperative to remind their viewers how intolerable their own groups of friends would seem if they were made the subject of a television show.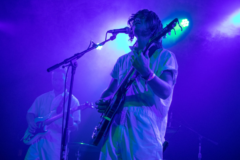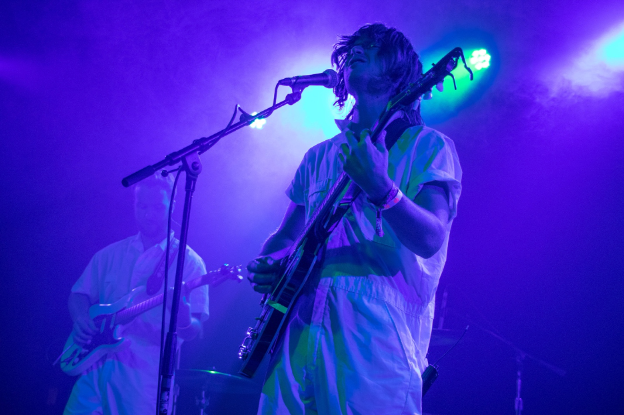 But Mozart, despite being centered around a millennial in Manhattan, escaped this vortex through force of whimsy, in a move pulled from Broad City's playbook. There were other shows this year that managed this increasingly rare feat, too. Search Party offset its potentially damning Brooklyn-brunch humor with a touch of Michael-Showalter-y farce and a shaggy-dog detective plot. On HBO's Insecure, star and creator Issa Rae turned previous televised versions of Los Angeles on their head, avoiding the expected parodies of self-destructive aspirational actors and writers (see Love) by focusing on people in their early 30s behaving in endearingly awkward and misguided ways. Atlanta—FX's surprising, engaging, and often-surreal dramedy starring Donald Glover—felt fresh just by virtue of getting the fuck out of New York and L.A., and working its ass off to detail and describe an Atlanta plenty of cable viewers weren't familiar with.
[featuredStoryParallax id="221146″ thumb="http://static.spin.com/files/2016/12/Mozart5-1482944922-300×184.jpg"]
Avoiding cashing in on shock value and some blasé version of the "relatable," these shows ended up being far funnier than most of their competition, fitting into a broader, more humane permutation of the Aren't We All So Horrible LOL show: the People Trying to Figure Their Shit Out show.  They felt like bundles of sharp, often ludicrous details, and not just cement dumped into a market-tested mold. But the bad habit of unimaginatively scripting a bullet-pointy story is sabotaging many hour-long dramas, and The Man in the High Castle is a textbook example. Fittingly, the show's second season came at the close of a year in which sci-fi and other speculative "genre" series strained further toward crossover success and potential Emmy noms, as android action-drama Westworld and retro-maniacal Stranger Things were two of the year's biggest breakout shows. (The more esoteric, tonally adrift Netflix's The OA came the same weekend as High Castle, with some vaguely plagiaristic plotting—crossover with Stranger Things' inter-dimensional travel and nosebleeds—and a controversy-courting ending.)
The Man in the High Castle–an adaptation of a Philip K. Dick novel about 1960s America in an alternate reality where the Axis Powers won World War II–doesn't have the ammo to compete with either Westworld or Stranger Things, either creatively or in terms of hype (Where are the memeable children? The unsettling "Black Hole Sun" covers?) A lot of High Castle takes place with people talking coldly in dimly lit back rooms, but without getting that slow-burning, people-gingerly-unwrapping-rolled-up-scraps-of-paper spy-movie thing right—you'd have had to watch The Americans, still compelling and challenging through its fourth season, to get that fix. The aggressively competent High Castle is a great concept in search of a show, not quite packing enough punches with its characters or where they go. Its lead, Juliana Crain (Alexa Davalos) switches allegiances so many times, and finds her plot line intersect with every main character in her protracted, often-excruciating search for the truth about the films made by the titular"Man in the High Castle," which show images of our own version of modern history.
Her search for answers is at the center of the drama in the second season, just as it was in the first season. Often, it feels like we're watching the same basic scenes play out, just with slightly different line-ups and glimpses of a bug-eyed, silver-haired cartoon Hitler. High Castle, like Westworld, lends itself to the Just Take It for What It Is defense: These shows are genre pieces, "what if?" thrillers with either cowboy robots or, you know, Nazis/cartoonish Japanese mafia thugs. So what if they're a little overwrought? But if being "fun" is these series' honest intention, both do an exceptionally poor job of showing it. They shy away from the kind of batshit world-building that makes for the best work in their "genres." (We'll have to wait until 2018 to see if Westworld follows up on the other parks—what's up, Samurai World—shown in its season finale.)  They test the thesis that audiences don't care if you deliver something conceptually lightweight if it's carried off with maximum narcotic seriousness—that if it's done seriously, it must be deep. Westworld showrunner Jonathan Nolan has the gift that seems to run in his family: keep people's noses sniffing after the next twist, and they will forgive the overblown character archetypes, the inflated dialogue, and the dorm-room philosophizing that lights the way.
https://youtube.com/watch?v=dDCyEvV6aAE
Unlike both of these shows, the best dramas on TV embraced the journey between major bullet points and Big Reveals. They were messy, unpretentious, and unafraid of getting thoroughly out there. This fall's Channel Zero, Syfy's hallucinatory anthology series devoted to Internet horror fiction, created uncanny, unforgettable images: bewitched puppets, sentient hunchbacked figures made out of teeth, blank-faced children with huge knives. Starz's The Girlfriend Experience was the strongest character study I saw: Christine, Riley Keough's law-student-turned-escort, was illuminated in stark half-hour snapshots that felt more like assured mini-art films than episodes. January's already-forgotten Mad Dogs was perhaps the most bar-for-bar entertaining sleeper show of the year: What seemed to be a comedy about aging, hapless bros on a bonding-trip-gone-wrong soon morphed into a spacey, serialized Jim Jarmusch movie. Its savage disregard for convention was so pronounced that it killed off its most immediately compelling character and biggest star (Billy Zane) by the end of the pilot, confusing plenty of prospective viewers.
As for dramas that more than three people I knew watched: Billions was pulpy Showtime par excellence, which subsumed its smart reference points—Wall Street meets the psychiatry plotline of The Sopranos, give or take—and offered up some of the most entertaining performances in an American drama this year. There was Damian Lewis, Maggie Siff, a lovably red-faced Paul Giamatti, and some just-for-the-hell-of-it, memorable window dressing, like Metallica showing up as themselves to give a pep talk to a hedge fund magnate. The People vs. O.J. Simpson got its characterizations and dramatic pivots exactly right because everyone already knew the story it had to tell. When it had heavy lifting to do, like exploring the deep-seated resentment between dueling lawyers Chris Darden and Johnnie Cochran on "The Race Card," it made an inspired directorial choice by nabbing John Singleton (Boys N the Hood) to helm the camera, and turned out a candidate for the best episode of the year.
Such triumphs, though, come at the beginning of an era of grim prophecy for TV. At a Television Critics Association panel in summer 2015, FX president John Landgraf summarized the fate of his industry with the bald clarity of a teenager who skipped writing his English presentation because he thought the assignment was dumb. "This is simply too much television," Landgraf said. "My sense is that 2015 and 2016 will represent a peak in U.S. TV, and afterward we'll see a decline." There's no telling if he's right, yet: An accurate picture of the future of the industry as a whole is hard to quantify, partially since Netflix, Hulu, and Amazon do not have to divulge ratings like normal broadcast networks. That said, Netflix happily spent five billion dollars on content this year, including 30 original scripted series, and expansion is the only thing they're plotting. As Landgraf stated last year, the endgame looks like "a valueless future for Disney, Time Warner and 21st Century Fox and only Netflix (succeeds)." In 2016, FX Research counted 455 scripted original series across broadcast, cable, and online platforms; streaming services account for 93 of those, doubled from last year's 46.
One of the notable things about the streaming service's business model is that there is now a major segment of "television" programming which does not actually need to be watched, as any Netflix higher-up will be happy to explain to you. What matters is rising subscriptions, not exactly how many users clicked on Flaked over The Crown. If the streaming services will win in the end, and it doesn't matter if every new show does great as long as a few of them do, then why continue to play it safe with boring programming? If the industry is indeed doomed to collapse, why not let it do so amidst a flurry of crystalline gems–distinctive quarter-patty shows that offer morsels of genuine insight, rather than variations on stale, overly grandiose themes?
Watching the outlandish Mozart, which has produced three seasons despite its seemingly unscalable subject matter, made me think of avant-garde composer and academic Milton Babbitt. Feeling that musical innovation in the art music world had come to an impasse, Babbitt argued in a notorious 1958 essay called "Who Cares If You Listen?" that composers should explore their own esoteric compositional interest areas, like scientists conducting specific research for the benefit of their field, and not worry about the public perception. There are endless snobbish suppositions in Babbitt's essay which music scholars have railed against for decades, but the specialist model he proposed seems like an attractive one for Peak TV in its waning years. Maybe this era can be prolonged if every network stops trying to make their own new Game of Thrones and Mad Men, or anteing up seven figures for major film stars to show up in their new historical drama. Like a marginally helpful bill edged through a hostile, deluded Congress, these new shows can recognize the realities of their cultural moment, and adjust accordingly to do something that actually works, no matter how small the stakes.