Alone onstage at Carnegie Hall's Stern Auditorium, royally dwarfed by the venue's storied proscenium arch, Gary Clark Jr. paused to tell one of the night's few anecdotes. "This is a song I came up with after returning to Texas from a trip to New York City," he said. "Let's just say things didn't go too well, but I was driven after that."
Then, Clark tore into "Bright Lights," a song he released in 2010, long before he had sold out Carnegie Hall. The song describes those wide-eyed moments that follow one's first visit to the big city, but another line seemed prophetic. You're gonna know my name by the end of the night, he sang, his voice caked with gravel as the crowd roared to affirm its truth. He wore a suede brown blazer and trilby hat, together emblematic of his musical style—a fresh take on the blues, a 21st-century spin on rock and roll. His voice never trembled, and it took him several songs to even break a sweat.
Seeing his composure, you'd never have guessed he was sitting on one of the most legendary stages in music. Here was a man, alive and alone at Carnegie Hall. This sort of show is a rare treat, as Clark tends to perform and record with a full band. Tickets were gone within minutes. The show's bill claimed it would be "an intimate version of the full electric experience," which was true. It just undersold him.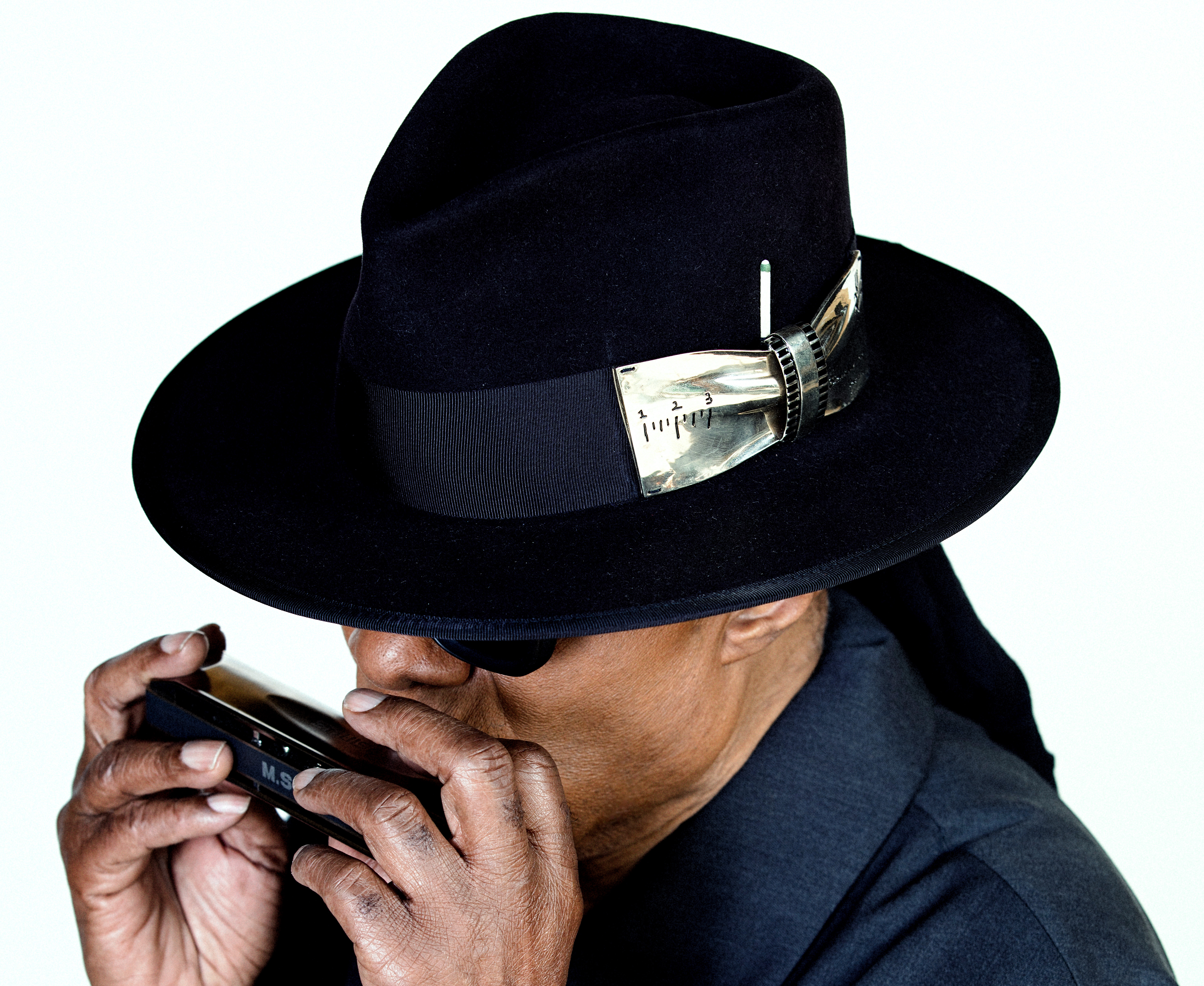 Clark can jam with the best, but he's a wizard on his own. If you compare the studio version of his "Things Are Changin'" from Blak and Blu to the live, acoustic version from The Bright Lights EP, you might think he should forgo a band. But the live, acoustic approach wouldn't invigorate Madison Square Garden, which seems to interest Clark. His album work, which he tends to reproduce at his full-band shows, is almost another genre; it tries too hard to be pop, and thereby nixes his soul. He performed "Hold On, We're Gonna Make It" at Carnegie, from The Story of Sonny Boy Slim, his latest release. On the album, it's a good song—but live, solo, it's got meaning. After he finished, he said, softly, referring to the song's hook: "I hope that's true."
On Sonny Boy Slim, Clark branched out some, and paid homage to his variegated influences. His self-curated Spotify playlist "Gary Clark Jr.'s Influences" features what you'd expect—Jimi Hendrix, Al Green, John Lee Hooker, Stevie Ray Vaughan, etc.—but also 2Pac, Erykah Badu, Citizen Cope, Janelle Monáe, and Nirvana. But even Sonny Boy Slim feels too polished, too produced, for Clark. He's meant to be alone onstage with just a guitar and his voice.
During the show, Clark gave a shout-out to Jimmie Vaughan, Stevie Ray Vaughan's older brother, for taking him to record stores in Austin and introducing him to the classics around the same time. Among these first albums were Jimmy Reed at Carnegie Hall, released in 1961, and Stevie Ray's Live at Carnegie Hall, from his performance in 1984. "Bright Lights" is based in part on Reed's "Bright Lights, Big City," featured on that album. With any luck, Clark will release his own version. But his would diverge from Reed's, which was a studio reproduction, and Vaughan's, which was a live recording but featured a ten-piece band.
Clark did it live, and all by his lonesome. He didn't falter, nor did he need a full band. Having mastered both his vocal and fingerpicking abilities over the past two decades, he could belt out grit just as easily as he could sing a smooth, impeccable falsetto—which he did in a rendition of Stevie Ray's "The Sky is Crying" and in his own "Our Love," respectively. For a song or two, Clark showcased his harmonica skills, and throughout the performance kept time with his feet: on his left, a mic'd up kick; on his right, a little shaker. His guitar's in-time reflections on Carnegie's walls were the night's only light show.
The crowd at Carnegie, replete with psyched dads talking guitars pre-show and punks wearing Carhartt beanies, couldn't get enough. Clark got a standing ovation just for walking out onstage. He sat down, picked up his acoustic, and thanked them with "When the Sun Goes Down." After the show, and after another ovation, as he returned for his encore, he smiled like someone who'd just kicked New York City's ass, turned a dream into reality.