According to a tour guide I walked past in the French Quarter of New Orleans on Thursday, the narrow streets and magisterial mansions of the city are filled with restless spirits who hold grudges with the living and pine for long-lost loves. If the ghosts were out singing their laments during the Voodoo Music and Arts Experience 2016, they probably had a hard time being heard over their human counterparts,who played rock and roll music and drunkenly stumbled down Bourbon Street holding hand grenades and overflowing cups of hurricane.
Halloween is a party in New Orleans, perhaps the biggest one of the year behind Mardi Gras. Since 1999, Voodoo fest has set up shop for the weekend in City Park, bringing multiple stages of big-name indie rock, hip-hop, and EDM. This year's lineup featured headliners The Weeknd, Tool, and Arcade Fire, plus acts like The Chainsmokers, Die Antwoord, and Rae Sremmurd, who filled in at the final hour after Kevin Gates was sentenced to prison last week.
SPIN traveled to New Orleans to hear the music of Voodoo and soak in the spooky and hedonistic vibes of the weekend. Here's all the best stuff we saw around town, both on the Voodoo stage and off.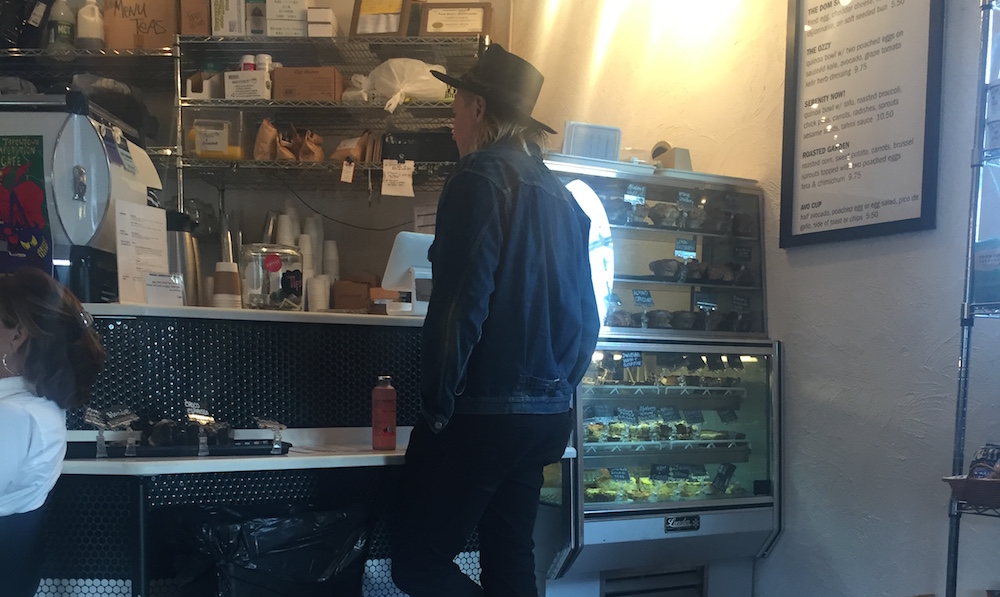 Win Butler at the HiVolt Cafe
I was sitting in a coffee shop on my first afternoon in town, killing some time before I was allowed into my hotel room, when a lanky figure in a denim jacket loped in and ordered some kind of kombucha or pink lemonade. The barista welcomed this patron warmly and told him it was nice to see him again, then asked him what he was doing in New Orleans. Win Butler smiled and told the barista he'd be taking the stage at Voodoo in a few days, then walked out.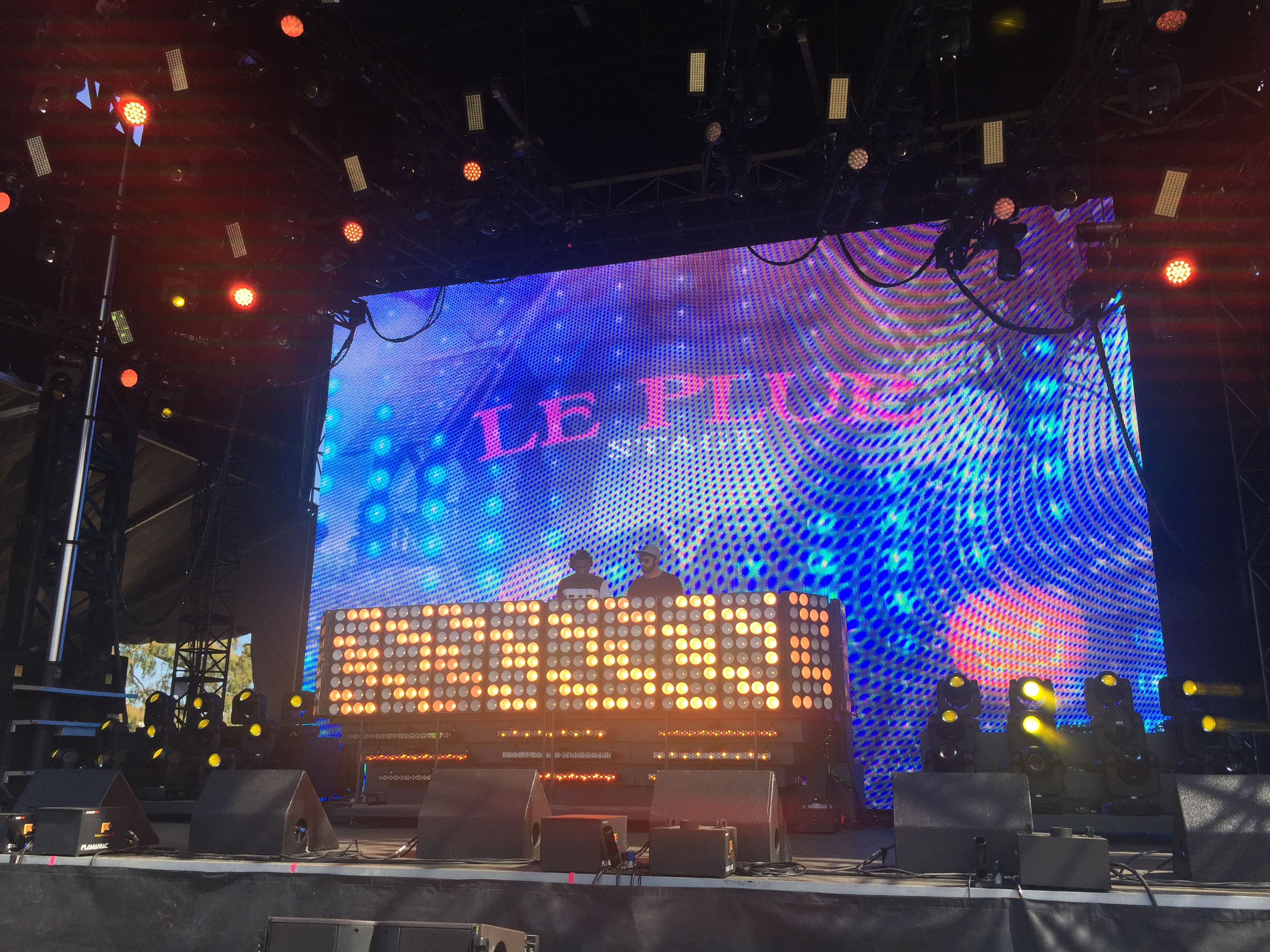 Lonely Day-Glo Rave Teens Dancing to Babygirl
The first act to take the stage at Voodoo 2016 was Babygirl, a DJ duo from New Orleans who give a crisp update to classic house sounds. They played to a mostly empty patch of browning grass at the appropriately named Le Plur stage at noon on Friday, just as the doors opened and festival early birds filed in. A few pockets of dedicated teens were there, though, wearing spiky backpacks and neon butterfly wings, swinging hula hoops in the dust. Their daytime raving was both very funny to watch and a little inspiring.
On the other side of the festival, another local act called The Breton Sound was getting ready to play. Their website paints them as rock and roll true believers, "in an age where EDM, mindless pop, hip-hop, country, and indie music are ruling the airwaves." Given the choice between their Foo Fighters-style earnest arena rock and Babygirl's slinky rhythms, the raving teens will always win out.
Ghost's Pop Satanism
The anonymous Swedish band Ghost (pictured at the top of this post) are like the Disney World of metal music, as my metalhead friend put it after their Saturday night set. They offer all the thrills of the genre, amplified to lurid intensity, in a package that even a devious child could enjoy. Ghost's frontman goes by Papa Emeritus and dresses like a satanic pope, wearing skeleton face paint and a papal mitre adorned with an upside-down cross. The rest of the band members are known only as "nameless ghouls," and wear matching impish masks and black bodysuits.
If that sounds spooky to you, well, wait until they start playing: Papa's vocals are clear and melodic, and the dueling guitar work has much more to do with the anthemic leads of classic metal bands like Iron Maiden and Mercyful Fate than it does with the screech and grind of the genre's darker corners. Watching Ghost, it was hard to tell if they were sneaking Satanism into pop music, with huge hooks and winking self-aware theater, or if they sneaking pop music into Satanism.
Arcade Fire's Ghostbusters Theme
Even a figure as friendly as Win Butler was feeling something strange in the neighborhood down in New Orleans. Three days after my coffee shop run-in, Arcade Fire played a celebratory and hit-filled set spanning material from all four of their albums to close out the festival, skipping over the new material they reportedly debuted at a secret show in New Orleans earlier in the weekend.
Arcade Fire has a reputation for self-seriousness, but on Sunday night, they were having more fun than anyone else. It turns out that Regine Chassange's singsong backing vocals in the showstopping "Rebellion (Lies)" need only the tiniest rhythmic tweaking, a little extra jauntiness in their step, to sound exactly like the first two notes of the Ghostbusters theme. When the band finished playing the Funeral standout late in their set, they slid right into a vamp on Ray Parker Jr.'s eternally goofy riff.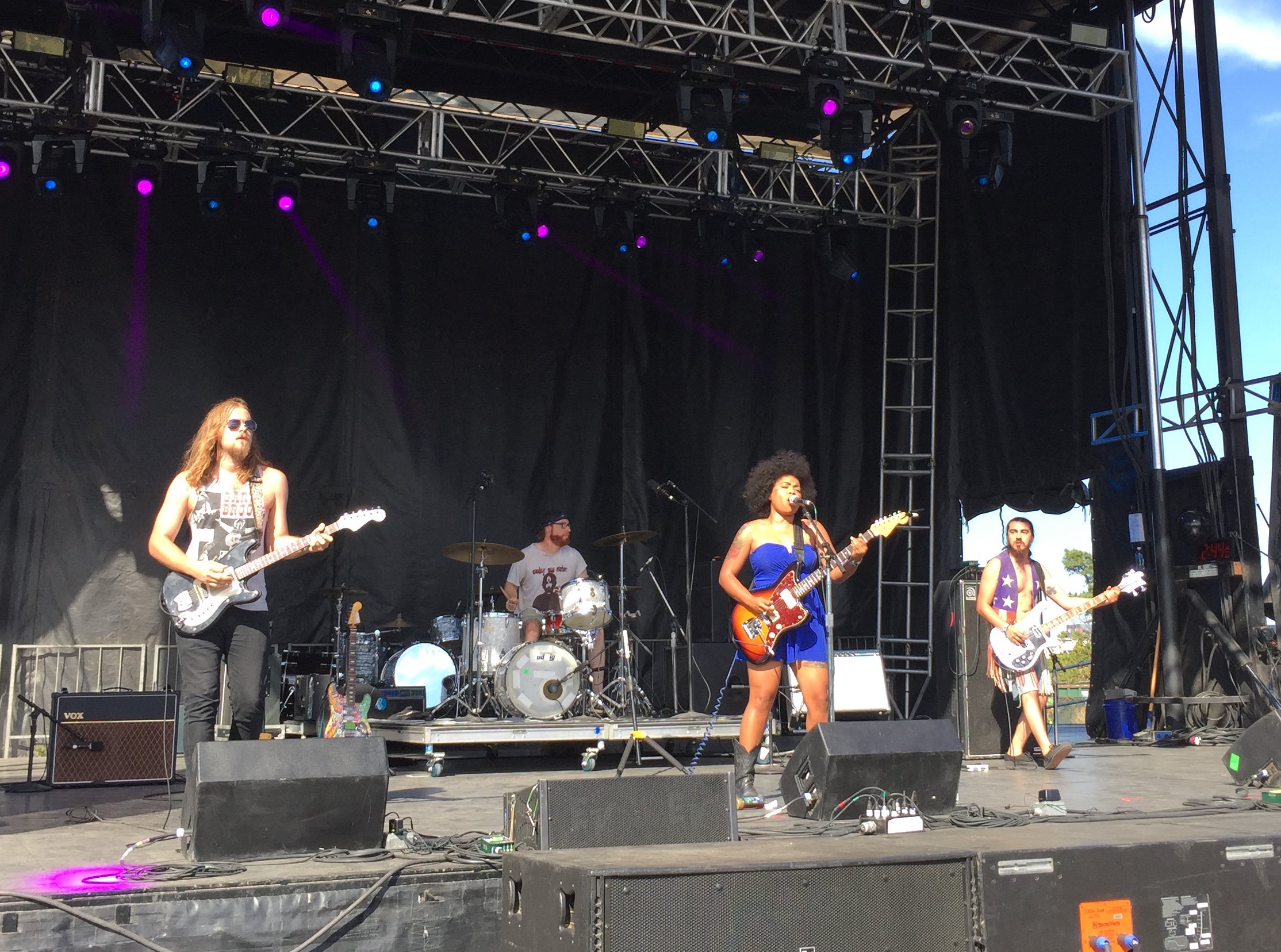 Seratones
With their retro name and low-slung guitars, Shreveport's Seratones are easy to mistake for one of the hordes of anonymous blooze-rock revivalists that sprung up in the wake of the White Stripes and Black Keys. That categorization isn't exactly wrong: their music offers plenty of pentatonic boogie, and singer-guitarist A.J. Haynes does her fair share of shimmying and wailing. But on Friday afternoon at the festival, there was a hint of darkness onstage, staring out from the drummer's Charles Manson t-shirt and the lead guitarist's steely visage. When Seratones hit their groove, they sounded like a sleazy bar-band version of Incesticide-era Nirvana, as if Kurt and company were more interested in sex and booze than heroin and introspection. When they finished their set, the bassist revealed an influence that was both unexpected and forehead-slap obvious, scrawled in duct tape on the back of his instrument: "RIP LEMMY."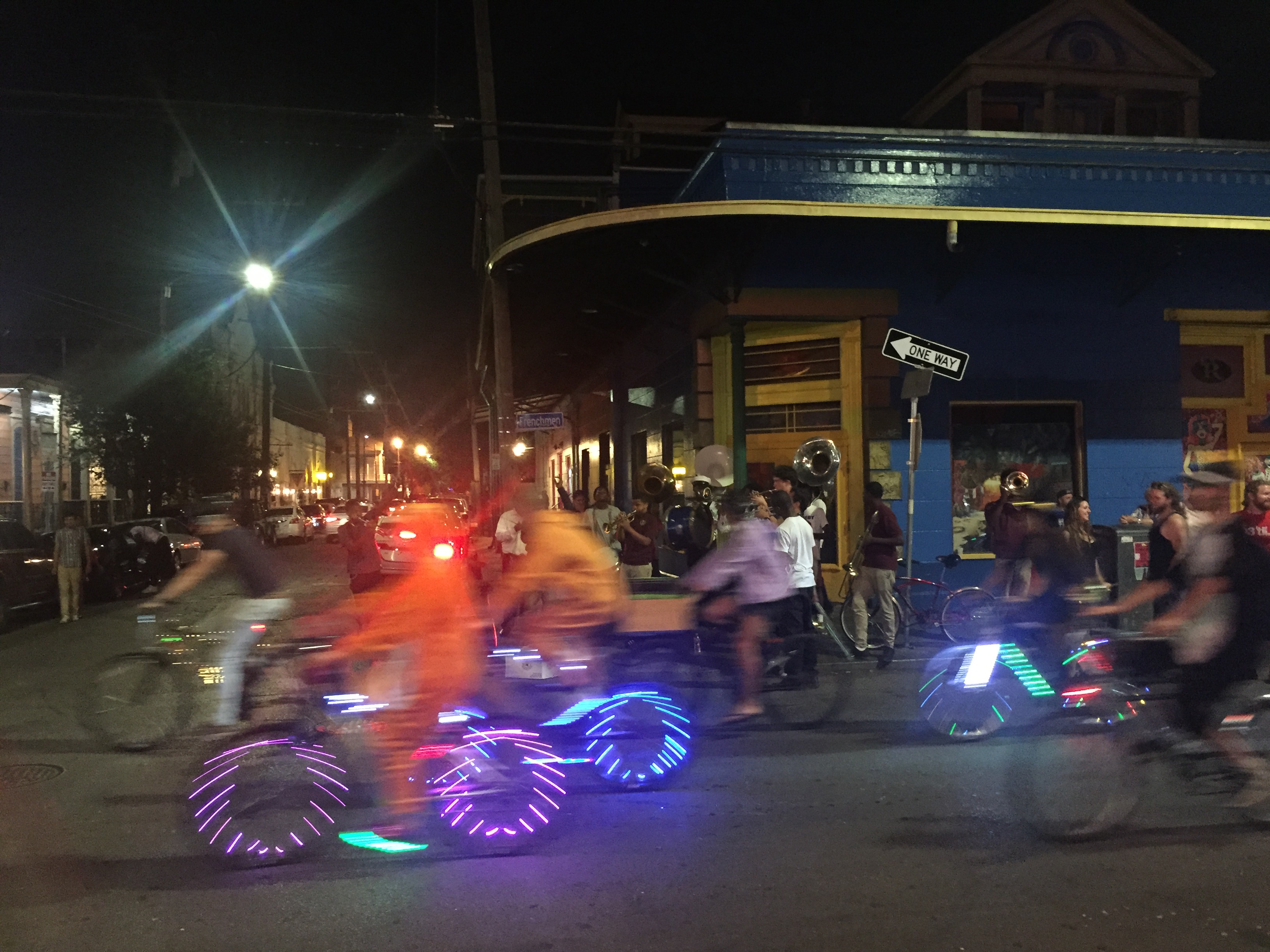 Brass Band Critical Mass
Before the official start of Voodoo, I spent a balmy Thursday evening ambling around the French Quarter and the Marigny with no particular destination in mind. I didn't realize I was nearing Frenchmen Street, home of several of best of the city's best-known music clubs, until I heard a sousaphone bass line and the tumbling polyrhythms of a second-line snare player wafting over the air. In terms of pure musicianship, the mostly teenaged ensemble could have wiped the floor with many of the professional acts I saw later in the evening, with a dozen or more horn players blowing in swirling counterpoint to create a densely layered whole.
Unbeknownst to me, a Critical Mass-style group bicycle ride was also underway, and a fleet of men and women on road bikes and low riders rolled down Frenchmen in front of the band, wearing surreal face paint and Guy Fawkes masks, with neon spinners in their wheels. Stumbling across a raucous brass band or a gang of proud freaks on bikes isn't exactly surprising in New Orleans, but that doesn't make the occasion any less joyous when it happens.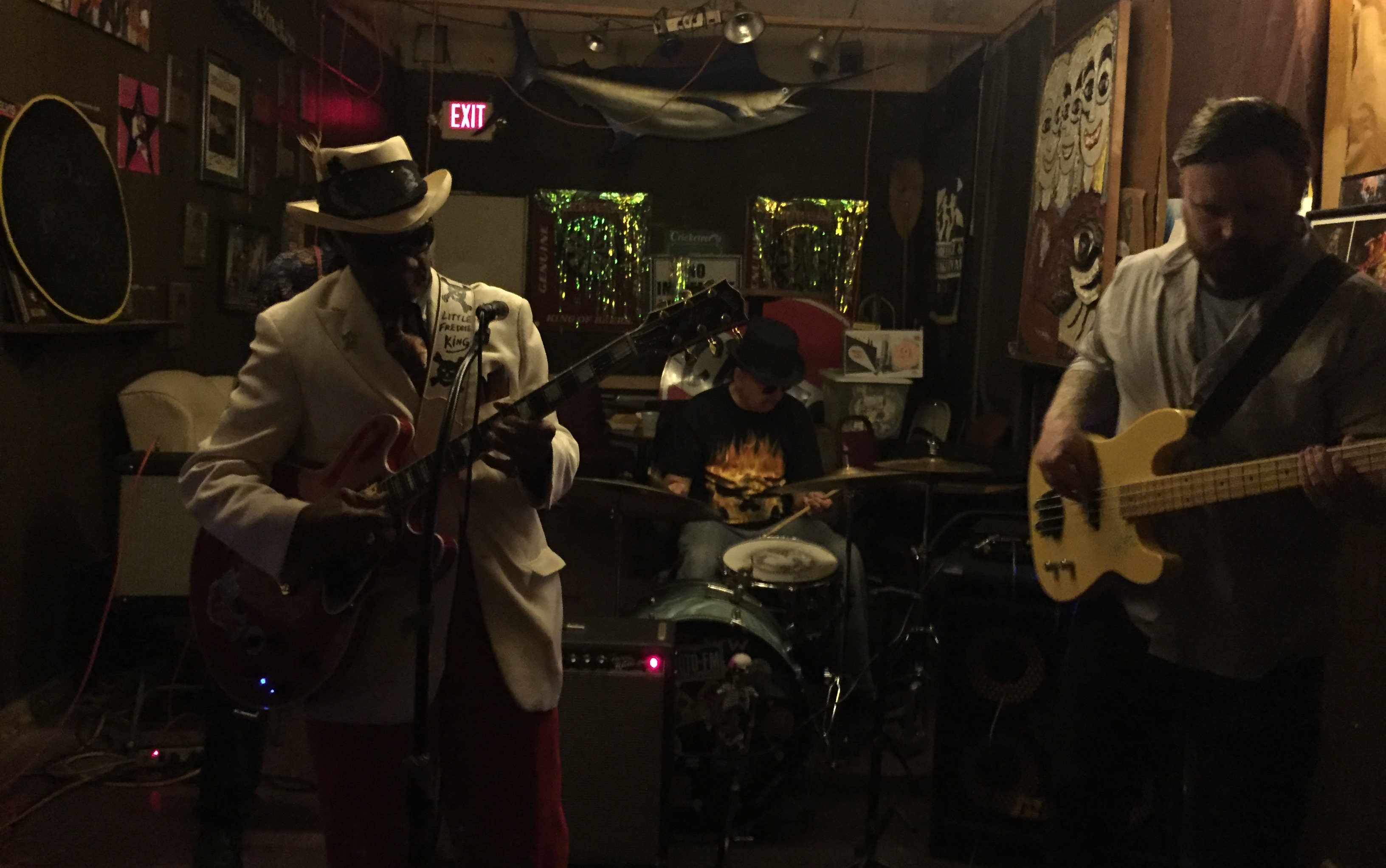 Little Freddie King at BJ's Lounge
My favorite performance of the weekend was the 76-year-old bluesman Little Freddie King in the back room of BJ's Lounge, a bar in the Bywater neighborhood on the western edge of the 9th Ward, with wood-paneled walls and no stage. King plays a jumped-up electric blues that's light on flashy solos and heavy on hypnotic repetition, and any relation to the famous Chicago guitarist with whom he shares a name is purely musical. Born Fread Martin, he changed his name in homage to the original Freddie King after the two shared a bill decades ago.
I arrived at BJ's just as the Chicago Cubs were losing in the ninth inning of World Series game three to the Cleveland Indians, prompting one patron to stand up and chuck his barstool at the wall, then stroll out the door with all the apparent calmness of a sleepwalker. A heartbreaker for the hometown team of Howlin' Wolf, Muddy Waters, and Little Freddie's namesake didn't seem to bode well for any blues that would be played that night, but King vanquished the bad juju with the first of his gutbucket guitar chords and didn't look back once, not even when the second of his sets started stretching into Saturday morning. This is a man who was shot five times by his own wife in the mid '80s, and stayed with until her death years later. Little Freddie King is not one to back down.
King is a legend in New Orleans—that's him strumming in the shadows next to Beyoncé in the "Daddy Lessons" video—and nowhere is his legend stronger than at BJ's. Last year, the bar hosted a 75th birthday party for Freddie that regulars are still raving about, and they produced a t-shirt for the occasion that immortalized him as the "world renowned, hard to kill, pistol packin', chicken pickin', show stoppin', freight train hoppin', game cock walkin', master of electricity and King of the Blues," plus a "connoisseur of womens," too. His performance Friday was a reminder that the most primal of American musics is still a living, sweating, thing, and not just a museum exhibition for Stevie Ray Vaughn-style guitar heroics. Sometimes, when the hour is late and the beer is flowing freely, the blues sounds like dance music.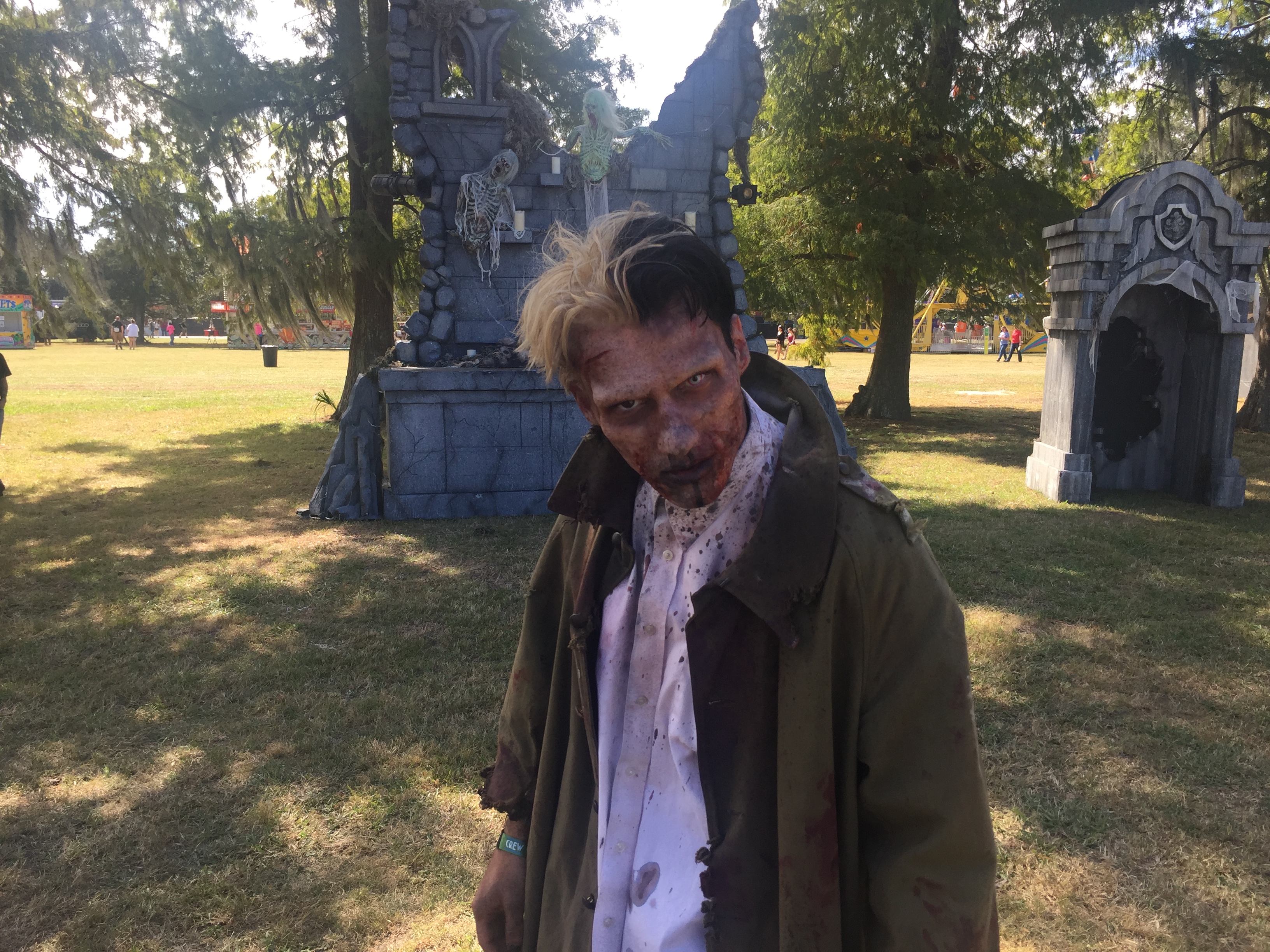 This Guy
The grounds at Voodoo are painstakingly decorated, with a towering sculpture of the festival logo that greets you as you enter the venue, carnival rides for thrill-seeking attendees, and a haunted graveyard, complete with fog machines and an animatronic dead horse. The graveyard's placement in the center of the festival grounds meant that plenty of unsuspecting attendees walked through it on their way from stage to stage, and I had the great pleasure of watching this undead gentleman scare the daylights out of one such poor woman on her way to watch Brooklyn indie rockers Active Bird Community.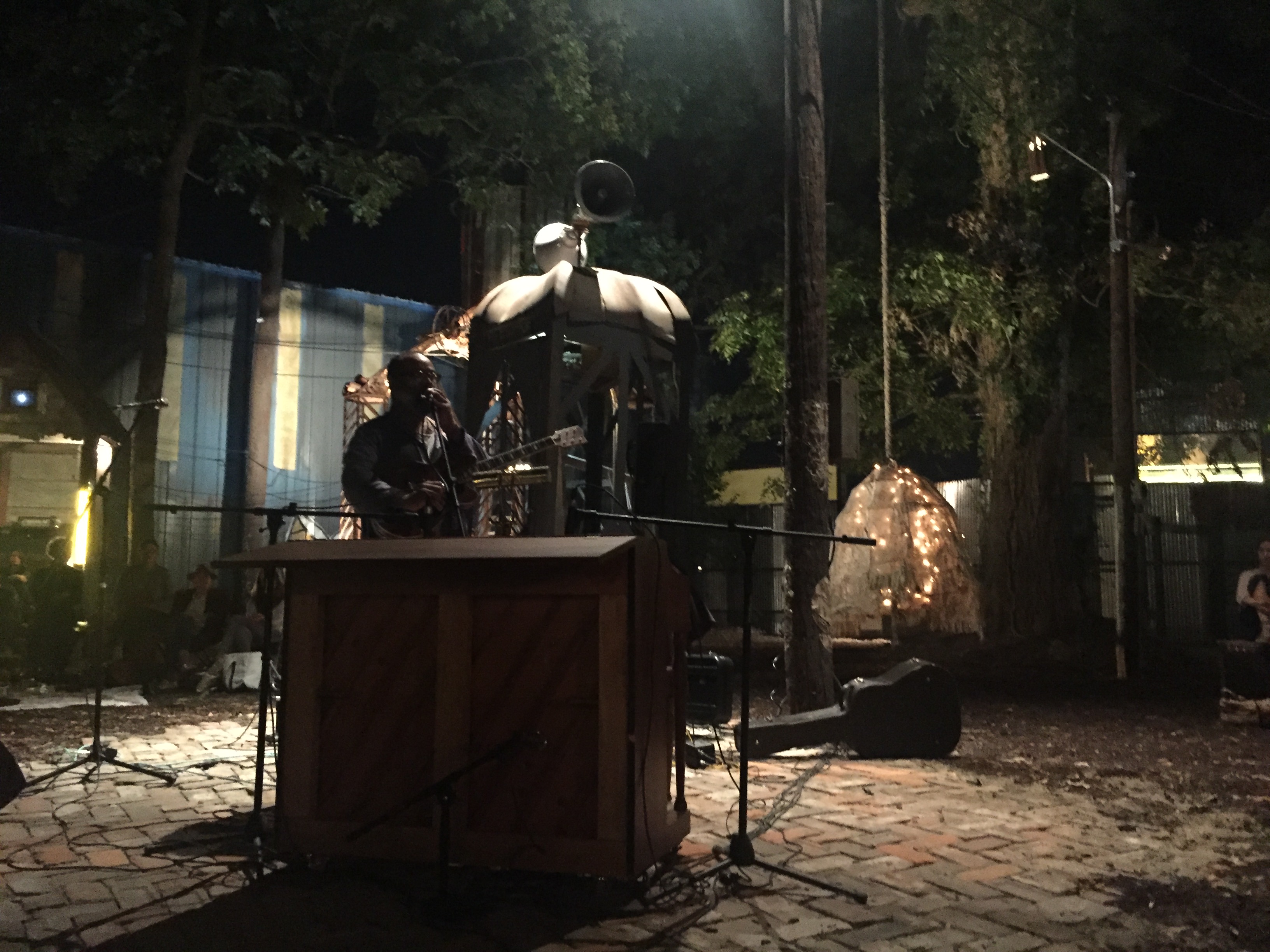 Kyp Malone at Music Box Village
The sparseness of TV on the Radio guitarist Kyp Malone's playing, and the huge range of his honeyed voice, brought a religious intensity to an excellent set of solo songs filled with imagery of dying cell phones and lovers with buttery skin, performed at an art-installation-slash-venue called Music Box Village. In one memorable song, the protagonist finds himself with a head full of chemicals–just after having walked through some catacombs, if I heard Malone correctly–when he stops to contemplate a partner's "hallelujah ass." In any other performer's hands, the ridiculous line would have been good for a chortle, but under Malone's tender stewardship, it was a funny and warmhearted revelation.
Lunice 
Lunice is best known as one half of the duo TNGHT with Hudson Mohawke, whose 2012 self-titled EP almost singlehandedly brought thwacking, southern rap-inspired dance music to clubs everywhere. That record is loads more inventive and fun than the imitators it inspired, and when Lunice dropped standout track "Goooo" into a set filled with his own material and songs by the likes of Soulja Boy on the Le Plur stage, the costumed crowd briefly went berserk.
The Pine Hill Haints at Siberia
Alabama's Pine Hill Haints play what they call "ghost music"—a blend of vintage styles including bluegrass, rockabilly, gospel, and Celtic folk—on a menagerie of old-timey instruments including accordion and washtub bass. On Thursday, they gave a lively set at Siberia, a punk dive bar serving delicious Slavic food on St. Claude Avenue. I missed the headliners—a contemporary Cajun band called the Lost Bayou Ramblers—but if their live videos are any indication, they probably sounded great too.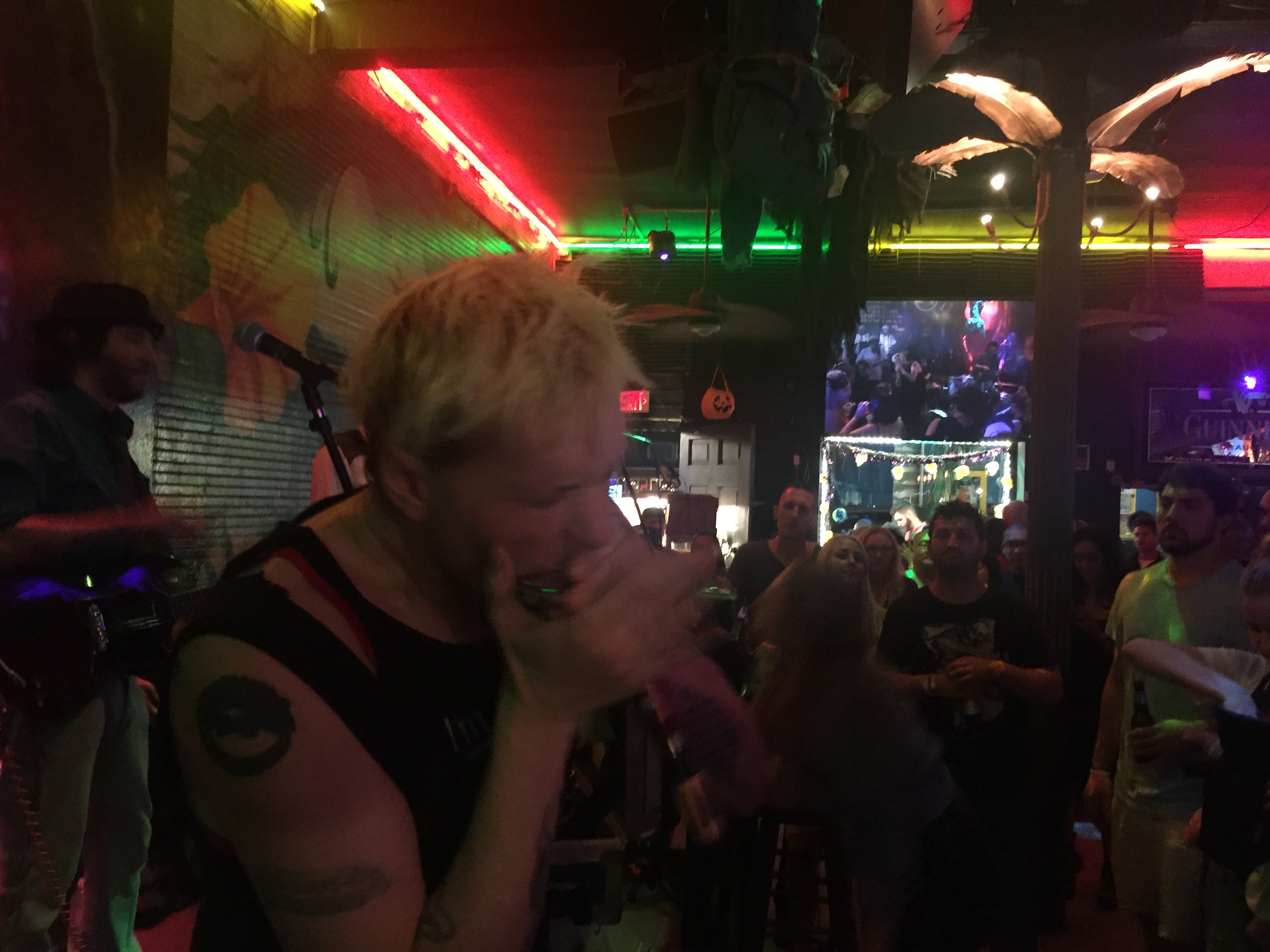 A Few of "My Favorite Things"
After Arcade Fire's festival-closing set, I made one last visit to Frenchmen Street, where I saw a ragtag local band called John Lisi & Delta Funk. They played workmanlike bar rock, delivering the old standards with a skill and flair that elevated them above the fray. The drummer has no hands, playing with sticks strapped to his forearms, and the harmonica player wore peroxide-white hair and a shirt that read "I'm not gay! That's just a rumor started by all the guys I've slept with." When I walked in, he was playing a burning blues solo, into which he interpolated bits of "My Favorite Things." The brief quotation was audacious but convincing, drawing a line as it did back to John Coltrane, whose improvisations on the Sound of Music tune are legendary, and to Rogers & Hammerstein, the iconic American songwriters who composed it.