This past weekend, New York City welcomed a new, major music festival: Panorama, the latest venture from Goldenvoice, the company behind the Coachella Valley Music and Arts Festival. Situated on Randall's Island, the three-day event offered a mixture of staggering musical talent, interactive installations focused on art and technology, and top-notch food and drink from local outlets. To recap and take stock of the showcase's inaugural run, SPIN presents this brief roundtable featuring Senior Editor Kyle McGovern, Associate Editor Rachel Brodsky, and Contributor Brennan Carley. Forgive them if they're still a little dazed — it was a lot to take in. 
Kyle McGovern: Let's start with an obvious question: Did you have a good time at Panorama this past weekend?
Rachel Brodsky: I enjoyed it a lot more than I thought I would. I was pleasantly surprised by how well the festival was organized and how much attention was paid to amenities. I have no real basis for a comparison to Governors Ball — I've never gone to that festival — but over the course of the weekend I heard from multiple people how much more pleasant of an experience Panorama was compared to GovBall. The sets were tight and on-time, the sound was clear, no one's set bled into the neighboring stage, there was plenty of food and water, the lineup was impressive and relevant, the technology-meets-art theme was clear but not visually overbearing.
Brennan Carley: First: Getting into Panorama was a drag. They made me walk around the entire perimeter of the island, on a pretty unattended path, only to find out later that I could've actually checked in at either entrance. Communications issues on the first day were, to be expected of a baby festival, clunky. It got better, though. Shot for shot, I'd rather go back to Panorama ten times in a row rather than hitting Governors Ball once. It was quieter, more spacious (or so it felt based on their layout), and calmer. The bands sounded better. The screens looked crisper. I loved it, and I'm burned all-the-way-out on festivals for the year.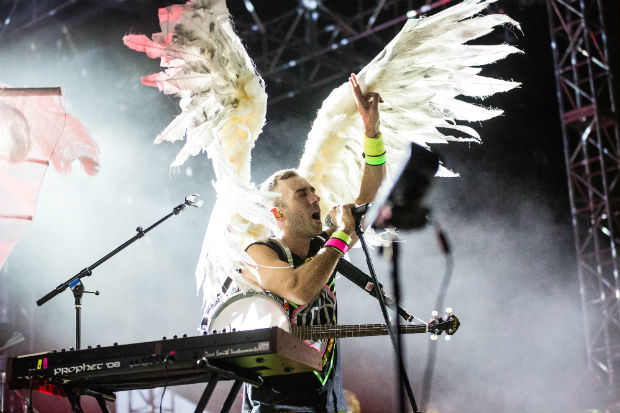 KM: Yeah, on the whole, I really enjoyed myself. Hiking over to Randall's Island three days in a row (and dealing with numerous subway delays) wasn't a treat, but once I made it into the festival, the commute felt worth it. The various water refilling stations and shade set-ups provided necessary heat-relief; the various food and craft beer options kept luring me over (prices be damned); the bathrooms didn't turn into disaster areas until the second half of the final day; and the lineup consistently held my attention throughout the whole experience.
BC: Governors Ball and Panorama's ultimate flaw-in-common is definitely Randall's Island. Is it beautiful once you get there? Absolutely. Is it worth the trek? I'd say no — had Panorama been first to run this year, I would've handed in my GovBall passes and skipped a festival I've gone to every year since its beginning. Ferries are expensive and take time; buses are the same. Sure, you can bike to the island, but in sweltering, shirt-drenching heat, it's not worth the toll. That leaves walking, which leaves you exhausted and dehydrated by the time you get to the festival grounds. There has to be a better solution here. Even setting up free water stations along the bridges would soften the blow.
RB: Yeah, walking over the bridge takes long, too, it and leaves you sweaty — and the shuttle costs extra money and usually comes with a giant line. Next year, let's just have this thing in Central or Prospect Park and call it a day. The food was also pricey and given in too-small portions. (I accidentally spent $10 on one piece of sushi thinking I'd get an entire roll. What the hell?)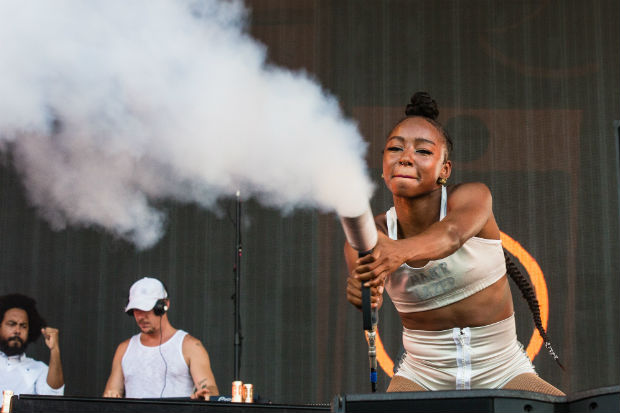 KM: All right, well, let's get back to some of the positives. We touched on a few of them quickly, but more specifically, what stood out to you guys as wins for the Panorama organizers?
RB: Like you said, the water-refilling stations for sure, and there were a few "misting" areas, where concertgoers could literally get cold water sprayed on them, and actual trailer bathrooms — a huge step up from most festivals, which force you to regularly degrade yourself in a smelly, worn-down Port-A-Potty. The fact that even the general populace — not just the VIP ticket-holders — got to use trailer bathrooms is huge. Also, there were plenty of food stations lining each stage, the Pavilion stage had a giant tent overhead to provide shade, and the Parlor enclosure had air conditioning. Music-wise, Sufjan Stevens, Broken Social Scene, Kendrick Lamar, FKA twigs, Arcade Fire, Sia, and LCD Soundsystem all were standouts. Panorama really brought it for anyone who attended college between 2004 and 2012.
KM: Right, the music. In terms of the performances, Sufjan completely blew me away — I've heard that his shows can be eccentric and prop-filled, but I was not prepared for how much energy and joy his songs could have. This was also my first time seeing Arcade Fire ever (I know, I know), and that absolutely lived up to expectations. They cherrypicked from all of their records, they didn't lay it on too thick, and it was honestly amazing to just hear thousands of people chanting along with "Wake Up." I'm not even a huge fan of that song, but that moment made for one of the best concert-going experiences of my life.
As for other highlights: Sia delivered a headline-worthy set (so much so that for a few minutes I wasn't sure how LCD were going to follow her); it was incredible watching Kendrick Lamar carry a 90-minute set on such a big stage and have so many people hanging on his every rap; Anderson .Paak's live set was surprisingly heavy and loud and vibrant and, I thought, had a completely different appeal from his most recent album.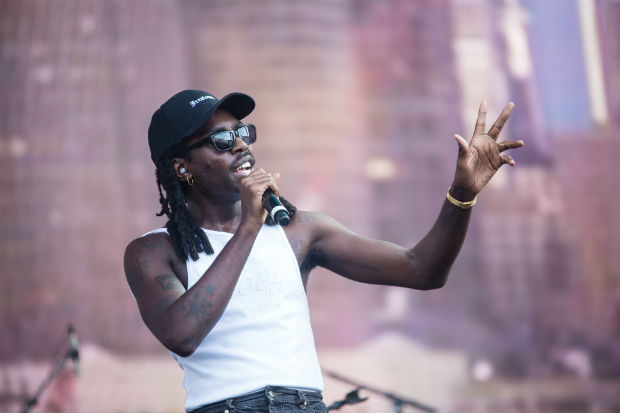 BC: Yeah, the biggest bands and acts that hit the stages weren't the ones you've likely seen this year, barring LCD "Shut Up and Play the Hits 2.0" Soundsystem and A$AP "Same Tho" Rocky. This was Sia's first NYC show in years; Arcade Fire haven't played our fair shores since their Reflektor stint at the Barclays Center in 2014. Panorama made the decision to book based on who they thought we'd want to see, regardless of which acts were currently touring or had projects to promote. It felt less pandering in that regard than Governors Ball did this year.
KM: It might just be the benefit of the New, but, yeah, I was really impressed with how everything was organized. The lineup was smaller than the one at GovBall, but I think that was a plus, not a minus; it just felt like it was more carefully curated, not like it was trying to be everything for every kind of music fan. And there were fewer conflicts between competing artists. I was able to see most of Broken Social Scene's set and then catch most of Major Lazer's, just as it was starting to pop off. Also, like Rachel mentioned, having fewer stages meant that you didn't have one artist's performance spilling over and drowning out anyone else's, and there was just more space to sit and relax and walk around. I'm sure it also helped that tickets didn't sell out, but aside from the headlining performances and the trip back home, I rarely felt crowded.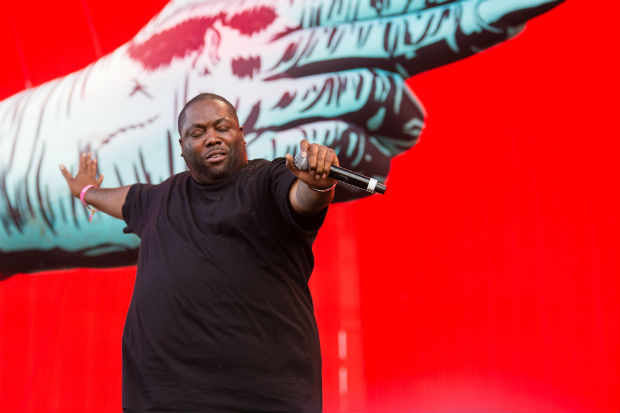 BC: Well, unless you were willing to wait in lengthy lines to get into the special installations (Despacio, the Verge tent, and more), you were SOL. When I go to a festival, I'm there for a music, and while I get the agenda Panorama was pushing — the intersection of sound and technology! Jump into the future! Embrace the metaphysical! — it was hard to get excited about anything other than the bands onstage when you couldn't get into the damn geodesic spheres littering the main field. Part of that stems from, I'm sure, organizers wanting those experiences to feel small and unique, and that's cool. Blessings to those who stuck it out and got their fill of the tech on display. I was way happier having Sia shred my heart to pieces.
KM: Yeah, very true about the lines for all of those sci-fi igloos — they were so long that I didn't even bother checking them out. And maybe that means I missed out on some key aspect of the festival — the overarching theme was supposed to be a play off of the World's Fair and futurism, which, sure, whatever. To wrap up: I have enjoyed GovBall in the past, and hate to swipe at it, but Panorama was just more fun this year. Do you guys have any last thoughts?
RB: Surprised to say that I would definitely attend again.
BC: We might not get such a chill, happy festival crowd next year if an extra 10,000 attendees get thrown into the mix. But for this past weekend, Panorama felt like New York's best little secret.