As many artists paid tribute to Prince late last week, so too did Ezra Koenig, dedicating his Beats 1 show Time Crisis to remembering the legend yesterday. In between playing hits from this week in 1968, some D'Angelo cuts, and a few Elton John songs, the Vampire Weekend frontman remembered the Purple One with the help of iLoveMakonnen, Chromeo, and actress Rashida Jones.
"The first song I ever danced to was 'Partyman' off the Batman soundtrack," Makonnen said. "I loved Prince ever since then and everything about him. Me and my mom were joking — because I had just started this song, "Man of the Party" — and she was like how, 'You're the man of the party. Because remember when Prince was the man of the party and you were dancing to 'Partyman?'"
Jones called in to share a story of Prince showing up at her 37th birthday party by "accident," leading to an awkward but charming run-in.
"He was a little shy and I was definitely very shy," Jones recalled. "I went up and said hi. He said hi, he was sweet and he smiled. I said it was my birthday. He said happy birthday. And then he kicked it in the corner."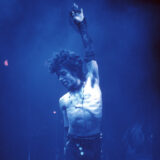 Give the podcast a listen here. The interviews roll in during the show's latter half.