We're 15 minutes into Lil Uzi Vert's set at Philadelphia's Theater of the Living Arts, and one of the rapper's onstage entourage-members has just doused me with the contents of a Poland Spring water bottle. This would be objectionable in any other setting, but I accept the impromptu shower as an excusable side effect of the turn up.
This sold-out jaunt in mid-March could be considered Lil Uzi Vert's homecoming show; it's the first time he's played his hometown after entering the mainstream last year on DJ Carnage's blown-out anthem "WDYW," crafting multiple projects with the A$AP Mob collective, and relocating to his current residence of Atlanta. Since then, the 21-year-old has solidified his spot as one to watch by signing with DJ Drama & Don Cannon's Atlantic imprint, Generation Now, and releasing Luv is Rage, a 16-track mixtape featuring his signature rapid delivery.
Part of a new wave of rap termed "post-Internet," a name that riffs on artists relying on streaming and social-media tactics to promote their material, Uzi often gets looped in with other Atlanta-based peers like Lil Yachty and Playboi Carti, each of whom has also utilized SoundCloud to post freestyles and minimally produced snippets.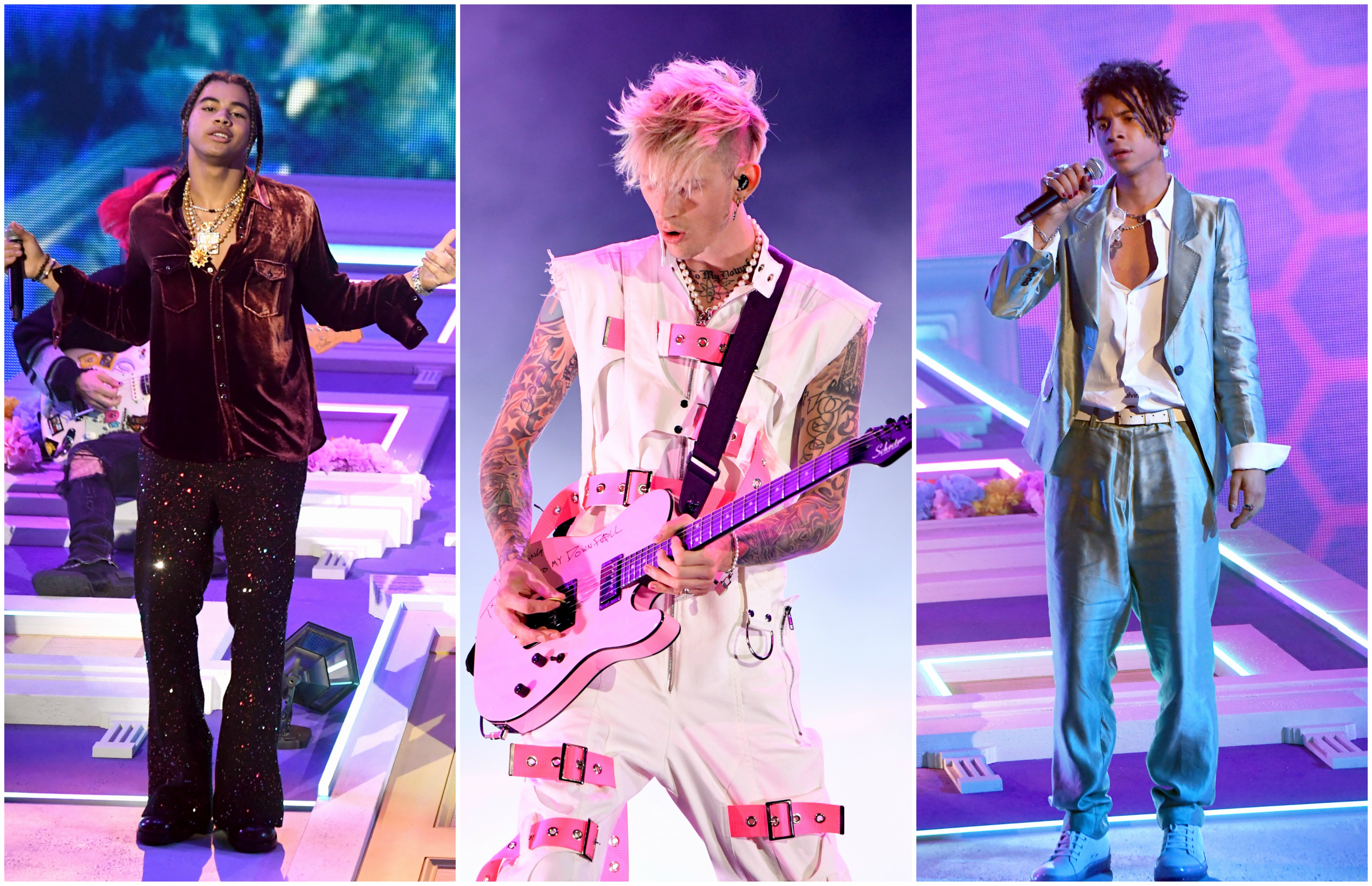 Most recently, Uzi has parlayed his underground success into collaborations with hip-hop heavyweights like Young Thug (the two appear together on Thug's "Dope") and he's just dropped a new mixtape, Lil Uzi Vert Vs. The World, a trap-heavy solo effort largely produced by Cannon and the Future-approved Metro Boomin. SPIN caught up with Lil Uzi Vert at his Philadelphia show, where we talked about his latest releases, working with the A$AP crew, and who would win in a Philly-Atlanta rap battle.
How do you think growing up in Philadelphia has influenced your sound?
Wherever you're from, you adapt to your environment. It definitely made my music a little bit more explicit. Because I really was in North Philly, I listened to State Property and stuff. Everything my dad listened to, I listened to. He definitely listened to Beans [Beanie Sigel], State Property, and all that.
You frequently collaborate with Maaly Raw and other Philly artists. How would you describe the rap community here?
Everybody really don't rock with each other in Philly — that's a problem. 'Cause me being in Atlanta now, I stay in Atlanta, and I get to see everybody work with everybody no matter what. It could be somebody beefing with another person, but if that person has somebody on their side and they rock with them, they're still gonna rock with them. But in Philly, everybody don't rock with each other. And I'll be trying to rock with everybody in Philly, you know… It's definitely messed up.
Why do you think it's fragmented like that?
I don't know… Philly's a little different. It's a little bit more competitive. Everybody's got something to prove. In Atlanta, you see stars every day, walking down the street, it's normal. Out here, you don't see that. You don't even see half the stuff you see out there. It's cold out here.
What do you think are the stylistic differences between Philly and Atlanta ?
It's way more lyrical in Philly. There's way more rappers. In Philly it's like, this is really the East Coast. Everybody here can rap. That's why in Philly it's a little bit harder. So the difference is, down there they're actually trying to make songs. It's catchy, it's fun down there. Atlanta is down south, the club. So the most thing played down there is club music. Everybody wants a hit. Up here, people are known for being rappers. Down there, they're known for making hits. So they're just following that culture. It's a total difference. It's all rap, but it's a total difference.
You recently said Ying Yang Twins and Mike Jones were some of your earliest influences.
The reason they were influences is because they were two of the earliest CDs I ever had in my life, and my grandma got them for me. But they were my only CDs, so I was listening to them. And I mean, of course you grow to like something that you keep listening to. Not necessarily forced, but they were the only ones I had. So I would listen to them.
I think it's really interesting that you also count Marilyn Manson and GG Allin as influences. How do you think rock music plays into your rap?
Because the type of music I make, it's not just straight-up rapping. There's emotion in it. That's why people feel each song differently. I get all my vibes from rock music, you know? All my melodies and all that.
So you started rapping in high school, about two-and-a-half, three years ago. How do you think your style has changed since then?
It develops every day. I remember when I first rapped, I was writing raps. I don't write raps at all; I stopped early. I don't know, it seems like every day I find something a little bit easier. Maybe I'll find a new plugin, which has to do with the voice recording, and it could help my sound. Everybody has their own sound, so I found out by me not writing down the music, it was more free.
How did you get started with the A$AP crew?
I never met [A$AP] Yams in person. He found me on Twitter, real early. Well, not even like found me, but hit me up a day before Cannon hit me up. He was in touch and telling me like, "You're gonna be a star." This was dumb early. I probably had three songs up on SoundCloud, three freestyles or something. And then we would just talk and stuff, I would ask him how L.A. was, because he was in L.A. at one time. And I'm like, "Man, I've never been there." I've never really been nowhere. And I finally go out to L.A. now, and I think about that sometimes.
What's your relationship with Ferg like? Do you consider him to be a mentor?
Yeah, Ferg actually is one of the people that always tell me to do exactly what I want to do. Because he was somebody I was listening to. You know, I just recently started rapping, so everybody that I really listened to still is in the game, it's not like anybody retired. Me and my homies, we all would listen to them. I look at the whole A$AP [crew], all of them, so when he tells me different stuff, like… For instance, when he tells me like… Ah, I was about to say something that'd get me in trouble. [Laughs.] He just tells me to do what I want to do. Yeah. Damn, I was about to say some crazy s**t. [Laughs.]
Who are some other artists you listened to when you started rapping, or when you got into it a little bit?
Rocky, Rocky a lot. I knew about Thug early, actually. And of course Wiz Khalifa.
Do you think Young Thug is another artist that's influencing your style?
Thug? Of course, he's influenced a lot. We help each other in the studio a lot. When we record, we're kind of the same. He doesn't write at all, he just goes in there and does it. He's a little faster than me. But you know, we're getting there.
Do you have a go-to Young Thug song?
Oh, that's hard. [Laughs.] That's like asking your favorite Lil Wayne song. I got different moods. Like, if I'm in a good mood, I listen to "Up" by Thug, If I'm not in a good mood, I'll listen to "King TROUP," that's a real emotional one. There's a lot. All of them, though. You know what, one thing I can say is I never heard a bad Thug song. Never heard a corny one in my life.
You've been looped in with people like Playboi Carti and Lil Yachty as a new wave of young rappers. What do you think about that label?
I think it's cool. You know why? Everybody has their own lane. On the real, and I don't want to say it like this, but it's all like the new, young nigga wave. But everybody plays their part, I guess. There's enough money for everybody. See, I can't do what Yachty does. But then again, Yachty can't do what I do. You feel me?