Update: Flea's rendition of "The Star-Spangled Banner" at Kobe Bryant's final NBA game received, uh, mixed reviews, to say the least. One typical comment on Twitter? "I couldn't hear Flea over the sound of Francis Scott Key clawing at the lid of his casket."
However, The Red Hot Chili Peppers bassist says he doesn't give a hoot about the criticism. "I don't care, man," he told TMZ. "I know that people who like music liked it. I thought it was beautiful. I really don't have any concern for little small minds that get frustrated when they get blown. I like the big minds." Watch below. 
//cdnapisec.kaltura.com/p/591531/sp/59153100/embedIframeJs/uiconf_id/6740162/partner_id/591531?iframeembed=true&playerId=kaltura_player_1413478522&entry_id=0_pf1n0s5z
Los Angeles Laker Kobe Bryant celebrated the end of his 20-year NBA career last night — where, yes, before you ask, he heroically led his team to a season-ending win against the Utah Jazz with a 60-point performance. Red Hot Chili Peppers and Atoms for Peace bassist Flea got things going with an all-bass rendition of "The Star-Spangled Banner." Also, Kanye was there. Watch everything go down below.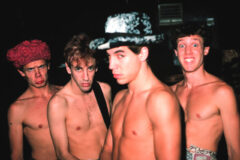 At the God's last game pic.twitter.com/eucluEFOFX

— KANYE WEST (@kanyewest) April 14, 2016
Correction: A previous version of this post claimed the Lakers had beaten the Jazz by 60 points. In fact, it was a five-point margin of victory, led by a 60-point Kobe Bryant performance.