DJs Zane Lowe, Julie Adenuga, and Ebro Darden spin records daily on Apple Music's Beats 1 Radio, but they haven't been in the same room together since the station's inception last June — until right now, mid-March. It makes sense, though, that the trio (Lowe, originally from New Zealand, lives in Los Angeles; Adenuga is based in London; and Ebro is stationed in New York) would be here in Austin for the buzz-band circus that is South by Southwest, where Apple has rented out an impossibly slick two-story house. Even before their anchoring gigs with Apple, each of the DJs has, in their own way, built behemoth careers around discovering and circulating new music.
Lowe, 42, who spent more than a decade DJ'ing at BBC Radio 1 (where Annie Mac has since stepped in as his replacement), has thrown his weight behind pop upstarts like Halsey and Kiiara. Ebro, 41, who made his name at hip-hop juggernaut Hot97, was an early supporter of glitzy electronic duo the Knocks. Adenuga, 27, is the younger sister of MCs Skepta and JME, and is the more eclectic of the three, frequently spotlighting underground U.K. genres like grime and jungle on her former Rinse FM show, and now for Apple Music.
Different as they are, and as rarely as they get to see each other, Lowe, Adenuga, and Ebro get along famously face-to-face, often pausing a serious conversation to tease and rip on each other like a set of grown-up siblings. Sitting down with SPIN at the Apple House, Beats 1's premier DJs delve into the importance of on-air freedom, breaking new music on a global scale, and making time to catch a rodeo while they're in Texas.
When was the last time you guys saw each other face-to-face?
Zane Lowe: Julie and I met in London. And then I met Ebro on [Apple's] Photo Day. Obviously I knew Ebro — we'd spoken on the phone. [And] we'd done a photoshoot before then. That was such a weird time because no one really knew what we were getting ourselves into, so we were just kind of in it for the adventure.
https://youtube.com/watch?v=GQaoTMR2eOk
What has been the most rewarding thing about transitioning from local outposts like Rinse FM, Hot97, and the BBC to a worldwide property like Apple/Beats 1? 
Julie Adenuga: The thing for people in London is, they love how much the music that I play is not played anywhere else. They love how incredible it is for them to understand that, when I play a song, it's being played to a hundred countries. To them, the music that we've grown up around and listened to growing up has been so small, but hasn't been as global as it is when I play it.
Lowe: There may be people who recognize us for playing records, but I think we're starting to see more people recognize the artists more than [before]. [If an] artist is selling out shows in Sydney, we'll go down to Sydney and we'll meet with industry people down there. And they'll be like, "Yeah, that's all based off Triple J and Beats 1." You're actually starting to see impact occur for the music and territories. "Worldwide radio" looks really good on paper, but you can't be a tourist about it. You need to start seeing some impact, you need to start actually making a dent for artists in parts of the world they've never had a chance to visit.
Why did each of you want to be involved with Beats 1 Radio in the first place?
Ebro Darden: I wanted to bring artists and music to other territories. I've been in terrestrial radio my whole life, which in America is very programmed. You don't have the freedoms. You gotta be very, very careful which artists you're gonna take a risk on because there are so few slots and opportunities. This was an opportunity to go deeper for me musically, and have the freedom to go, "I love this," or "People are really talking about this," or "This artist I just believe is amazing, and I want people to hear it."
Adenuga: On Rinse it was the same thing. It's funny because Rinse still to this day represents the music that I play, but it just had that level of programming — that sort of regimen and schedule. And the day I met Zane was just, like, freedom.
Lowe: That's what I came from. I worked at Radio 1, and no one told me what to play. And so you'd have a very compartmentalized and traditional daytime schedule of programs and songs and shows that work for that audience. And then you'd get to my show at 7 p.m. local U.K. time, and it'd be free reign.
Apple gave me and some colleagues the opportunity to build what we had within a radio show [at BBC 1] across an entire station. The offer came at a time when I felt like, you know… All good things, all eras must come to a conclusion at some point. And I think the dream — if you love what you do — is to be able to end it on a high note. I wasn't actually in any hurry to leave Radio 1. But when the opportunity came to do what I was doing four nights a week for two hours a night across an entire station within a streaming network, the marriage of tech and entertainment was interesting to me. I feel that's where a lot of the audience are going, is they're looking for a place to stream, watch, listen, do all these things in one place.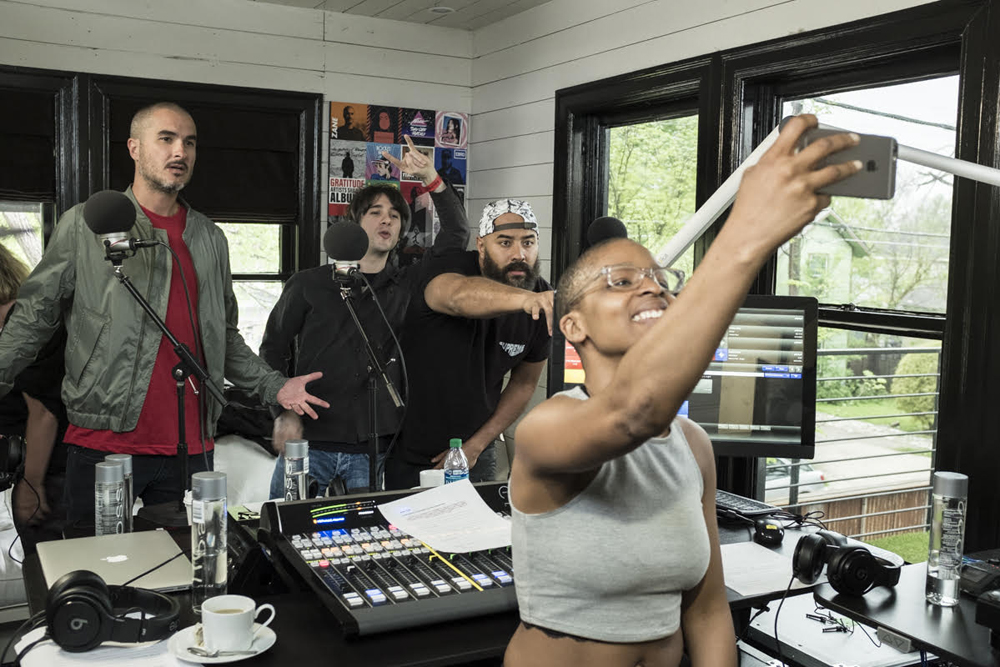 Ebro, I know some of your Hot97 colleagues, Sway in particular, have transitioned to satellite radio, which is more of a free-form environment. Did that ever appeal to you?
Darden: Yeah, some people I work with went over there and did programs. I was approached by [SiriusXM] to do a show.
Lowe: This is a Rachel scoop right here. [Laughs.] What's up with you and Sirius right now, Ebro?
Darden: Nothing. [Laughs.] Not a damn thing. I didn't like it for me. I thought it was good for the people they were hiring. It was great for a lot of people, and I think people enjoy the platform. [Beats 1] was better for me. It's breaking ground. I know that the consumer really wants to be able to go into whatever platform they enjoy and find the music that they want to share with their friends. Beats 1 gives you this next level of curation by humans and people. So not only do you have this technology piece [where you can] search whatever music you want to find, if you want to buy it, [you can] subscribe. That's what Beats 1 is offering: us curating all the awesomeness we can find for you.
Zane, I feel like you're one of the most genuinely enthusiastic radio DJs on the air right now. Is there anything or anyone that you don't like?
Lowe: Injustice, racism, hatred, intolerance, things like that, of course. The new thing that drives me crazy is, lack of common sense on a global level. Stuff that I can't control that I wish I had some control over.
Are there any bands that you just cannot listen to?
Lowe: Rachel's trojan-horse question. [Laughs.] I'll give you an answer which will hopefully make sense. I was given an opportunity a long time ago to play what I want, and I had to make a decision at that point to play what I liked. Because, I know for some people — and this has been a criticism in the past — they think that if you're enthusiastic about something, then you don't have a balance of opinion. But the point is, if you've got two hours to play whatever you want and you deliberately choose something that you don't like in order to give a balanced opinion of yourself, that's more arrogant and more egotistical than just playing what you like. My thing is like, why am I wasting a space on something I don't like to verify my own opinion, when I could play something I do like?
https://youtube.com/watch?v=G5iYU7QOGaA
Well, speaking of finding music that you like, why did you all want to drop by South by Southwest as a team?
Lowe: We were asked? [Laughs.]
Darden: They forced us to be here.
Lowe: They were like, "Do you wanna come out and hang out at Apple Music house and do a show and hang out?" And we were like, "Yeah!" We're in such an experimental stage right now, we don't really kind of have any game plan except just try and play the best s**t, collaborate with the most exciting people, and build in the process.
Are there any bands here that you're excited about?
Darden: I'm excited to just see what everyone else likes. A lot of the bands that are here Julie put me on to. And then on top of that, artists that I'm playing on my show or Zane's playing on his show, or are featured on Beats. So I just want to see them out and about, and see how people are vibing with them. I think we need to, as a brand, Beats 1, be present where music is breaking.
Lowe: I wasn't even sure we would make it to South by Southwest in our first year. Nine months ago we weren't even a thing. As a music fan, I was desperate to come and see music and to be a part of this experience. I've been here before when I worked for BBC; it's a good place to listen to music [and be] around people who love music. I've already seen Empress Of and Pumarosa, and I love those two bands.
Adenuga: I think I'm a little naïve. I just want to have fun. [Laughs.] I've never been here before, and I always remember my first experiences with everything in life because of the environment I was in when they happened. So if someone said to me, "Do you want to go to South by Southwest" last year, I probably wouldn't have said yes. But to be here with these people, with Beats 1, with my team of producers I work with at home… It's a holiday.
https://youtube.com/watch?v=IE6QkzZOdFQ
It definitely feels like music spring break.
Lowe: It does, right?
Adenuga: That's exactly what I was gonna say just now, spring break. Though I've never been to a spring break before.
Darden: Never?
Adenuga: No, I'm from London. We don't have that.
Lowe: I had this conversation with somebody today… Somebody was like, "I grew up around here," and they mentioned rodeos, like, "I went to a gig at a rodeo two days ago." It was Kacy Hill. And then [my friend] goes, "I went and saw a band at a rodeo the other night." And Kacy Hill goes, "Oh, crazy, I think I was ten when I went to my last rodeo." I'm like, "Who goes to rodeos?" I'm having a conversation with two people who can genuinely compare the last time they went to a rodeo. Like, what? [Laughs.]
Darden: I've been to some rodeos.
Adenuga: Have you?
Lowe: You've done rodeos?
Darden: I've never been on a horse in a rodeo, or a bull, but like…
Adenuga: This is what I'm saying, this is why I like these kind of things, 'cause I wouldn't experience this in any other universe.