Formed in Nashville ten years ago, Those Darlins began as an all-female country trio with fuzz around the edges, and ended as a two-guy, two-gal quartet split between Stones-y rock and solemn Appalachian folk melodies. Needless to say, they changed a lot over three albums, the highlight of which was 2011's great Screws Get Loose. Their 2009 self-titled debut is earmarked by low-down titles like "Snaggle Tooth Mama" and "Keep My Skillet Good and Greasy"; by their now-official swan song Blur the Line in 2013, they sang in earnest about fearlessly confronting a tumor, among other things.
When the band announced they were breaking up last year, it wasn't the biggest surprise coming from an ever-restless band we hoped would never settle into just one identity. Instead, in December 2015, they announced their hiatus and a clutch of final shows, which ended yesterday at Baby's All Right in New York City. We're going to miss tunes like the bluesy "$" ("Green in my pocket gives me love that ain't there") or the patriarchy-weary "Be Your Bro" ("You just wanna stick it in") that brought a rural-roughneck tone to clever garage-rock songcraft. SPIN paid respects at the band's penultimate gig, which took place at Philadelphia's Boot and Saddle on Wednesday night and was its own reminder of what we're losing.
Those Darlins tore into their own classics with gusto, giving even the somber "Oh God" from 2013 an epic, elegiac quality. They also performed a great, unreleased track about how women don't appear in Guitar World, and raucously covered the Velvet Underground's "White Light/White Heat" to help seal their own immortality. We spoke with Darlins front women Jessi Zazu, 26, and Nikki Kvarnes, 31, at the venue before the show to discuss the highs and lows of their decade in a band together.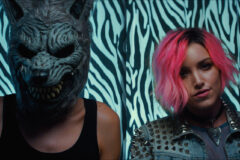 Why did you decide to break up now, three years after your most recent full-length?
Nikki Kvarnes: We'd just made a record in the fall, and this [happened] at the end of it. We're just at a point where we're going in different directions, personally and creatively. It's difficult when there's two frontpeople… all our records are really different as you know.
Jessi Zazu: We recorded a fourth album, and it became apparent that we just didn't agree creatively where we were going to go. Nikki and I had two totally different visions. So after we recorded it, Nikki just came to me like, "I just can't do this, I don't want to put this out." It was one of those things like, what do you do? My hands were tied. [Laughs.] We just decided to call it, because instead of trying to fight and force it, we just mutually agreed to stop now and still remain friends instead of making the situation really s**tty. So we decided to split up the songs, Nikki's gonna take her songs and do something with them, and Lynwood and I are gonna continue to record together.
Have you already started your next projects?
Kvarnes: I was in the studio earlier in the month working on a solo thing, and then some projects on the side with friends, including a cover band with Jonas Stein of Turbo Fruits, who also broke up. I don't want to use my own name; I love collaborating and making a group effort so I would feel weird. I've been painting a whole lot and having art shows. I want to do both full-time.
Zazu: I've got 11 songs, and I want to record one or two more. I'm hoping that before the end of the year, I'm gonna start releasing some singles, and then early next year would be awesome to put an album out.
How did Those Darlins first get together?
Kvarnes: There was this rock'n'roll camp that Kelley [Anderson, founding bassist] started, and Jessi was a camper there. She ended up moving in with me, and that's how we started playing music together.
Zazu: It's called the Southern Girls Rock & Roll Camp. It's a week long, for girls [ages] 10 to 17. You pick an instrument, sign up for different workshops: songwriting, screenprinting, things that would interest a band. There's performances every day by a band with at least one female. It's basically how to be in a band, and I learned so much there.
I lived in rural Kentucky at the time and didn't know anybody else who played music. [Me and Nikki] somehow discovered that our mothers were both artists who would save roadkill and put it in the freezer to draw it later as a model. One time my mom found a bobcat who'd been stunned, and you can't normally get that close to a bobcat to draw it. So we were like, "What? Your mom put dead animals in the freezer too? We've got to be friends!"
Did you already know how you were going to sound?
Kvarnes: We liked country music at the time; I didn't grow up on country at all, I'd just discovered it. I grew up on rock'n'roll, the '60s, '70s. And reggae. [Laughs.] I had hippie parents. I'd just gotten into Woody Guthrie and the Carter Family at the time.
Zazu: Nikki and I started talking about how she liked this song by Woody Guthrie and I liked the same song by the Carter Family, two different versions. I don't remember what song.
What was it like making the first record [2009's Those Darlins]?
Zazu: I moved in with Nikki, and we had this crappy old house that we called the Witch's House, because it looked like a witch's hat, across from a graveyard. So we'd play on the porch every day, with Kelly trying to teach us how to clog. We practiced for months before we finally crashed two Halloween parties on the same day, and those were our first two shows. Eventually we booked gigs where we had to play for two hours so we started writing songs.
Kvarnes: Jessi had never been in New York City before, her eyes were so wide. We were partying in the studio, not knowing what the hell we were doing. It was definitely a wild ride; we had such a great time working on that record. We hadn't been jaded by anything yet, and we were touring out of a Buick. The first song that we ever wrote together was "Wild One."
Zazu: We were trying to do this country thing, but we weren't trying to make a retro album. We wanted it to be reminiscent but have this modern vibe to it. And in Nashville everybody we tried to work with just tended towards this classic thing. We just wanted it to be weirder, so we met Jeff Curtin of Small Black, who'd just finished working on the Vampire Weekend album, went up to New York and started recording. It was nuts; I'd barely been out of Kentucky and Tennessee. The biggest city I'd been to was Atlanta. So when I went to New York I was like, "What the hell?" I was like 18, 19, freaking out all the time. We really just had a blast making that album. When I listen to it now, it just sounds like pure fun.
What was the biggest change when making [2011's] Screws Get Loose?
Kvarnes: Before Screws Get Loose, I broke my arm really badly, so I didn't even play on that record. I was at a music festival in Ohio. We all stayed in a cabin, we block-partied with each other's bands. Everyone was naked in the hot tub, then I was running through a field and I slipped and broke my arm really bad, straight in half. We had to cancel our tour in Australia, I felt like the biggest asshole on the planet. I had to get surgery and then I was out for seven months. Then I started playing bass after I healed, because it was the easiest thing for me to play. And then Kelley [Anderson, multi-instrumentalist] left the band after Screws. Things were not working out with us, and she wanted to do other stuff.
Zazu: Between our first and second album, we toured nonstop, with no frills. We were in this tiny van, on top of each other all the time, no place to lie down. We went through every kind of weather, storm, every kind of break down, sleeping on floors, adventures for better and worse. So around the time of Screws Get Loose, I was at, like, a breaking point.
Now I think that album's a little bit about the disillusionment of the industry for me. There was always this freedom in punk and rock'n'roll that I gravitated toward, and experiencing that world as a woman in a patriarchy was disheartening. There was still misogyny and sexism, photo shoots they would've never had us do if we were guys, double standards. I was the youngest [in the band] and at that moment I think I started to come into my own as a songwriter and a person a little bit. When I wrote "Be Your Bro," I didn't even think it was a good song, I thought most people wouldn't get it.
https://youtube.com/watch?v=T_D-eidHpo8
Were there ever attempts to compromise on the creative differences?
Kvarnes: Yes and no. [2013's] Blur the Line is kind of like that; my songs are different from Jessi's. She wanted to write alone about things she was going through. Hers were very… transformative and I don't think mine were. She wanted to work alone instead of writing songs together, so I had trouble trying to make things sound cohesive. That's the problem when you have dual songwriters. For a long time we complemented each other.
Zazu: Blur the Line was really weird, because Kelley had left the band. It was very hard to make. The difference between the three albums is that the first one took a year and several trips up to New York, the second one took ten days, and the third album we did in about a month and a half in the studio straight. I felt way past the point of exhaustion. One thing we were known for was crazy stage antics and wild stuff, and at some point we got tired of that. It was a stressful expectation like, "You just want me to do something crazy, you don't care what the music sounds like."
Kvarnes: After my arm healed, Kelley had left the band, we did a European tour, and that's when I started to play guitar again. We stopped switching instruments, like, "Why are we even doing this?" It was fun at times, but it was a total hassle. It was great to just be able to go into the next song without throwing everything around the room.
What made you guys decide to pose nude on the cover of Blur the Line?
Zazu: I was going through a pretty big transition as far as what my priorities and values in life were. In some ways, I was shedding some skin and rediscovering myself in a lot of ways. Right before that album, I had just quit drinking. So after I got sober, it was like a big mirror in my face. I was spending a ton of time alone, writing and dealing with personal demons. It wasn't really our idea; the friend who shot the cover listened to the album obviously, and heard my songs, which were about finding strength in vulnerability. And we thought [posing naked] was a good indication of that.
What was your favorite memory of the band's career?
Kvarnes: Traveling anywhere outside of the country, we were always on this high. Even if we were super-sick or dark things happened, we went to Australia, toured Europe. We went to China two years ago… all those experiences were life-changing. These were the people I got to travel around the world with and share these experiences with. It's like being married to somebody: Even when you f**king hate them, look around, look what you're doing right now. We love each other, we're doing this together, and we wouldn't be here without each other, in this configuration, at this time and this place. We have a wonderful, supportive fanbase, I think it's tasteless to not go out with a proper goodbye.
Zazu: All the traveling we got to do… I got to see the world because of the music that I wrote. It was amazing, I enjoyed the whole ride.
Is there one song or achievement you're particularly proud of?
Kvarnes: I hate 'em all. [Laughs.] I just get burnt out on all of them, so the only songs I'm really stoked on are the newest ones. I don't know. They all have different places in my heart.
Zazu: I think we were all surprised when the shows sold out. We've had good shows, but it was never, like, sold out every night. It really meant a lot to all of us to know like, "Oh, we actually did something." All the interviews and questions at first were really intense, like you're getting a divorce or something. I didn't really know how sensitive I was about it. But this thing I've been doing for ten years is over. All the questions made me have to purposefully reminisce about it. I'm proud of what we did and what we accomplished.