Taylor Swift became the third-most followed person on Twitter yesterday, surging past fourth-place nobodies like Barack Obama. With 70 million followers, @taylorswift13 is second only to Justin Bieber (74 million) and Swift's alleged nemesis Katy Perry (81 million). However, a question lingers: If @taylorswift13 is one of the three biggest accounts on Twitter, what happened to @taylorswift-s numbers 1 through 12? Or @taylorswift prime, for that matter. The 1989 singer has said that she took the 13 handle because it's her lucky number, but that leaves room for a host of lesser @taylorswift-s. Let's see what they're up to.

As you can see, @taylorswift (no number) has had their account suspended, and based on some sleuthing with the Internet Archive's Wayback Machine, has been suspended since at least September 21, 2009. Twitter's current rules state that accounts can be suspended because they're engaging in spam, being abusive, or are suspected of being hacked.

However, there's one final, interesting wrinkle in the curious case of @taylorswift — this account, unlike all the others, so far as SPIN can verify, predates Swift's official account. The real Swift joined Twitter as @taylorswift13 in December of 2008, with a first tweet about "apologizing to a very needy cat for being gone so long." The Wayback Machine, however, has evidence of @taylorswift being on the platform as far back as Jun 29th, 2008, at least. As of press time, Twitter did not respond to questions about wether the numberless @taylorswift account was, at one point, the singer's official account that was later replaced with @taylorswift13, or if some random user just happened to snag it first and squat on it, impersonating her. Nor did Twitter confirm why @taylorswift was suspended. We don't know how deep this rabbit hole goes.

Twitter also did not comment on why @taylorswift1, or any of the other suspended @taylorswift-s, were booted from the platform. The Internet Archive did not have enough snapshots of the now-defunct account to make any guesses as to when it was created or when it was suspended.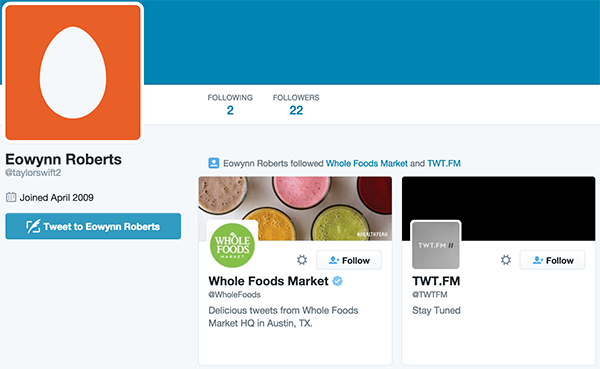 The second numbered @taylorswift, @taylorswift2, joined the social media site in April of 2009 with the display name Eowynn Roberts. According to her current profile, she followed two accounts, Whole Foods Market and TWT.FM, and never tweeted. The @taylorswift2 account only has 22 followers, a number that's the title of a hit Taylor Swift song, yes, but a far, far cry from the real deal's 70 million followers.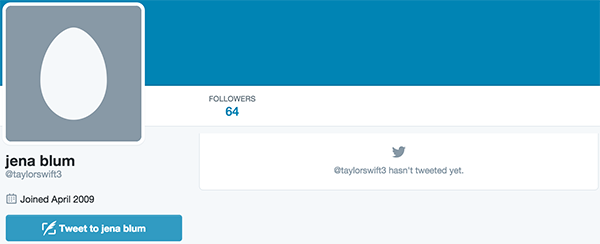 The next user, @taylorswift3, joined in April of 2009 and apparently never tweeted. Jena Blum, if the display name is to be believed, is not a power user of Twitter dot com.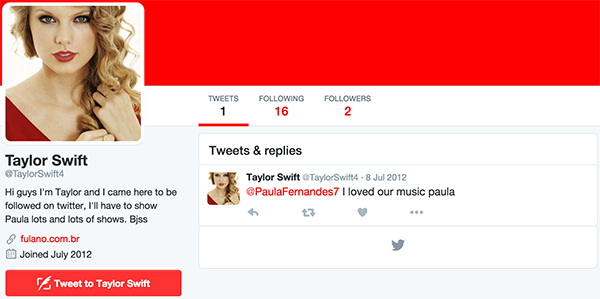 The fourth @taylorswift joined in July of 2012, and unlike the rest of the un-suspended eggs so far, is actually pretending to be the famous "Love Story" singer. However, the account's only tweet plugs a "collaboration" with Brazilian singer-songwriter Paula Fernandez, and the bio links so some weird Boggle-like web game. None of this seems very legit.

Suspended, unclear why. Moving on.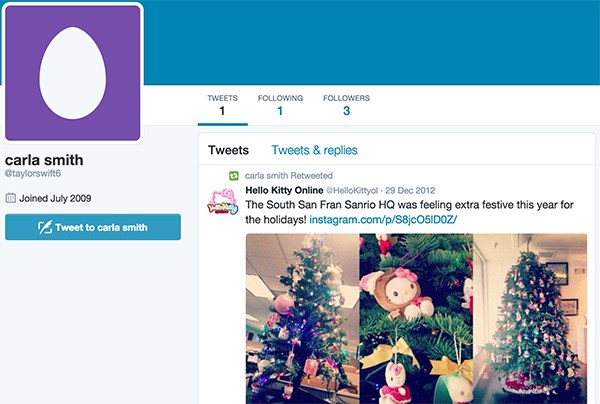 Carla Smith, who joined Twitter in July of 2009 with the username @taylorswift6, retweeted Hello Kitty once, and then seemingly never touched the site again. Nice.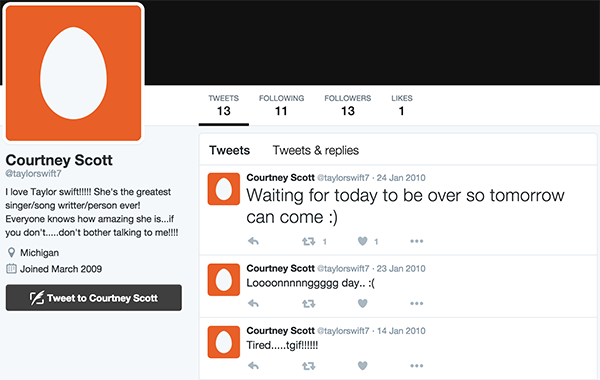 The seventh of our @taylorswift Twitter accounts actually seemed to have been using the micro-messaging service like a normal person would, especially in the site's early days. Courtney Scott's bio professes that she's a huge Taylor Swift fan, and her tweets were just normal observations and gripes about long days and other slice of life stuff. On January 24, 2010, she apparently got bored of Twitter and her baker's dozen worth of followers and never logged back in.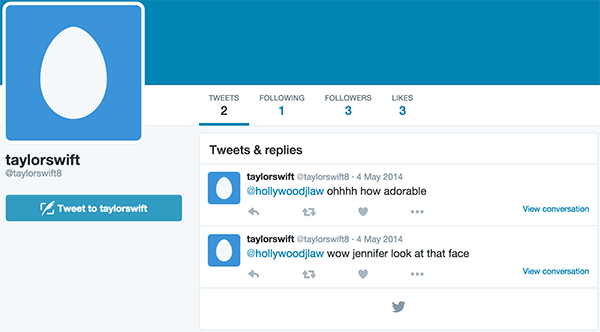 Numero 8 started their account to tweet either two compliments or two snarky disses at @hollywoodjlaw, a still-active account that as far as SPIN can tell, is fairly random. After that eventful May 4, 2014, @taylorswift8 slipped quietly back into the Web abyss from whence it came.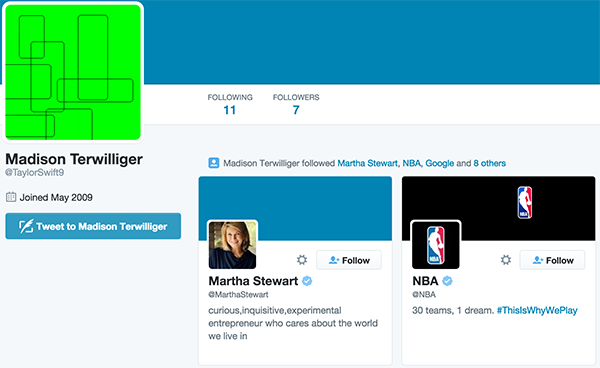 This account, which started in May of 2009, also never tweeted.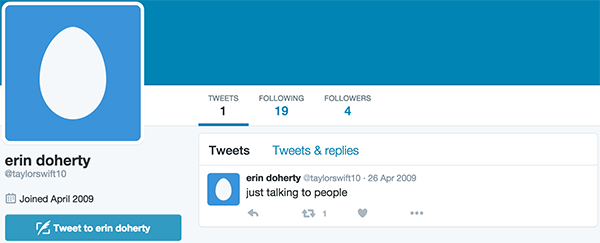 On April 26, 2009, perhaps the day that Erin Doherty opened her @taylorswift10 Twitter account, she wrote that she was "just talking to people." She then proceeded to never tweet or engage with another human being on Twitter again, a quiet streak that has lasted to this day.

Suspended 🙁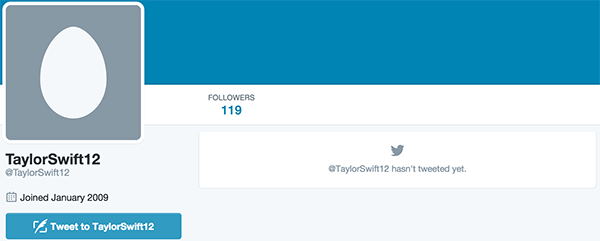 Lastly, @taylorswift12, just one numeral off from the authentic @taylorswift13, has never tweeted. Despite this, the account has significantly more followers than any other lesser @taylorswift account with 119 — perhaps because of its close proximity to @taylorswift13. It goes without saying that 119 is significantly less than 70 million, however, and it's unlikely that the user behind @taylorswift12 has won seven Grammy Awards, as the real Taylor Swift has.
. . .
Having concluded our investigation, it bears mentioning that all of these defunct accounts could have possibly tweeted in the past, but deleted some or all of them long, long ago, leaving no record of their 140-character musings. We're just reporting on the information that's currently available to us. The number of @taylorswift-s keeps growing, too. There is a @taylorswift14, and though SPIN didn't check every number in-between, we can confirm that @taylorswift69 and @taylorswift420 exist. Neither has tweeted, though @taylorswift69's bio reads that they "love Ariana Grande," which, frankly, seems a little rude.