Welcome to our weekly roundup of the SPIN staff's favorite new songs. Below, sample the best from post-rock standbys, reunited geek-pop heroes, techno troubadours, and more.

Benga, "Make Moves" (Benga Beats)
Benga is back. After publicly announcing his struggle with mental health issues (including a prior diagnosis of schizophrenia and bi-polar disorder) and retreating from DJ'ing, one of U.K. dubstep's original blasters has announced a new EP, Future Funk, and a return to live performing. Though Benga claims "Make Moves" is the most "him" since his seminal 2008 LP, Diaries of an Afro Warrior, its deepest Dubstep Warz rumblings actually take a backseat to frantic techno trappings and snake-charming synths. With the wailing urgency of a home-security alarm system and punishingly dark undertones, it's almost as if Benga chose to reflect his past. — HARLEY BROWN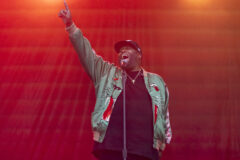 Chairlift, "Moth to the Flame" (Columbia)
No one would accuse prior Chairlift singles of being inaccessible — "Bruises" nearly cracked the Hot 100, and was played to death in Apple's iPod Nano ads — but they've never gone full-on pop like this. "Moth to the Flame," off of their upcoming Moth, is as bright and crackling as its title implies, with a Kylie Minogue-worthy, disco-lite slink and a chorus so skull-borrowing that it just might get the New York duo into the Billboard charts proper. It's that kind of jam, Mama. — ANDREW UNTERBERGER

Explosions in the Sky, "Disintegration Anxiety" (Temporary Residence)
In their first non-soundtrack cut since 2011's Take Care, Take Care, Take Care, the Texas post-rock heroes make a triumphant return with "Disintegration Anxiety," which is set to appear on their forthcoming sixth effort, The Wilderness (out on April 1). Sidestepping the twinkling slow builds the collective became known for with their earlier works, "Disintegration" follows the rapid percussion and jittery melodies of its six-song predecessor — but Explosions experiment further by swapping their trademark warm guitar for chilly math-rock rhythms. — RACHEL BRODSKY

Nina Nesbitt, "Chewing Gum" (Island Records)
Opening with the same cowbell clanks that anchor Tove Lo's "Talking Body," Nina Nesbitt's "Chewing Gum" doesn't abandon the blueprint there. "'Cause I'm a made-up mess / In a backless dress… / I'm just chewing gum / Until the flavor's gone," the young Scottish singer wails, running her hands through her hair as a frenzied synthesized melody threatens to overtake her. It's a career shift for Nesbitt, who was a far folkier singer in her previous releases, and it's a smart left turn. Though the field's getting cluttered, there's always room for a songwriter with snappy perspective. — BRENNAN CARLEY

Junior Boys, "Over It (Ikonika Remix)" (Hyperdub)
It's hard to make bedroom eyes better than Canadian production duo Junior Boys, but Ikonika beats them at their own game-playing. The high priestess of legendary U.K. electronic label Hyperdub strips "Over It" like it was wearing too many clothes to begin with: Replacing the original backbeat with echoes of Jeremy Greenspan's whispered come-ons and slowing the tempo way, way down, she lets tatters of the original melody flutter — like scraps of silk sheets between headboard-rocking bass that won't let you leave before morning's light. — H.B.

Lushlife feat. Killer Mike, "This Ecstatic Cult" (Western Vinyl)
Philly producer-rapper Lushlife and producer CSLSX's combined efforts on "This Ecstatic Cult" led to this sublime, warmly swirling beat that's at once comforting and ominous — it's a delight getting sucked into ghostly choir and edgy static, but one fears that they might never escape once they're there. And that's before Killer Mike drops, like a bomb, into the whole shebang, spitting proudly and boldly. But even he too is consumed by the intoxicating production. — JAMES GREBEY

Violent Femmes, "Memory" ([PIAS])
In 1983, a 20-year-old Gordon Gano warbled about simple, relatable stuff like tripping on drugs and getting rejected by the opposite sex. Now it's more than three decades later, his band has reunited for their first record in 15 years, and Gano's still griping. Only this time, post-adolescent indignation is swapped for fiftysomething frustration on "Memory." Against familiar acoustic chunks, Gano forcibly grumbles about the details he once took for granted. "Come back so I can tell you / How I'm annoyed by the fact / I can't remember your smile or your frown / I can't remember the name of your hometown." He might've moved beyond substances and girls, but he'll never run out of things to snark about. — R.B.