Aluna Francis cried while writing a song on her as-yet-untitled sophomore album with producer George Reid as London dancewave duo AlunaGeorge. Co-written with synth-punk mistress MNDR, "I Mean What I Mean" will arrive sometime next spring. Thundering through the pristinely soundproofed air at Manhattan's Jungle City Studios on a rain-whipped day in late September, it's a lush, reggaeton-tinged track bristling with a barely disguised reaction to a song by another pop star that's also about meaning, and the implications of saying "no." For Francis, there are zero implications.
"The central place that this comes from is very personal to me, and it was a real situation that I went through," she tells SPIN, speaking with the slightly stubbed consonants of someone with a bad head cold. Explaining the song's tearful origin, along with its ear-burrowing bass and lyrical back-and-forth ("You're being so cruel, you're being so mean" / "I'm not being mean, I'm just saying what I mean"), she adds, "But then we found the more universally applicable idea of being with an intimidating person, and you're trying to say 'No,' and they're saying, 'What do you mean? You mean yes, I see it your eyes.' You don't see that in my eyes!"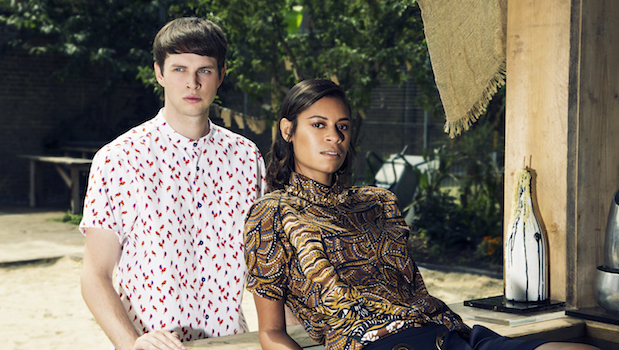 Watching Francis decide which of her new songs to play is like watching a kid pick out which present to open first. The three songs she eventually chooses are darker, harder, thrumming with even more muscle-tightening electricity than AlunaGeorge's alt-R&B debut, 2013's Body Music — which is not how most listeners likely know the pair. Instead, their reputation precedes them through producers featuring Francis on their own tracks — which have generally bumped at a faster tempo than the twosome's consistently 90-BPM LP — especially "White Noise," by U.K. house populists Disclosure; that track stung with Francis' acid tongue over a whiplashing beat.
This year, AlunaGeorge blew up the Billboard charts with a production match that, while perhaps random on paper, was actually made in the studio: DJ Snake, who gave Body Music cut "You Know You Like It" a minor turnt-down workout. Whereas "White Noise" led Reid and Francis to question whether they should aim for their full dance-floor potential, as Disclosure had, DJ Snake restored the idea that they could succeed on their own terms after all. "What [his remix] has done is opened up the floor for us a little bit more and solidified faith in our musical direction," she tells SPIN in a separate phone interview. "It can really mess up a band's vibe if people associate your most successful thing with a wildly different genre due to a remix. Snake is EDM, but that song is not EDM; it had a similar downtempo vibe to us. Our music is not anywhere near 'White Noise,' style-wise."
It wasn't until after they wrote the first batch of songs for this album — there were three separate songwriting periods, in London, the English countryside, and Los Angeles, all over the past year and a half — that AlunaGeorge realized that. "When we first started, me and George wrote a hell of a lot of dance tracks that we pretty much ignored because there wasn't anything particularly fresh about the pieces," she says, even though that session did produce an in-progress track that's either called "In My Head" or "You Give Me Life" (final title still pending), which they've performed live and, obviously, have decided to keep. "We kind of abandoned ship very quickly trying to follow up with the kind of 'White Noise' sound. We weren't sure if people wanted what we do."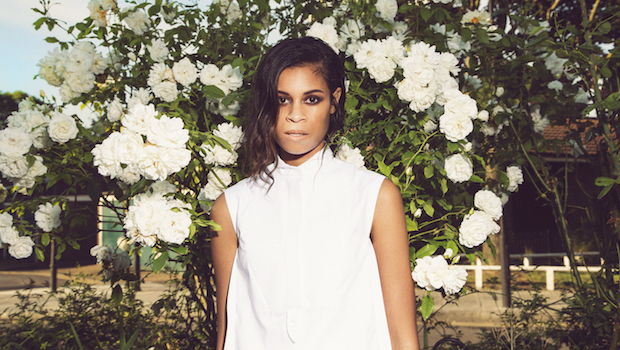 The two generate ideas and fall into work patterns almost as one when they're in the studio together; both feel creatively rejuvenated by switching up locations, for example, which is why they bounced from a recording studio in the small town of Henley, England to West Hollywood in California. Unlike other musical partnerships, neither feels the need to be with each other constantly. "We lived in totally different ends of London," says Francis, who tours under the AlunaGeorge banner by herself while Reid stays behind the boards at home. "It was pointless trying to hang out. To be honest, when you spend a good eight hours with someone, you're not that interested in hanging out. You can love that person to death, but… unless you're in some kind of relationship, you're, like, good to go."
Francis has never balked at being honest with Reid: When one of them brings a song sketch to the table, it's not uncommon for one of them to comment bluntly, "That's an interesting bad idea. Let's not do that." For this album, though, it's her other collaborations that have teased out the emotional purges of songs like "I Mean What I Mean" — it took AlunaGeorge three separate tries to arrive at that shared, safe head space. "People have egos and get very precious about what they think is correct, or the right direction," she says. "And they get precious about their own ideas being criticized by somebody else." It's all just white noise, after all.