SPIN Rating:
Release Date:
September 04, 2015
Label:
PiL Official
"Lucky you," began John Lydon's radio announcer-like intro to Public Image Ltd.'s 2012's "reunion" album This Is PiL. "You are now entering a PiL zone!" The 59-year-old anar-chist went on to redefine himself on that record, for the umpteenth time in his career: "I am no vulture / This is my culture" (the dubbily departed Jah Wobble may disagree). "We come from chaos / You cannot change us" served as his band's mantra. Why shouldn't he get to rearm himself with new slogans each passing decade; did you expect him to get a job instead?
Issue ten of This is PiL, entitled What the World Needs Now…, arrives 37 years after Lydon's visionary post-Sex Pistols "Public Image" single, a weird, hooky beast with more interest in texture than anyone could've predicted. By 1979's Metal Box we knew better, as Wobble's foregrounded bass, Keith Levene's sheet-metal guitar and Lydon's paint-scraping vocals gave birth to post-punk as we know it, and on 1981's The Flowers of Romance they absconded with guitars (and Levene) altogether, almost single-handedly making Liars' career possible, among other fringe-indie caterwaulers.
Then something weird happened: first came the danceable "This Is Not a Love Song," a U.K. hit by a band who'd never admit to wanting one, but probably did, if only to further Lydon's chart-lampooning mania. Then came 1986's Album, Lydon's third and final masterpiece after Nevermind the Bollocks and Metal Box, and at once the most accessible and strangest: an arena-rock parody with real charting singles ("Rise") and real guests (Ginger Baker, Ryuichi Sakamoto, and a then-Whitesnake-affiliated Steve Vai), it's one of the most shamelessly pleasurable things Lydon has ever given us. Which heralded a lot of scattered, downright Living Colour-sounding bulls–t to follow, with increasingly horrendous album art. Songs got lost in the once-ironic arena echo. Vibes and bass lines got muddied into grooveless tripe.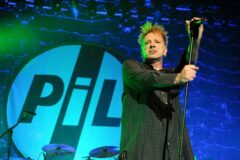 But What the World Needs Now… isn't post-anything, really. There's no ambling pretense for the opening "Double Trouble," which is a return to the snot-crusted power chords of Lydon's youth. But "The toilet's f–king broken again / I repaired that, I told ya / Get the plumber in again and again and again" is no nostalgia trip; that's age and decay all the way. More importantly, his band of whoevers — this time containing an ex-Spice Girls sideman and an ex-Neneh Cherry husband — plays rock, with permutations ranging from spy-surf-Goo licks under "Bettie Page" and '70s boogie rock on the literal and qualitative centerpiece "The One," which is a love song, brought home by an ersatz Edge guitar hook that should offend Pistols and PiL fans alike.
Or maybe not; anyone who survived The Flowers of Romance (or the cover of That What Is Not) is used to Lydon's abuse. The bending synths that underscore "Know Now" recreate the over-incanting title histrionics of the Sex Pistols' "Liar?" Piece of cake. This whole record is, really, even the burbling, eight-minute "Big Blue Sky," which flirts with reggae Peter Gabriel. By the time you reach the where-is-that-nicked-from riff of "I'm Not Satisfied," it's clear this is Lydon's most listenable record in 30 years, though Album was a lot more fun and "Shoom," the catchiest thing here, ain't "Rise." Six and half minutes of menacing, death-disco-by-the-numbers, "Shoom" begins with an intro not unlike "This Is PiL": "F–k you / F–k off / F–k sex / It's bollocks / All sex / Is bollocks." And so on, only getting funnier and stupider and Liz Phair-ier from there ("Sucking lemons / Sucking cess"), before finally completing the album title, as Lydon howls, with convincing, quavering terror: "What the world needs now… is another f–k off!" Lucky us.