Just a few months before the world so radically and unimaginably changed with the opening of the Berlin Wall and the collapse of Soviet Communism, thousands of students occupied Tiananmen Square in Bejing, China, in an attempt to bring democracy to the world's most populous nation. It was an audacious, romantic, and peaceful revolution in the beginning, visually symbolized by the now-immortal photograph of the lone student standing in front of a column of tanks, preventing them from entering the Square. Then, on June 3, 1989, less than two months after it began, it was crushed as unarmed and starving students were massacred. Others, who had gotten away, were subsequently hunted down and executed. Nothing stopped the tanks this time. 
Mikali Myron, a superb Israeli journalist who wrote some wonderful articles for us, went to the Square the day after the first students occupied it. With her excellent (and courageous) instincts, she knew this was going to be a big story, that this was a historical clash between a 5,000-year-old authoritarian culture and a young generation's new taste for something barely understood but deeply craved: democracy.
She was sadly right. It was a historic clash, and a tragic, brutal reminder that regimes of immoral dictators, by whatever name you give them, do not easily capitulate to ideas and poetry, and will murder in their self interest. 
This is that story. 
— Bob Guccione Jr., founder of SPIN, August 28, 2015
[This story was originally published in the August 1989 issue of
SPIN
.
In honor of
SPIN
's 30th anniversary, we've republished this piece as part of our ongoing "30 Years, 30 Stories" series.]
At night, when it was around 100 degrees in Tiananmen Square and you could hardly breathe, the megaphones would start competing in a pounding cacophony for the crowd's attention. The shrill contradicting messages hurt the people's ears: The students will fail, said the government propaganda, because they lack the right political education. Leave the square, people. Go home – the people of China don't belong in this square, in this protest. We have rice. We have bread. We have education. So go home. Go to work tomorrow and be loyal to your country. Leave the square right away. Leave the square now.
The students, to resist the brainwashing, played Italian freedom songs between their own political messages, over their own eerie network of speakers and megaphones. The people of China will not leave Tiananmen Square, said the students. The people of China believe in democracy and they will fight for it. Let us be free! Let us dream! Let us be what we are, a patriotic movement, the movement of the people!
During morning rush hour, when millions of bicycles fill Beijing's wide avenues, it is very quiet in the square. Even with its "steady" 5,000 squatters, who slowly wake to the burning, gray sun, the square seems empty, almost deserted, but for the piles of garbage mounting everywhere. Even on a summer day, this, the largest square in the world with its big Hall of the People next to Mao's portrait, makes one feel cold and lonely among the great spirits that are said to linger here.
When I arrived at the square straight from Beijing's airport, I was struck by the lack of energy in the air and by the silence. It was evening, and people were coming to the square after work, with their children and their friends, as if they were coming to a huge picnic. They all wore their washed-out clothes and bought cheap rice pancakes for dinner. Occasionally, they joined a discussion group, or read from pages of handwritten poetry that were hanging on the trees around the square. Parents showed their children around the square, surrounding the students' tents and staring at the people in them as if they were watching rare birds in a public zoo. But most of all there was the silence. Hundreds of thousands of Chinese, in a space 20 times the area of Times Square, spending hours walking and watching and making no sound at all. The students living in the square in their see-through tents had much more privacy during the day than at night, when they were watched by what seemed a million eyes in this faceless crowd.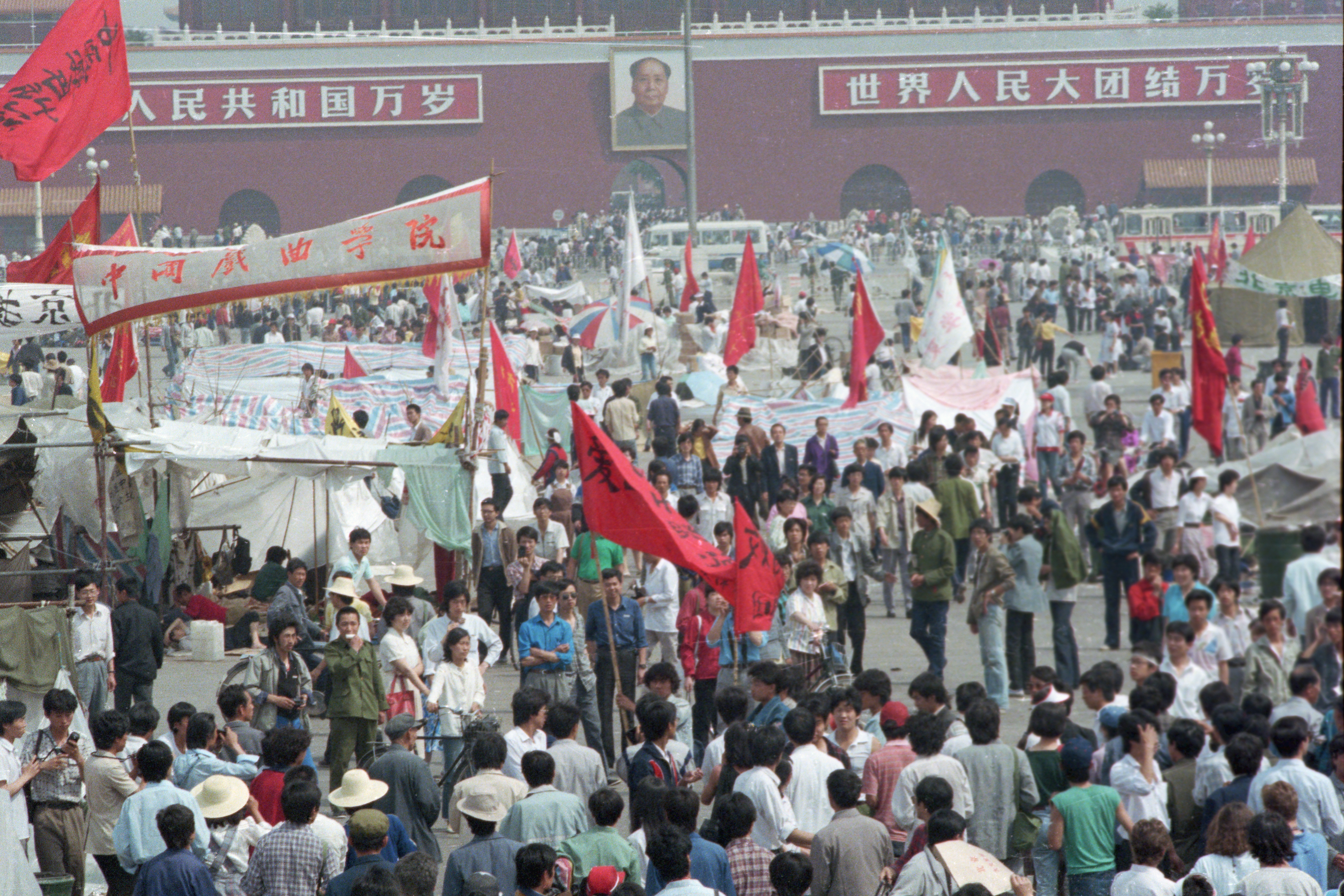 There was nothing really democratic about the way they operated. What seems so natural to the West is strange and goes against the tradition of not only the last 40 years of Mao's communism, but of the last 5,000 years of Chinese existence.
But "The Chinese Students of Tiananmen Square" had names and mothers, and they loved tea and rice but also Coca-Cola and Kentucky Fried. Being with them in the square was entirely different than watching them on the news. They were no longer just a bunch of faces milling about in washed-out clothes. I could actually pronounce their names and distinguish among the persons behind them.
To walk from the tent city at the square's southern end to the giant portrait of the late Chairman Mao at the far north takes some 20 minutes, depending on the density of the crowd. Crossing during rush hour could take half an hour. With no toilets or running water for most of the people, the slightest wind brought the awful stench that was constantly in the air.
Tiananmen Square was an organizer's nightmare. And the responsibility for managing it fell largely on one young student, Wong Wu.
Wong, who acted as the deputy commander of the square, came to Beijing from a university in an outside province. He came to the capital by train, with no idea why he was coming other than to help his friends at Beijing University. There was no sense of a big adventure to his journey.
"The truth of the matter is that I had no idea this is what was going to happen," he said, adding that he had only one week to return to his school and submit his final thesis.
[featuredStoryParallax id="159394″ thumb="http://static.spin.com/files/2015/08/tianenman-square-statue-1800×800-spin-30-145×145.jpg"]
It was late at night when the movement's leaders would show up. Wang Dan with his thick glasses, shy Chai Ling, with her tiny voice, always too soft for the crowded square, and Wu'er Kaixi.
I could have fallen in love with Wu'er Kaixi: He was powerful and charismatic, with a great sense of humor and wonderful big brown eyes. We met in Tiananmen Square, where he was bombarded by his fellow students for pictures and autographs. "I'm doing better than Lech Walesa," he said laughing. "The question is how I'm doing compared to Gandhi…"
Kaixi seemed to have adopted pretty fast to his role as a young leader of a colossal, powerful movement, and he acquired all the right mannerisms. He loved having his picture taken and starring in press conferences, which he would call and then show up two hours late, escorted by two beautiful women. "I need a light," he would say to one of his men, and five lighters would ignite around him. "I'm too tired," he would say, "I need a massage." One of the girls would rush with him to the other room, and the cameras and the men behind them would wait another half an hour for the Little Emperor to show up.
But when he finally made it, he was definitely worth waiting for. He had the vision and the courage to carry a whole revolution on his shoulders. His speeches were always stimulating, exciting and thought-provoking. The networks loved this young Chinese who spoke soft English and enjoyed his role as the Chinese Lech Walesa. For weeks, Kaixi led the student revolution. His speeches filled many Chinese hearts with the belief that democracy and freedom of speech were just around the corner — one more daring step and you could touch them with your own hand.
Thousands of years of living under the rule of Chinese Dynasties has left an indelible mark on their thought processes and mindset. To these young students, the word democracy only meant the opposite of everything associated with Communist Party rule.
And so it was that Wu'er Kaixi became one of the few student leaders with whom the government met in the earliest days of protest, when the hard-liners were still handling the students delicately. Prime Minister Li Peng and other officials sat with Kaixi and his comrades inside the Great Hall of the People right across from Tiananmen Square. During the one-hour televised session, Kaixi, in pajamas and still fasting, adopted a harsh and unprecedented approach toward Prime Minister Li, who appeared tense and angry. "We meet here today," he said, "to do only one thing and that is to save those who are still outside, on a hunger strike."
Kaixi interrupted. "We don't have to listen to you, Prime Minister Li, you didn't invite us here. We invited you. And we do not want to only talk about the hunger strike. We want to get down to the main point. You are so old, and you can be our teacher and master. Master Li, the government must acknowledge us as a patriotic movement," Kaixi finished his sentence, and fainted.
Li was neither impressed nor moved. "We are on the brink of anarchy," he said as Kaixi was carried away. "I just want you to think about things before they happen."
"It was never a dialogue," Kaixi later said. "Just a meeting."
[featuredStoryParallax id="159395″ thumb="http://static.spin.com/files/2015/08/peoples-liberation-army-tianenman-square-1800×800-spin-30-145×145.jpg"]
It took the student leaders a little time, but they soon felt the tremendous power they had on their hands — the power of what was being called the largest spontaneous movement of civil protest in the history of the world.
It was a revolution that began with only 2,000 hunger-striking students in mid-April, but in a week's time, it had spawned and awakened millions of citizens in Beijing and at least ten to twenty million throughout the country. They went to the streets and stayed there for days without the slightest sign of violence. It was the largest demonstration in modern Chinese history. Each evening people poured out of factories and hospitals, schools and universities, holding big red and black signs in support of the students. Posters and banners bobbed up and down:
GO ON A HUNGER STRIKE — DO NOT DEEP FRY DEMOCRACY.
I HAVE A DREAM.
GIVE ME DEMOCRACY OR GIVE ME DEATH.
PIONEER OF GLASNOST.
GORBACHEV IS AN EMBASSY OF DEMOCRACY. LET US FOLLOW HIM!
The outside support for the students was constant, but in the power struggle in the square, things changed fast. A student could be a student leader for 24 hours, and then, all of a sudden an unknown power would strip his authority, and a new star would rise over the sky of Tiananmen Square. When Kaixi was carried away from the Great Hall of the People after his angry exchange with China's Prime Minister he was the hero of the moment, but only to Western eyes. The rest of the leaders didn't like Kaixi's visibility. In a country where only a select few are entitled to prominence and power, nobody wants their message eclipsed.
In this constant struggle for power, it wasn't long before Wu'er Kaixi's name became entangled with power abuse. The 22-year-old activist was born to a "wealthy" intellectual family. Rumor had it that his father is a senior member in the Communist Party. Some said Kaixi kept in mind that his father will always be there to extricate him when needed. But in truth, Kaixi knew he was playing a dangerous game. His words were endangering his life. When he was convinced the troops were heading towards the square two weeks before they actually attacked and crushed the protest, he wanted the students to leave the square. Go home, yelled Kaixi to the people in Tiananmen. Go home so you don't get killed here today.
"I'm doing better than Lech Walesa," Wu'er Kaixi said laughing. "The question is how I'm doing compared to Gandhi…"
The army didn't come. Not just yet. And Kaixi had given his fellow leaders a perfect reason to demand, and get, his immediate resignation.
Kaixi's comrades were proud of the relationship they had won with the soldiers. Each success made the student leaders more bold. Later, in the last days of the revolution, it was just this bold confidence that prompted them to vote once more to continue the protest rather than wind it down. Many of the students felt June 1 was the ideal day to end. It would come to be known as China Freedom Day, they said. But the leaders would gather and vote no. It was a decision that would put their friendship with the army to a test.
It was sad watching the student leaders run their new kingdom in the square in the only way they knew, like their fathers before them. There was nothing really democratic about the way they operated. What seems so natural to the West is strange and goes against the tradition of not only the last 40 years of Mao's communism, but of the last 5,000 years of Chinese existence. Opening China to the West — to tourism and commercialism — gave the Chinese a hunger for economic reform. They began to strive for an economic growth and freedom that would make all of them wealthier, not just the officials. But the Chinese concept of personal freedom and democracy is a different matter altogether. Thousands of years of living under the rule of Chinese Dynasties has left an indelible mark on their thought processes and mindset. To these young students, the word democracy only meant the opposite of everything associated with Communist Party rule.
[featuredStoryParallax id="159397″ thumb="http://static.spin.com/files/2015/08/tianenman-square-power-people-banner-1800×800-spin-30-145×145.jpg"]
By the last week of May, everyone noticed that the students were losing momentum and that the media was getting bored. The students were getting weak and tired, and health conditions in the square were deteriorating. The Chinese government seemed to be winning by simply keeping quiet and not interfering. It was the worst week so far for this revolution.
In the meantime, the city of Beijing acclimated itself to the students' presence in the square. Joining them every night after work had turned into a casual family outing. More and more people would show up after sundown. It was no accident that the square's best moments, when it was packed with a million people, were mostly at night. People were afraid to be seen by the secret police agents who swarmed the square. Believing in this cause could mean risking your job, sometimes your life.
In the U.S., Beijing was constantly in the news. The Chinese students reminded America of its own students in the late '60s. But Tiananmen was no Woodstock. Not with its sad, earnest students, putting their lives on the line by challenging China's totalitarian regime. Unlike Woodstock, when the sun was going down on the square there was never a big cry, or great singing, there were no drugs or sex. Instead, the students lay still, sipping warm orange drink and staring at the sky.
But looking at China with Western eyes, only now am I able to realize how a totalitarian regime such as this could kill even romanticism. This was an emotionless revolt. The students had been raised to believe that they should look, act, and feel the same. This longing for sameness and lack of individuality was a major factor in the square, where on top of the hard living conditions, people had no outlet for their other, more "casual" and less militant side.
The Chinese students had no idea how much attention they were attracting in the outside world. They didn't even know what kind of reaction they were getting in their own country. In Beijing, where only a very few have TV or even telephones, and fewer still can read the foreign language publications, it took a lot of time and legwork to carry the word among the people. So each time hundreds of thousands of people showed up in the square, there was a sense of magic in the air. Every time TV crews lighted the darkness with their cameras, it seemed to add another glow to the revolution.
Seeing and talking to all these people swept away any notion that ordinary people in poor countries without democratic traditions do not care about civil liberties. The poor working class of Beijing was in the square night after night, protected by darkness from the tremendous heat and the secret agents.
Wu Shiming, a 26-year-old peddler of flour pancakes, came to Tiananmen to sell his food at special prices to the hungry students. Sun Kaizhen, a middle-aged farmer from Liaoning Province came all the way with his watermelons, cut into slices, on his tricycle. For three consecutive days, students who showed their ID could have a melon for free. The farmer spent altogether $200, which is two-thirds of his annual income. This was Sun's life savings. "I don't care," he said, "I don't have a wife or children, and now I feel these students are all my children. The hot weather makes the students suffer a lot and this is my way of showing sympathy for them."
"I'm not sure you and I mean the same 'democracy' when we say the word. I don't care if they make me go to jail for supporting and being a part of this. But unlike many of my fellow students, I don't preach to people to go die for democracy."
Wang Ong and Song Di were among the medical workers who came to the square after their nightshift in the neighborhood hospitals. They were asking people to donate medical supplies. The shortage of medicine is a big problem, they said. Both of them wanted a stable society, not necessarily a democratic one. "But the thousands of students here are facing the threat of various diseases, and we just feel we have to do our best to help them. But, please," they said, "no photographs."
Even when it seemed that the square was either in complete chaos or under the full control of the people, you could still run into government agents in civilian clothes, taking photographs of individuals in the square. Some civilians were beaten badly less than 24 hours after their picture was taken. Others simply vanished.
[featuredStoryParallax id="159402″ thumb="http://static.spin.com/files/2015/08/Type_59_tank_-_front_right-145×145.jpg"]
These were the dog days of the revolution. I sat with Wong Wu atop the people's monument in Tiananmen Square, facing Mao's gloomy portrait. We dangled our feet above the strewn garbage, trying not to breathe the pungent odor that had now settled on the square, and talked about better times. Wong Wu was an English language student. Only 23, he was born to a "good" family. His parents were intellectuals and with two brothers, they all lived in one big room, without a toilet. Wong had a happy childhood. He loved his country and admired Mao Zedong. He never left China or made love to a girl, and he would like to try both.
But for now, Wong Wu was in charge of the square and its "radio station," which was really little more than a makeshift public address system. The station was a messy gray tent based below the monument. It broadcasted not only around the square, but around the clock.
"We have one fax machine that we use to send messages to our friends in universities outside Beijing," said Wong, "and this radio station to send our message to the people in Tiananmen Square."
"Our message is democracy and freedom. This is why you call us the pro-democracy movement. I believe in this movement even though I'm not sure you and I mean the same 'democracy' when we say the word," he said. "I don't care if they make me go to jail for supporting and being a part of this. But unlike many of my fellow students, I don't preach to people to go die for democracy. I think one should live in democracy and if one has to, fight for it."
[featuredStoryParallax id="159408″ thumb="http://static.spin.com/files/2015/08/AK-47_and_Type_56_DD-ST-85-01269-145×145.jpg"]
China was caught off-guard by the student protest. It was clear that one-party communism allows no room for institutional protest. That is why for weeks it seemed that the party relaxed its grip and lost its balance. But then, China's old leaders, who hadn't expected the student-power to become the people-power, united their leadership against the students.
Although China is one of the world's poorest countries, its leaders live in big palaces completely enclosed by high, crimson walls. Several of these palaces form a compound with an intricate network of tunnels leading to 18 points beyond Beijing. The Beijing airport is one of them. Deng's palace, for example, fronts a major lake, and has an air-conditioning system specially designed for him by a German engineer. Despite these trappings of wealth, Deng and Li are still very immersed in the Marxist logic. To them, the recent changes in the USSR are purely political, devoid of any humanistic considerations. But it is that human factor that demands a clean sweep of China's rampant corruption. It was no wonder that workers and intellectuals, who do not profit from the economic reforms, were seen on the square much more often than well-connected entrepreneurs and party officials, who are constantly accused of abusing their immense political power.
"And we are no different than they are, and this is why I'm disappointed with our movement," Wong Wu told me sadly. "I hate to see how corrupted we got, just like the Communist Party. When it comes to money, we were not very good. How should I put it, well, we got a lot of money from donations, we had no control over it and it was very confusing. Some students, I think, took some money away. A lot of money."
Though upset and disappointed, Wong was looking forward to the main event planned for this morning. He continued in his efforts to keep the movement going, and just the other day the students had come up with a great idea. "The erection of the statue of liberty in front of Mao's nose," said Wong, "will be the protest's perfect ending."
There it was, the American symbol of freedom, confronting with proud arrogance the portrait of the man who 40 years ago had established the People's Republic of China.
Later that afternoon we were still sitting in the square, waiting for the statue, which they named "The Goddess of Freedom and Democracy," to arrive. Eight hours later, we were still waiting. Shortly before midnight, we were told that the statue would arrive the next morning.
I packed my things and turned to go home. Walking next to me was a man whom I'd seen before, while interviewing Wong Wu. And here he was again. It must be my imagination, I thought. But a slight sense of fear slipped into my head.
I looked around for the company of other reporters. There was the anchorman from Hong Kong TV. I walked with him for a while. Then I lost him, but not the stranger. For the first time since I arrived, I realized how a European-looking person can't hide in China, not even in the terribly crowded Tiananmen Square. Anyway I looked at it, I was different. I was wearing sneakers. I was tall. I had blond hair and green eyes. I didn't speak any language that people around me could understand.
And now, wherever I went, that man stalked me. Did he like my hair? Was he being friendly? Is this how Chinese men express their feelings?
All of a sudden, back in the middle of the square something was happening. There was singing, and bright lights in the night. Thousands of people marched to the center of the square, following the wall of the Forbidden City and leading a magnificent statue. It had been created in three days and three nights, by the students of the nearby Beijing Academy of Arts. They placed it, finally, on a pedestal, face to face with the giant portrait of Chairman Mao.
The people turned very quiet. There were tears in their dark eyes. There it was, the American symbol of freedom, confronting with proud arrogance the portrait of the man who 40 years ago had established the People's Republic of China.
Suddenly, the stranger grabbed my arm and pulled me away from the crowd into the darkness. "Tourist visa," he said. "No good here, tourist. Go home. Go home."
"OK," I said, "OK just let me go and I'll go to my hotel room at once. Please let me go."
"No hotel room!" he yelled at me. "Home America."
And he let me go. 
"Who are you?" I demanded. "A Chinese philosopher," he laughed.
Since that night, I saw him a few other times, always wearing the same clothes, holding his pocketbook, and looking like the twin brother of hundreds of other secret police agents.
"Throwing us out of the country is the next step after spying on us," predicted reporters in the square. "We are going to be the government's first scapegoats."
But this time, we were utterly wrong. The students were the government's first priority, and Wu'er Kaixi knew that too. Reporters who were looking for him heard he was "hiding" in a very fancy hotel, driving a car, and having the time of his life. I couldn't believe this. Kaixi was the face of this revolution to me. I was determined to speak with him.
"He will not talk to us Asian reporters," a Shanghai journalist told me. "You try," he said, "I'm sure you can find him."
I hired a car and went looking for Wu'er Kaixi.
"Where is Wu'er Kaixi?" I asked people in the square, on the streets, and in the lobby of the Beijing Hotel, the Sheraton, the fancy Shangri-la, and the Lido Hotel, located near the airport.
But Wu'er Kaixi, who until a day or two earlier was everywhere, could not be found.
"He will be here tonight," said Wong Wu when we were in a quiet corner. "It is a secret, but tonight is the night, and the leaders are going to vote on the future of the revolution. And the future of my dissertation." He smiled.
"When it comes to life or death, I vote for life. If someone would ask me to choose between death or communism, I choose communism. Anyway you look at it, it will be such an unglorified way to die on an empty stomach."
I asked if it was bothering him, saying, well, that is very normal, after all, when the revolution is over, it is going to be the rest of your life at stake.
"Not so," he said. "My being here is about all one has to do in order to jeopardize his future. But don't get me wrong. I don't worry about it. Anyway you look at it, when I graduate and it is 'job time' the government can assign me to the other side of China, where there live only two other Chinese people than myself. It can be very difficult, I know that, but I consider this to be an important experience in my life, so I will live with it. And my parents? Well, they could take the train and visit me once a year…"
"But now you will have to forgive me," he said. "I have to go back to my duties as the main broadcaster of the square…"
"Wu'er Kaixi, Wu'er Kaixi your teacher is looking for you," Wong Wu announced on the microphone.
But Wu'er Kaixi wasn't there.
When I saw Wu'er Kaixi for the last time, he was wearing the same threadbare blue T-shirt and the same worn-out gray pants, holding court with other students in the square. "It is a miracle that we are still here," he said, "and we have to go on with the fight for freedom, but we must pay attention and stay alive." He knew that the hard-liners in the government were losing their patience. He was worried less about himself than the other students. "I'll be fine," he kept saying. "I'm too small of a problem for them to worry about."
Wong Wu also had no intention of dying for the revolution. He wanted to live it instead. He wanted desperately to experience any form of democracy at almost any cost, but he wanted just as desperately to stay alive. "When it comes to life or death, I vote for life. If someone would ask me to choose between death or communism, I choose communism. Anyway you look at it," he said, "it will be such an unglorified way to die on an empty stomach."
Wong was constantly hungry after weeks of consuming bread and water, water and bread. "It has been weeks since my last shower," he told me that morning when I came to the square with my hair wet. "It must feel great to be clean."
[featuredStoryParallax id="159398″ thumb="http://static.spin.com/files/2015/08/Hong_Kong_for_2010_Nobel_Peace_Prize_Ceremony-145×145.jpg"]
When the 27th Army made its way to the heart of Tiananmen Square, Wong Wu, still filthy and hungry, was shot to death, his stomach filled with porous bread and insipid water. It was past midnight, during the early morning hours of June 3, and the carnage would continue for days.
When the massacre finally ended, the government issued a warrant for Kaixi's arrest. But the rumor in Tiananmen Square was that he had been executed on the night of the bloody crackdown on the democracy movement.
China is still rounding up all its bad elements so the iron hand of the government can deal with them one by one, control them one by one, and maybe get rid of them permanently, also one by one. The police have shot people on sight. Throughout China, people linked with the uprising have been rounded up and executed. China is now engaged in rewriting the darkest chapter of its failed revolution, and no cameras are going to lighten the darkness this time. The world which followed the Chinese revolution with great hope will not be allowed to go on watching. At the most crucial and horrifying time, China's students are being deprived of the world's support, and there is nothing we can do to save them from the upcoming monstrosities. Young and naive, helpless and unarmed, they are on their own.